Cotswold Canals Connected will be continuing its popular monthly events throughout the summer under a new name: Noise on the 'Nal.
Performances, entertainment and exhibitions will take place at locations along the Stroudwater Canal on the last Sunday of every month, with the next event, Mechanical Textiles, happening this Sunday, July 25th at Wallbridge (under the double roundabout in Stroud), Ryeford North (near the Wycliffe School bridge in Ebley) and The Ocean (behind Stonehouse Court Hotel).
`Noise on the 'Nal' is for everyone, but will especially appeal to younger people, and will be a welcome activity during the school & college summer holiday.
Sunday, July 25th: 'Mechanical Textiles'
Wallbridge:
In celebration of Stroud's rich history in weaving and textiles, come and join Janine from Freeweaver Studio and help create a woven piece. No experience necessary – just come and give it a try! https://www.facebook.com/Freeweaver.StudioTom Sellick-Newton 4pm-6pm
Come and watch performance artist Tom Sellick-Newton showcase a specially devised piece inspired by the Canalside. 'The Coal is Coming Home' explores the history of fuel, power and hope on the waterways and the more recently changing relationship with this material and sustainable energy.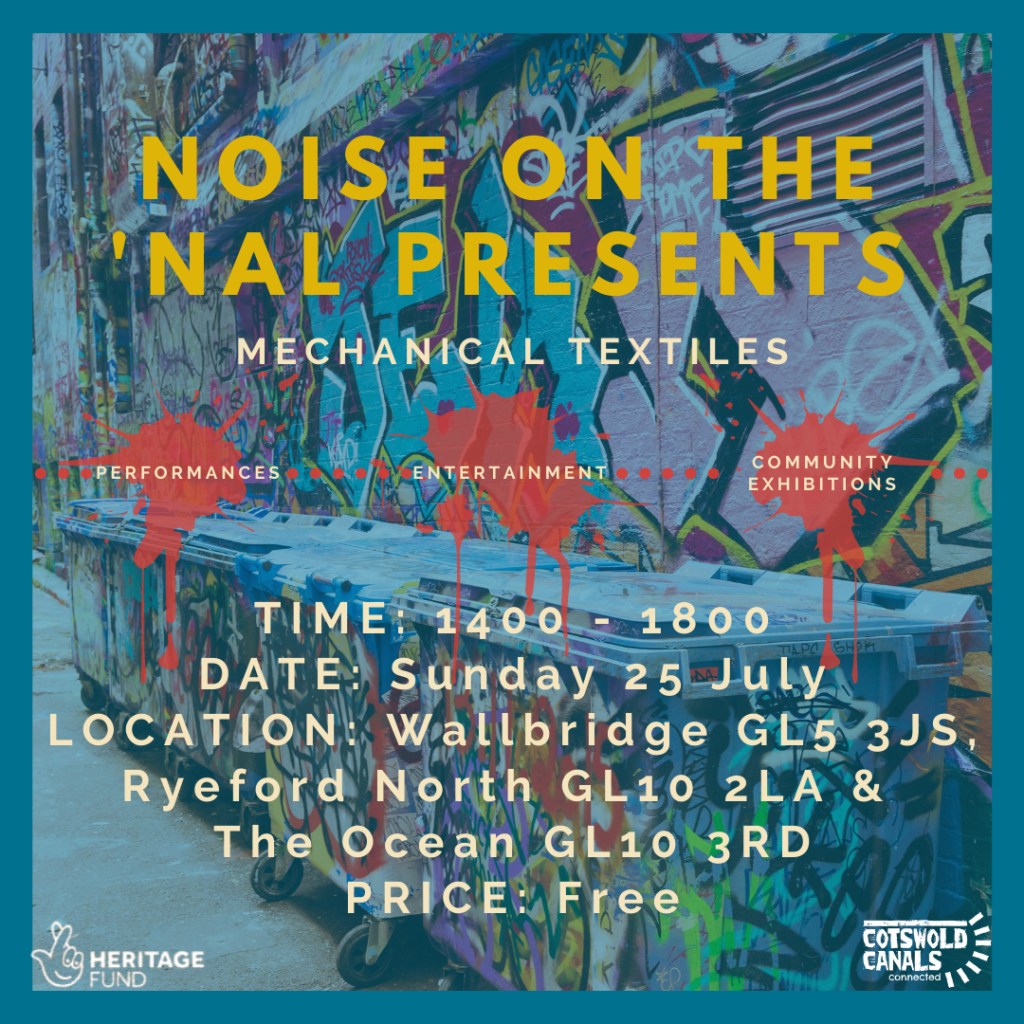 Art exhibition
View an exhibition of work by local artist Dan Guthrie displaying prints of African Textiles
Ryeford North:
Information for families & community art 2pm-6pm
Come and view our community artist textile banners and pick up one of our family activities maps and trails from our friendly community engagement team.
The Ocean:
Corrie Harragin 2pm-6pm
Performance Storyteller, Corrine Harrigan will be sharing stories from English and European folklore that weave life and land together and remind us of what it is to be human – from the ripe to the wrinkled, warts and all.
Luke Philbrick and the Solid Gone Skiffle Invasion 4pm-6pm
Roots rock skiffle music drawing on traditional blues, jazz and folk with frequent forays into gypsy-tinged psychedelia.
August's event will take place on Sunday 28 August – the lineup will be announced closer to the date.
Please follow us on social media; we'd love to see your photos so please tag us if you attend
Facebook & Instagram @cotswoldcanalsconnected
Twitter @CanalsConnected
Find out more about the canal restoration on the website https://www.cotswoldcanalsconnected.org/