Want to make the best, tastiest and easiest vegan chickpea burger? We've got an awesome burger patty recipe for you, writes Mandy Applegate.
Made in just 40 minutes, once you've tried these spicy, full of flavor vegan patties, you'll never buy shop bought again. So tasty that a meat eater or vegetarian will love them too. Ideal for a BBQ, burger night or meatless Monday family dinner ideas.
Preparation time: 20 minutes.
Cook time: 20 minutes.
Ingredients
1 red or brown onion, 2 tsp fresh ginger, 4 garlic cloves, 800g canned chickpeas, 2 slices wholemeal bread, 325g canned sweetcorn, 4 tbsp vegetable oil, 2 tsp cumin seeds, 2 tsp ground coriander, 2 tsp ground cumin, 1½ tsp garam masala, 1½ tsp chilli powder, ½ tsp paprika, 1 zest of lemon, salt and pepper to taste and 50 ml water.
Instructions
Our recipe will make 5 large or 6 smaller chickpea burgers
First, take one red onion and finely chop it and set it aside. Now finely chop your fresh ginger. The easiest way to peel ginger is to scrape a teaspoon gently over it, this means you don't waste any and it works a treat.
Now peel and finely chop your garlic cloves. Drain your cans of chickpeas and give them a rinse. Blitz your slices of whole wheat bread in your food processor until you have breadcrumbs. Drain your canned sweetcorn.
In a nonstick frying pan, heat up 2 tablespoons of vegetable or olive oil and add in your cumin seeds. Cook them for 20 seconds.
Now it's time to add your onion and cook until the onion is beginning to go brown at the edges and it's lovely and golden brown.
Then add your ginger and garlic and cook for approximately 1 minute.
Next to go in are your spices, add ground coriander, ground cumin, garam masala, chilli powder, paprika, the zest of a lemon and salt and pepper to taste.
Add water, stir the mixture constantly until it's dry. Now add in both your chickpeas and sweetcorn, give them a good stir and cook them until the moisture has evaporated.
Taste the mixture and if you'd like to add more seasoning then now is the time to do it. Trust your judgment and add seasoning for your palate.
Now add 75% of your delicious mixture into your food processor, add your breadcrumbs and blitz it until you have a smooth mixture.
The 25% of the mixture left in your frying pan now needs to be gently mashed with a potato masher, just so that you break up the chickpeas but don't totally crush them.
Now return the mixture from your food processor to the pan and mix them all together until they are well combined. You'll now need to let the chickpea mixture cool down until you can comfortably handle it.
Now would be a great time to make your red cabbage slaw while you wait – you'll find a link to the recipe below in the notes.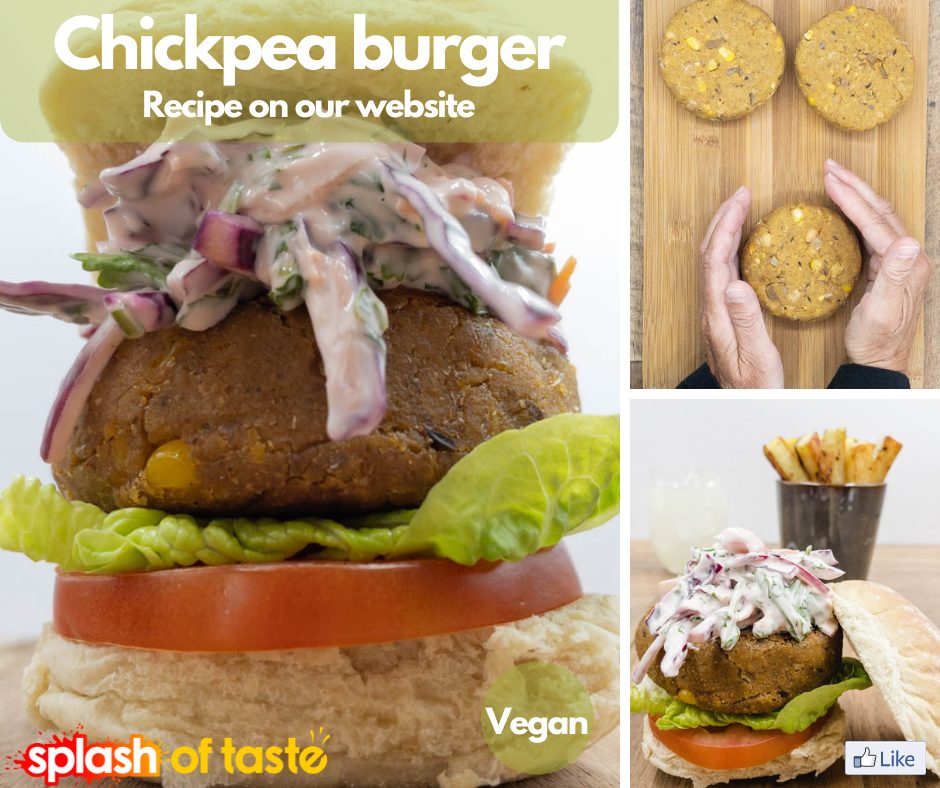 Once your mixture has cooled, then it's time to shape your vegan chickpea burgers.The great thing about these chickpea patties is that they are deliberately rustic, so they don't have to be identical but if you prefer, you could weigh out the mixture and divide by 5 or 6.
Take each portion and shape them into chickpea patties, just use your hands to shape them, making sure that they are holding together nicely. It's a good idea to use baking paper on a baking sheet, to rest your chickpea burger patties on as you don't want them to stick.
Then add a further 2 tbsp of oil to your frying pan and heat it up on medium heat. Place the patties in the pan (you may need to do this two or three at a time depending on the size of your pan) and cook them for approximately 7 minutes turning each patty halfway through, so three and a half minutes on each side.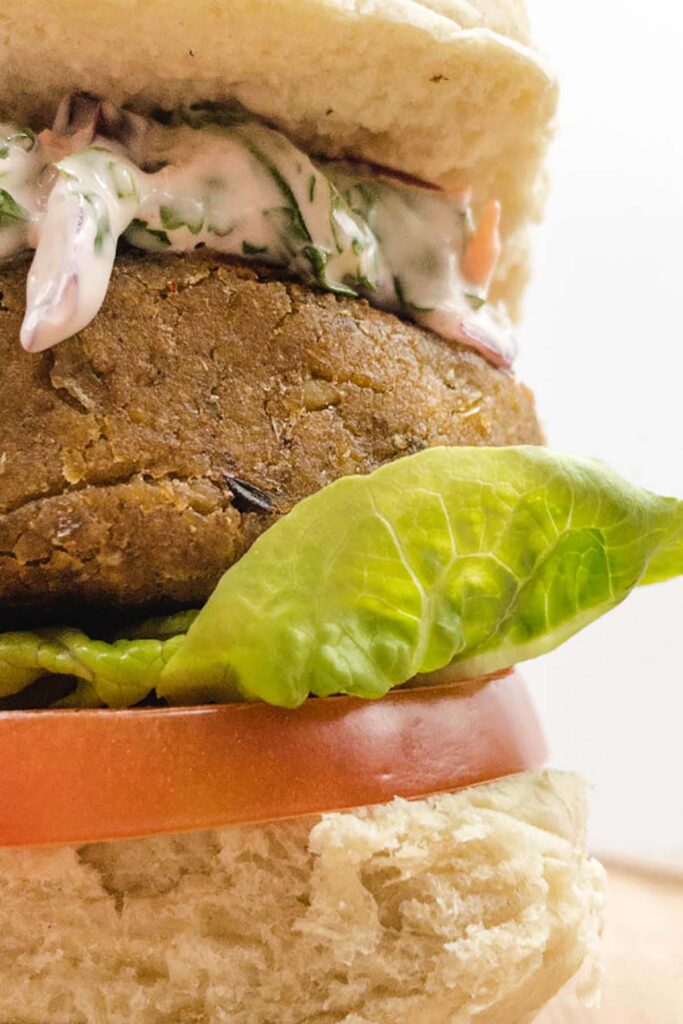 Your veggie burgers will turn a lovely light brown colour. Keep an eye on the patties though, you don't want to burn them.
While the veggie burgers are cooking, prepare your burger buns, you can toast them if you prefer.
When they are prepared, cut a slice of buffalo tomato and lay it on one half of the bun and then layer lettuce and place the cooked patty on top and add a generous layer of slaw.
Top it all off with the other half of the bun and get ready to enjoy eating your chickpea burger. Serve on a plate with chunky chips.
Banging burger! Enjoy!
Nutrition/Calories: 256kcal | Carbohydrates: 37g | Protein: 10g | Fat: 9g | Saturated Fat: 4g | Polyunsaturated Fat: 2g | Monounsaturated Fat: 2g | Sodium: 429mg | Potassium: 409mg | Fiber: 9g | Sugar: 4g | Vitamin A: 336IU | Vitamin C: 7mg | Calcium: 82mg | Iron: 3mg
Here's the red cabbage slaw recipe https://www.splashoftaste.com/red-cabbage-slaw/Read more about our Chickpea burger https://www.splashoftaste.com/quick-chickpea-burger/