Railway historian Ian Thomas captured this shot of a historic locomotive at Cam and Dursley station on Wednesday afternoon.
"The picture shows a preserved diesel locomotive Class 55 'Deltic' 55-009, Alycidon (named after a racehorse) diesel passing through light engine to Somerset," said Ian.
"These locos were built over the two years from 1961 to 1962 for the East Coast COAST Mainline services from London Kings Cross to York, Leeds, Newcastle and Edinburgh Waverley. They hauled prestige trains such as the titled Flying Scotsman service that ran non-stop between Newcastle and London.
"With their introduction, an elimination of steam traction got underway and a speeding up of services shaving one hour off the timing between London and Scotland. They remained in service until January 1982, being gradually replaced by the Inter City 125s (HST) trains.
"They had 3,300hp under the bonnet and were capable of 100mph with 450 tons in tow. Alycidon was en route from Barrow Hill, Derbyshire to the West Somerset Railway at Bishops Lydeard for their diesel gala.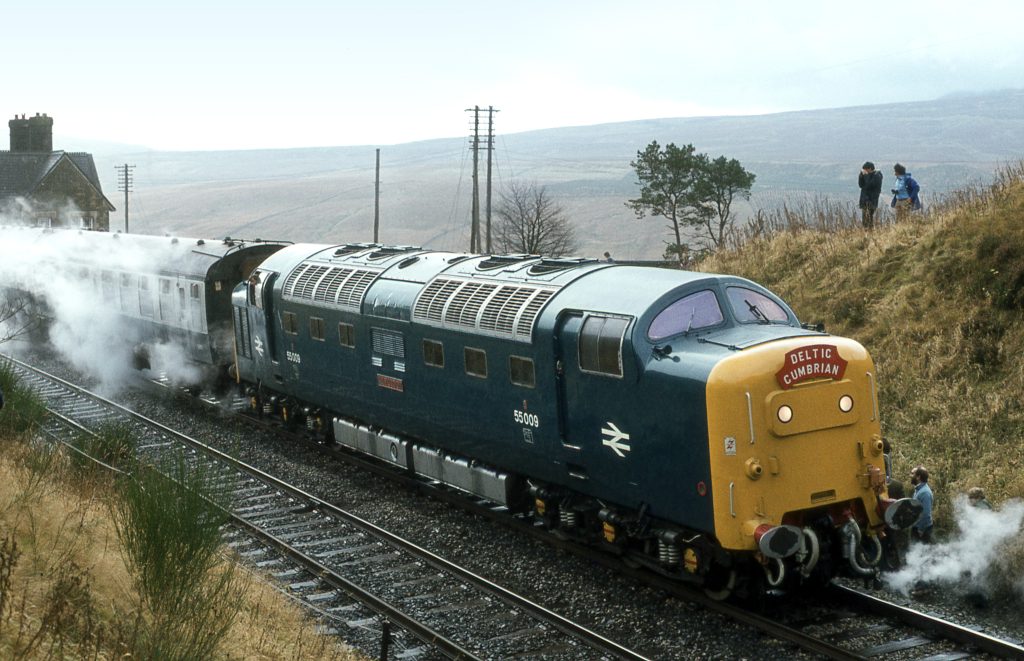 "The older picture of 55-009 on a rail tour from London Kings Cross to Carlisle at Dent Station on the Settle-Carlisle line on November 14th 1981 with just under two months left in service."