By Tony Davey
For many businesses, December income is vital to see them through the quieter months of January and February.
Last year, retail volleyed in December as lockdown 2 was lifted, while hospitality was still under some restrictions which then grew to cancel the new year – at some significant losses.
Then we plunged into a further lockdown for all but essential businesses and some national chains.
This year, starting with the first round of announcements nearly 2 weeks ago, retail, beauty, hospitality and accommodation are all being hit again.
With each announcement from the Government, we get something between a temporary dip to a continued drop in footfall. For beauty and hospitality, cancellations are rising at an alarming rate as concerns grow and (of course) because of quarantine. It's not just those businesses that suffer, it's their local supply chains too. All of this will jeopardise the future of your local businesses who may already still be trying to recover from the impacts of the previous 18 months.
On Friday, December 17th, Stroud District Council made a welcome announcement that they will be running a new Additional Restrictions Grant programme in January, but the criteria for this has to be limited and (at the time of writing) only applies to some elements of hospitality and can't cover the supply chain nor other sectors.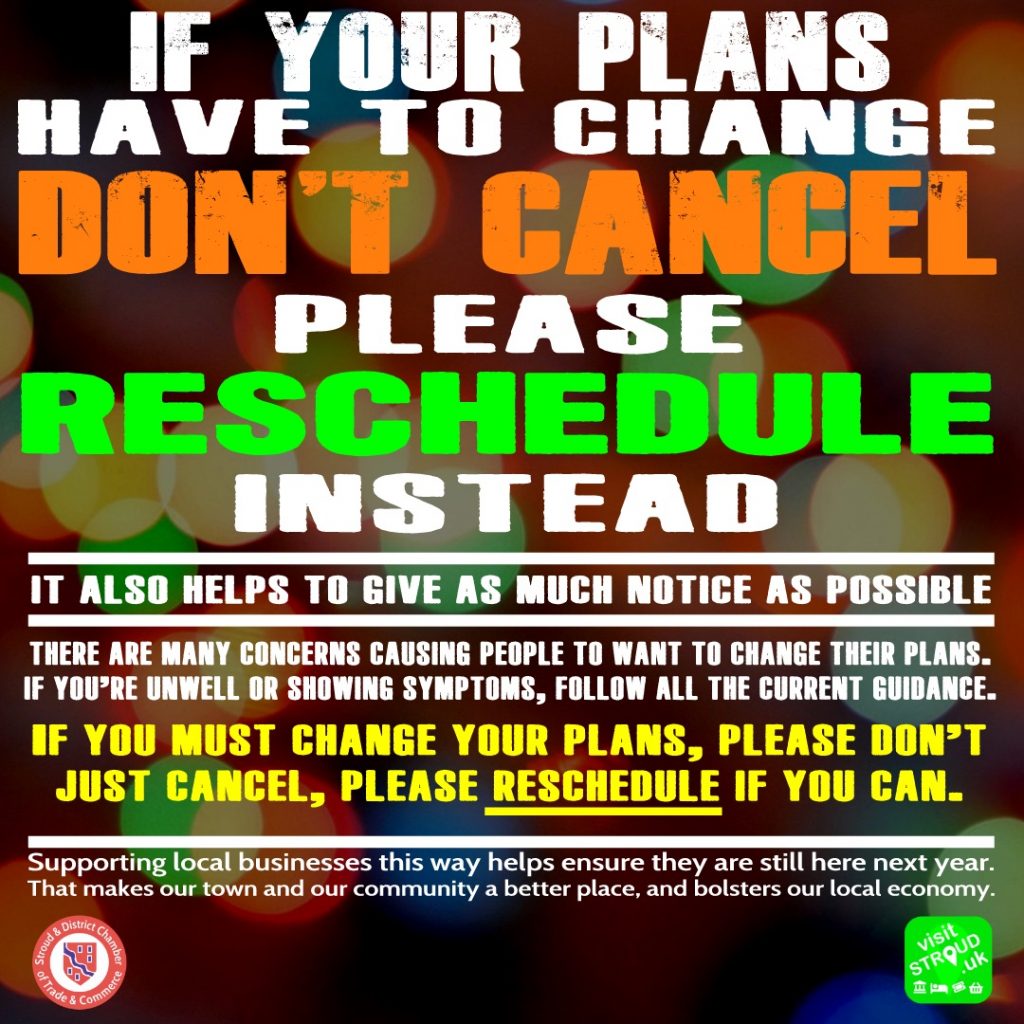 Other elements of assistance include loans, but these carry their own risks.
It is not up for debate that isolation is the correct course of action if you are ill or at risk of transmitting illness to others, even in pre-pandemic times. It is also understandable that there is caution and plans have to change. However, we urge everyone not to cancel, but to reschedule.
Where you can buy, we still urge everyone to Think Local First and, if you aren't in a position to visit your local shops, either buy from them online or utilise their local delivery options.
Use quieter times to visit them, such as after 3 pm, during later night opening, or on Sunday.
If you're looking to reduce your time out and about, utilise click & collect if you can. Many businesses continue to work hard on their extra cleansing regimes, distancing and mask-wearing, so please support them.
The "use it or lose it" mantra is all too familiar a message these days, but in the context of seeing how our local communities are being impacted, and knowing how we need to feed our local economy to provide jobs for local people and improve our communities, it really is essential to shop local where you can and (rather than cancel altogether) if your plans have to change please move them to January or February where they will also be very much needed.
Tony Davey, Chair of Stroud Chamber of Trade, has teamed up with the Stroud Times to provide regular updates on business life in the town and district.
Tony is a Consultant Technical Product Manager in the IT industry in addition to being the Manager and Principal Balloon Decorator for Party On Up in Stroud.