The team behind a £17m investment in Stroud have today launched Sandersons Boutique.
Crowds flocked to the Five Valleys Shopping Centre this morning to take a look at the new department store, which stocks luxury brands including Barbour, Cheltenham-based designer Holland Cooper, Max Mara, Tommy Hilfiger, Gran Sasso and Jacob Cohen Jeans.
More than 20 new jobs have been created in the town from the owners Dransfield Properties Ltd, who also own the Five Valleys Shopping Centre.
Sandersons CEO Mark Dransfield said: "We are delighted to be launching our third store here in Stroud, the response from the local community has been amazing and we are so proud to be part of this wonderful and unique town.
"It's a really exciting time for the town as Stroud has just been named as the best place to live in the UK by the Sunday Times. We're proud to be a part of the town and to be delivering the major regeneration of the Five Valleys centre."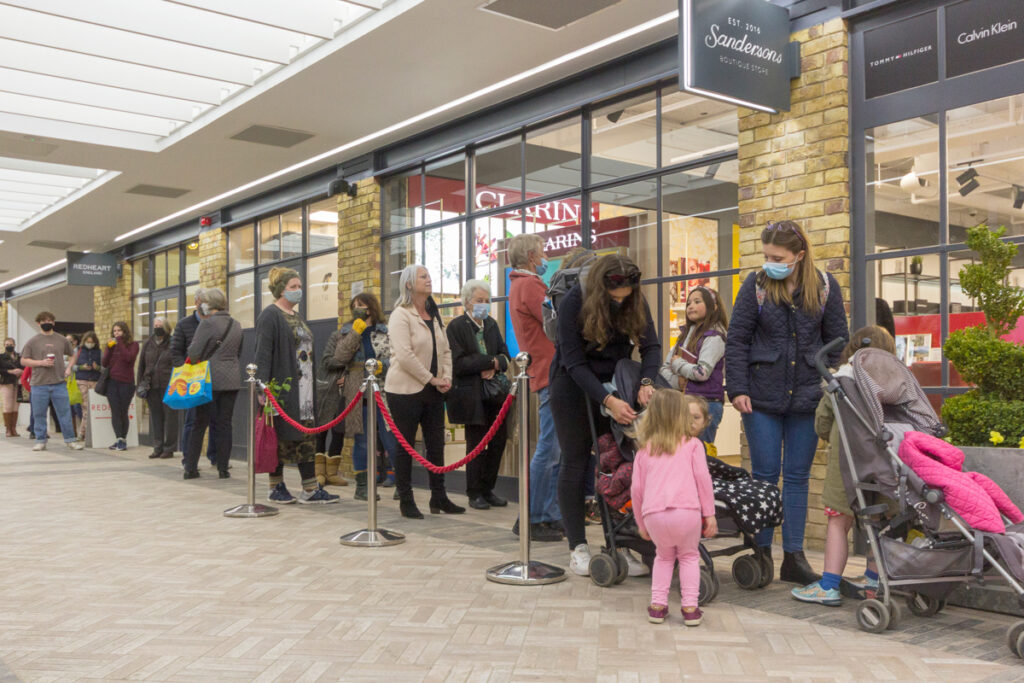 "We are bringing a really exciting mix of high end, luxury and much-loved brands to Stroud, most of which haven't been available in the area before now. We take pride in carefully sourcing our brands from across the globe and that's what makes the Sandersons shopping experience so unique.
"We have recruited a great team of local people who have really taken the Sanderson ethos on board and they are all ready to provide exceptional customer service to our shoppers".
The store launched as restrictions were lifted on nonessential retail, Sandersons joining the growing retail line up at the centre the same week that Craghoppers, Victoria R and Rough Hands Coffee also launched their new stores

The fit-out team headed by the award-winning store designer John Hoyle have completed the transformation of the retail unit at the newly refurbished Five Valleys, the style has been modelled on New York's meatpacking district.

Sandersons celebrated the launch of the company's third store with a huge £500 golden ticket giveaway, with one lucky customer winning a £500 spending spree. There is also a £500 prize draw giveaway from Holland Cooper and the chance to win essential wine products from Coravin.

The new store has sister stores in Sheffield and Morpeth and carries British heritage brands including Barbour, Barbour International, Hobbs, Whistles and Holland Cooper, with their full fashion and equestrian range.

The store is packed with over 15,000 sq. ft. of beautifully designed retail space made up of men's and ladies' fashion, beauty, skincare, footwear, accessories, loungewear and homeware.

Other womenswear brands include Pennyblack, from the Max Mara family of labels as well as Tommy Hilfiger and Part Two. The new store has also sought to fill the gap in the market for high-quality menswear in the area – with collections including Jacob Cohen, Gran Sasso, Tommy Hilfiger and Armani Exchange.

An exclusive range of prestige fragrances will also be sold, many currently not available within the region, these include Initio, Atkinsons, House of Oud, Parfum de Marley, Histoires de Parfum and Montale.

The new Sandersons team have also had customer service and product training to ensure they can deliver the award-winning Sandersons experience, for which the store won Best New Retailer at the 2019 Drapers Awards.

To find out more about Sandersons Boutique Department Store go to www.sandersonsdeptstore.co.uk