Tuck into a quick and easy grilled halloumi salad this summer, writes Mandy Applegate.
Packed with flavor and protein, this is an ideal lunch to make for your friends and family. Great for vegetarians and can easily be made vegan-friendly!

Preparation time: 10 minutes
Servings: 2

Ingredients
250g beetroot, 130g rocket, watercress, and baby spinach salad, ½ cucumber, ½ red onion, 250g halloumi cheese, 1tbsp olive oil, 120g chickpeas, 40g pine nuts, and 40g sunflower seeds.

Instructions

Firstly, make your chili and lime salad dressing – see link in the notes below.
Then take your beetroot, cut it into wedges.
Now, take your rocket, watercress, and baby spinach salad (if you don't have these, then use your favorite) and place them in your bowl.
Next, slice your cucumber and then slice them in half again, so you have half-moon shapes and place them on top of your salad.
Now add your red onion, thinly sliced, and place it around your salad.
Next to go in your delicious salad is your grilled halloumi cheese.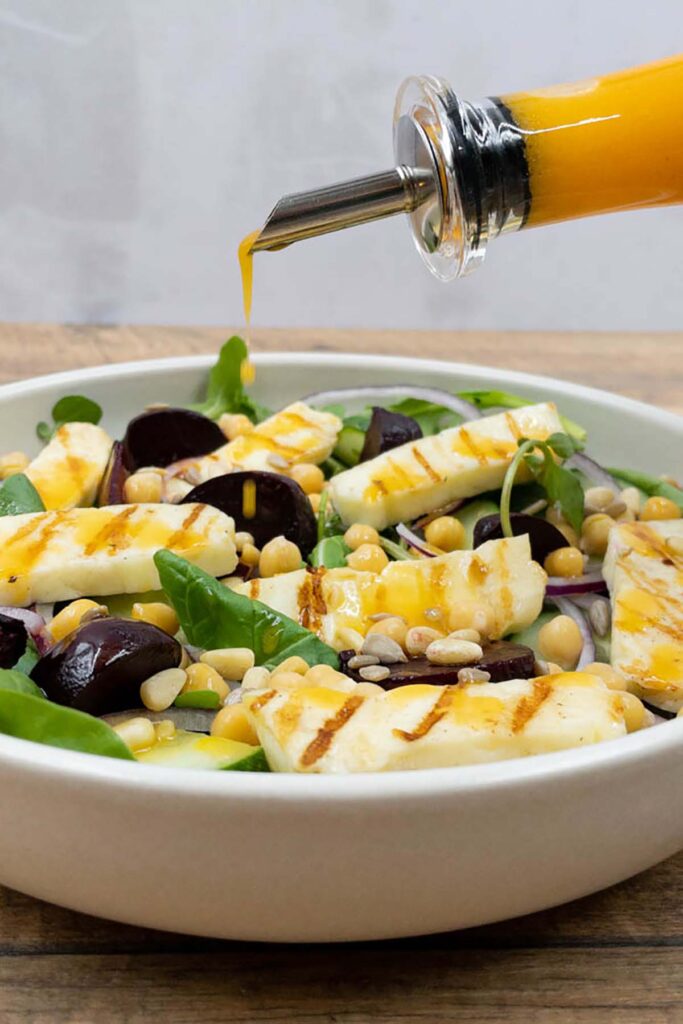 Over high heat, heat 1 tablespoon of olive oil in a large grill pan.
Slice your halloumi cheese into thin strips approximately 5cm (¼ inch) thick, then place them in the pan, you may have to do this in batches.
Cook each side until they are lightly browned, usually, this takes a minute for each side. Add the grilled halloumi to your salad bowl.
Now place your beetroot in your salad bowl and scatter your cooked chickpeas on top followed by pine nuts and sunflower seeds.
Drizzle your chili and lime dressing over your beetroot and grilled halloumi salad. Season with salt and pepper to your taste.
Summer salad sensation – serve and enjoy!

Read more about this recipe https://www.splashoftaste.com/beetroot-and-grilled-halloumi-salad/