A Stroud duo who have been producing Hopeless, Maine, a manga-inflected and gloriously gothic graphic novel series set on a mythical island off the coast of America, over the last decade have recently sold the series to an American publisher and smashed the target of the Kickstarter set up to allow pre-orders of the book, bringing in over twice the target.
Tom and Nimue Brown's vision of American island life, replete with its own weird and wonderful ecosystem which includes such beasts as Spoonwalkers and Dust Cats, has carved out a cult niche in the British comics scene since it was picked up by Sloth Comics in the UK.
Now that it has been picked up by Outland Entertainment in the USA (co-creator Tom Brown's country of origin), the enthusiastic following, who are regularly encouraged to contribute to the island's mythos via the Hopeless, Maine website, will hopefully only grow and grow.
"Kickstarters can be incredibly stressful because it's all or nothing," Nimue says. "If you don't hit the funding goal, it's over. This one has been delightful, and the support we've had has just been amazing both from people getting in for our books, and people willing to help promote us. It's been a really validating experience."
Comics are a collaborative medium, but Tom and Nimue take great delight in welcoming in others to help build their invented world.
"While Hopeless, Maine belongs to Nimue and I," says Tom, "it is a project that welcomes other creators. Outland will also be publishing the Hopeless, Maine role-playing game created by Keith Healing (from Stonehouse) and the Hopeless, Maine tarot, written by Laura Perry (from the USA). Future projects with other contributors are planned for later in the year.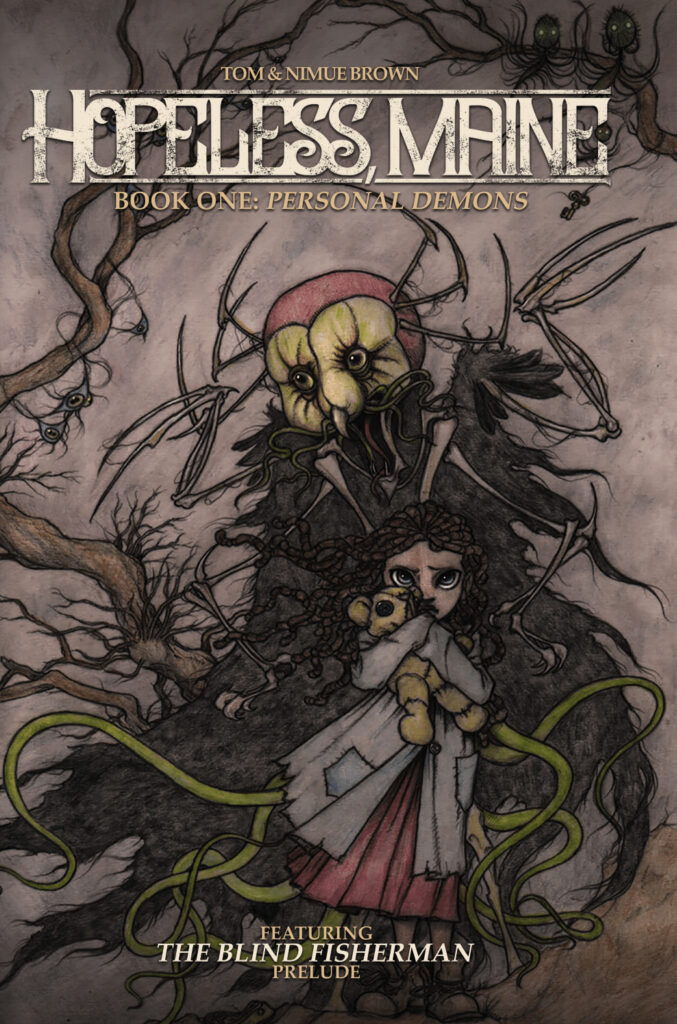 "I always envisaged Hopeless as a community project, so it's wonderful to see so many outstanding, talented people coming in to be part of it. There's a lot more of this to come, including branching out further into film, computer games, performance and prose fiction. We're building a strange playground for whoever needs it."
"Speaking as the writer of the Hopeless parts of the RPG rules, I am delighted (but not surprised) with how well the Kickstarter has gone," adds Keith Healing. "Tom and Nimue's world provides a wonderfully deep, deeply strange and unique environment for gamers to explore. We have plans afoot for more books and supplements that will take game-masters and players alike further into the island than is, perhaps, wise. Still, with a mug of hairy coffee and something suitably weapon-like in hand I am sure we can come through it mostly alive."
Hopeless, Maine is available from Stroud Bookshop and Yellow Lighted Bookshop in Nailsworth. If you'd like to find out more about Spoonwalkers, Dust Cats and all the strange sights available on the island, visit: The Hopeless Vendetta | News for the residents of Hopeless, Maine. (wordpress.com)