Introducing the absolute must-have summer side dish: our refreshing Korean Cucumber Salad.
Picture this: crisp, juicy cucumbers mingling with tangy and spicy flavours. It's like a flavour party in your mouth, whisking you away to the bustling streets of Seoul with every single bite.
The best part? This salad is super easy to make, so you can whip it up in no time. It's a perfect accompaniment to any meal, adding that oh-so-satisfying crunch that'll leave you wanting more. Trust me, once you try it, you'll be hooked!
Preparation time: 5 minutes
Resting time: 30 minutes
Total time: 35 minutes
Servings: 4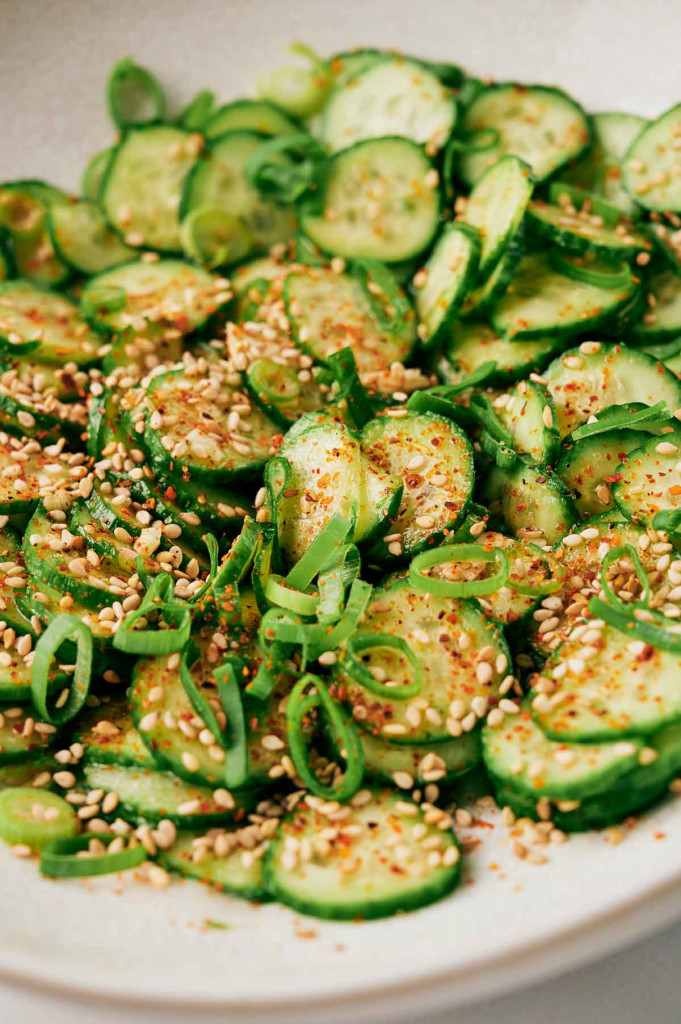 Ingredients
1 table spoon of salt, 2 Korean cucumbers (any thin cucumber will work), 1 tbsp gochugaru Korean red chili flakes, 1 spring onion sliced, ½ tsp sugar, ½ tsp garlic minced, 1 tsp rice wine vinegar, 1 tsp sesame seeds, and 1 tsp sesame oil.
Instructions
Thinly slice the cucumbers and toss them gently with salt, and set them aside for 25 – 30 minutes.
Drain excess fluid, and gently toss with gochugaru, spring onion, sugar, garlic, rice wine vinegar, sesame seeds, and sesame oil, ensuring that the cucumbers are evenly coated. Serve and enjoy.
For more information, serving and storing tips, see https://www.splashoftaste.com/korean-cucumber-salad/
Nutrition
Calories: 16kcal | Carbohydrates: 1g | Protein: 0.2g | Fat: 1g | Saturated Fat: 0.2g | Polyunsaturated Fat: 1g | Monounsaturated Fat: 0.5g | Sodium: 590mg | Potassium: 12mg | Fiber: 0.1g | Sugar: 1g | Vitamin A: 30IU | Vitamin C: 1mg | Calcium: 8mg | Iron: 0.1mg
Disclaimer
Please note that nutrient values are estimates only. Variations can occur due to product availability and manner of food preparation. Nutrition may vary based on methods of origin, preparation, freshness of ingredients, and other factors.