An Eastington woman has used lockdown to launch a lampshade business which will, in turn, help support NHS workers.
Sam Spencer, who started Orange Frog Boutique from her mum's home, is making a series of eye-catching lampshades depicting nurses at work, with proceeds going to the NHS.
Sam said: "The NHS has always been important to us, they have been outstanding throughout the pandemic, but to us, they have always been awesome.
"We would love to be able to give something back to NHS, to show our support and gratitude.  I found the nurse fabric and the idea came to me that we could raise money by selling shades with this fabric on.  All the money, minus postage fees, will go to the NHS charity Together.  If people are local we offer a free click and collect option, this would mean that the whole amount of the sale would go to the charity."
Orange Frog Boutique spawned during the first lockdown after Sam decided to update her eldest daughter's bedroom.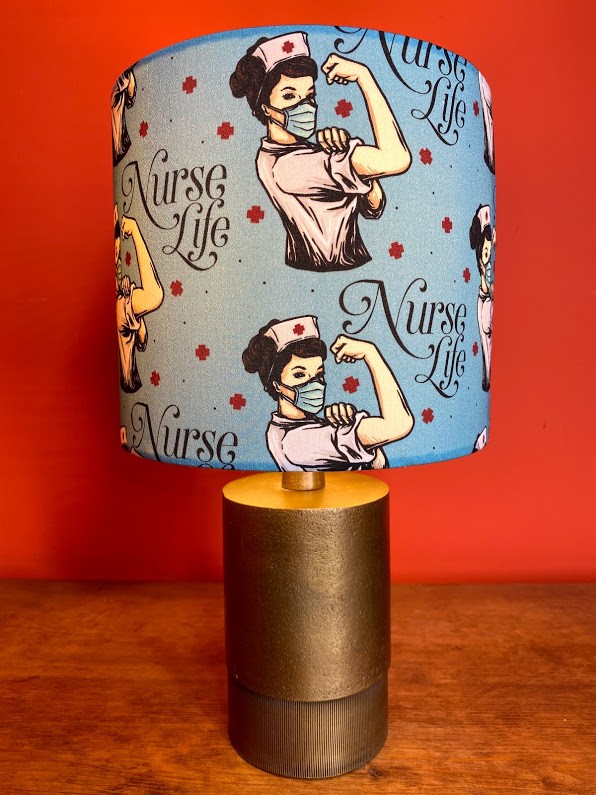 Sam added: "It all started when I was updating my oldest daughter's bedroom to a 'grown-up' bedroom.  I wanted her room to be cool, colourful, and to have a bit of 'wow' to it.  I struggled to find the lampshades that suited the bedroom, they were all plain and mass-produced. 
"So I decided to make a couple of lampshades for her. I enjoyed making the lampshades and I had great feedback from people when I showed them pictures of the lampshades I made, so I thought maybe I could make a business with this – from here Orange Frog Boutique was created, it's been so exciting.
"My mum, Sue, helps me, we have converted a room in her house to our studio; thankfully we live on the same lane in Eastington.
"We source fabrics that are bright and unusual, we tend to only buy a small amount so the lampshades are limited editions."
The fabrics and new lampshades can be seen on Instagram and Facebook @orangefrogboutique or visit www.orangefrogboutique.co.uk to buy a charity lampshade.