Voters go to the polls on Thursday, May 6 to elect councillors to represent them and help provide important local services.
This year, extra safety measures are being taken to protect voters and election staff from the risk of coronavirus. Polling station entry and exit will be carefully managed, there will be screens and sanitiser, and although pencils will be provided, voters are encouraged to bring their own too. Everyone entering a polling station must also wear a face covering unless they are exempt.
All those eligible to vote, can vote in elections to:
Elect Councillors to Stroud District Council.
Elect Councillors to Gloucestershire County Council.
Elect the Police and Crime Commissioner for Gloucestershire.
In some areas, voters can also cast votes for parish or town council candidates and in Neighbourhood Plan referendums:
There will be elections for 7 seats on Painswick Parish Council (Painswick ward), 13 seats on Stonehouse Town Council (Stonehouse ward), 3 seats on Stroud Town Council (Central ward) and 9 seats on Whiteshill and Ruscombe Parish Council. All other town and parish elections are uncontested.
In Cam and Horsley, voters can vote in referendums on Neighbourhood Plans – these help shape development in these areas for future generations.
Polling stations are open from 7am to 10pm, although some people may have cast their votes by post already. Voters should bring their polling cards but do not have to.
Stroud District Council elections are usually held every four years, however the election due in May 2020 was delayed by a year because of the coronavirus pandemic.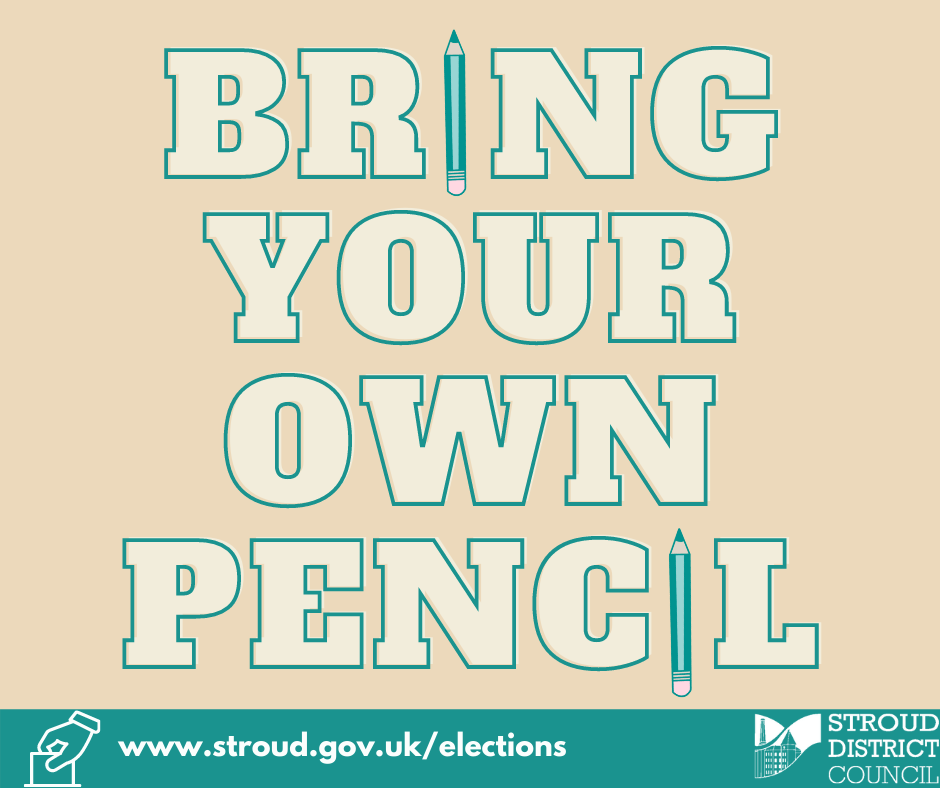 "We have taken many extra precautions to ensure voters can cast their ballots as safely as possible, and we ask everyone who visits a polling station to be patient as the process may take slightly longer," said Returning Officer Kathy O'Leary.
"Although we provide pencils to cast votes and will be disinfecting them, voters can bring their own if they wish."
Pens should not be used to cast votes because the ink could spoil a ballot paper, or make a mark for another candidate when the ballot paper is folded.
Counting of ballots and announcement of results will take place on Friday, May 7 (Gloucestershire County Council election), Saturday, May 8 (Stroud District Council and town and parish elections, and Neighbourhood referendums) and Monday, May 10 (Office of the Police and Crime Commissioner). Full declaration of results for Gloucestershire County Council and Office of the Police and Crime Commissioner will be made by Gloucestershire County Council and Gloucester City Council respectively.
Results from the Stroud count will be posted at www.stroud.gov.uk/elections2021 and live from the council's Twitter account @StroudDC. Access to the count is strictly by invitation only and due to the coronavirus pandemic, numbers of people at the count are limited.
Stroud District Council is composed of 51 councillors. There are 20 Conservative, 15 Labour, 9 Green, 2 Liberal Democrat, 1 Conservative (No Group), and 3 Independent councillors. There is currently 1 vacant seat. The Council is led by a cooperative alliance of the Labour, Green and Liberal Democrat parties. More information on the elections is available at www.stroud.gov.uk/elections2021