Sawyers Estate Agents and Fine & Country are delighted to sponsor this year's annual Eastcombe Primary School, Gnome Hunt.
The picturesque village of Eastcombe is about to be invaded by hordes of gnomes.
If you've never been before, it's a brilliant day out for all ages that's filled with fun and games, exploring the village, a nice bit of shopping and epic quantities of cake. The event, which has been running for over a decade now, will take place on July 8 and 9, 2023, 1–4pm each day.
The hunt starts at Eastcombe Primary School, where visitors can get their maps of the gnome trail through the village. Eagle-eyed children then set out with their families to spot any gnomes hidden along the way.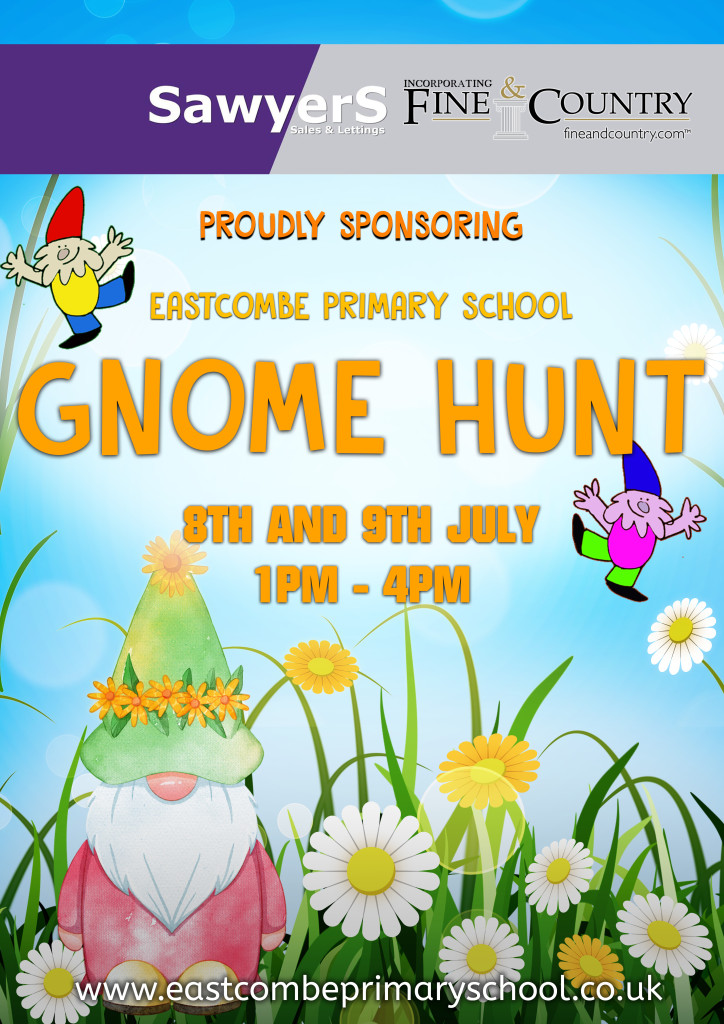 The trail is pushchair friendly and there's an ice cream stop along the route. The trail ends at Eastcombe Village Hall, where the main stalls and attractions are found. Every completed map wins a prize gnome!
Claire Jones, the school's headteacher said: 'We are very much looking forward to this year's Gnome Hunt. It is an opportunity for the school, local and wider community to come together to have a fun-filled weekend whilst raising precious funds for the school. This year we are fundraising for outdoor play and learning resources, playground furniture and books for each class. We are exceptionally proud of our friendly school and welcoming village, and can't wait to share this special event with you.'
The event is organized by Eastcombe School Association and sponsored by Sawyers Estate Agents (incorporating Fine & Country). All proceeds go to Eastcombe Primary School.
We here at Sawyers Fine & Country are delighted to announce that this year's annual Eastcombe School Gnome Hunt will be taking place on Saturday 8th and Sunday 9th July, 2023 between 1–4pm," said Clive Brown, Branch Manager.
The children at Gnome HQ are very excited and have been busy making sure the gnomes are dressed to impress for the big weekend. We are all really looking forward to seeing the village full of life, but we do ask all visitors to respect our lovely community.
Further details can be obtained by visiting: https://www.facebook.com/EastcombeGnomeHunt
For more information and to reserve your map, visit https://bit.ly/2023GnomeHunt. For latest updates see the Gnome Hunt Facebook page: https://www.facebook.com/EastcombeGnomeHunt