Need something tasty in a hurry? Our delicious tomato risotto can be on the table in just 20 minutes!
It's bursting with creamy tomato flavor, and what's even better is that it's vegan too – so everyone can eat it – enjoy!
Preparation time 5 minutes
Cooking time: 15 minutes.
Ingredients: 4 tbsp vegan butter, 2 onions finely chopped, 4 cloves of garlic minced, 300g risotto rice, 160ml vegan white wine, 500ml vegetable stock poured at intervals, 500ml passata, 8 Sun-dried tomatoes finely chopped, 100ml coconut milk, 1tsp dried oregano, salt and pepper to taste, 10 cherry tomatoes, a handful of fresh basil and vegan Parmesan cheese to garnish

Instructions
In a large pan over medium-high, add your vegan butter (or olive oil) and melt, then add your onions and minced garlic and fry until the onions start to soften approximately 3 minutes.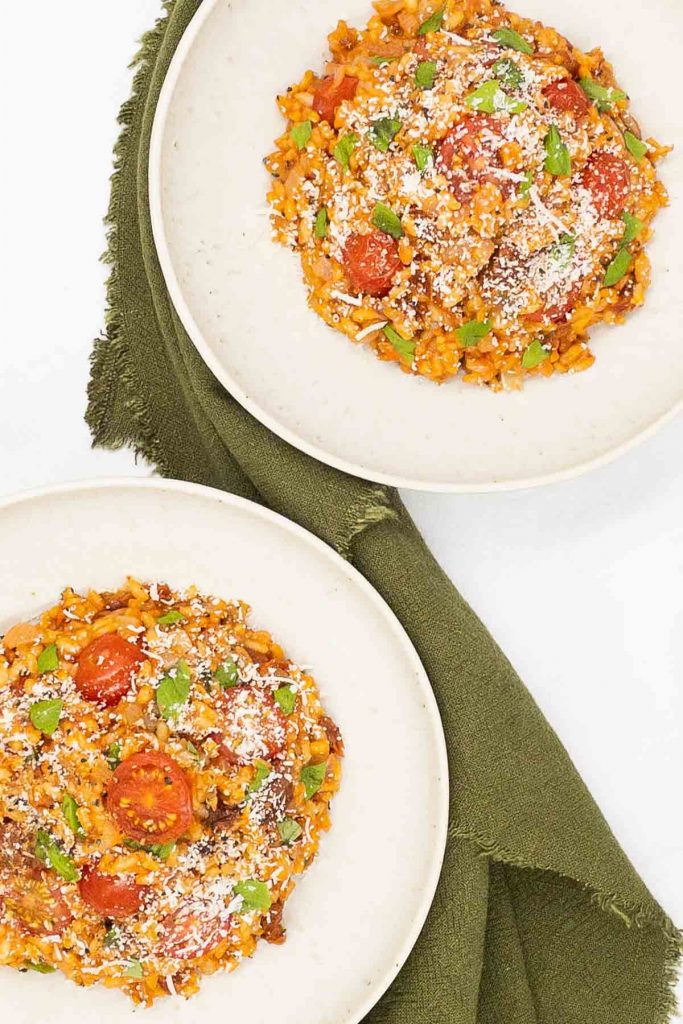 Next, add in your risotto rice and cook for one minute, stirring constantly. Add your vegan white wine and cook until the wine has almost been absorbed, stirring constantly to ensure the arborio rice doesn't stick. Now, lower to medium heat and then add a third of your vegetable broth and tomato sauce (passata) and cook until most of the liquid has been absorbed, then repeat until all the vegetable broth has been used, approximately 13 -14 minutes.
Then, add in your sun-dried tomatoes and coconut milk and stir to combine, it should look a beautifully creamy red color now.
When your rice is al dente, add oregano, stir, and then taste it and season with sea salt and pepper to taste. Finally, add in your cherry tomatoes, freshly torn basil leaves, and stir to combine. Serve in bowls and top with a sprinkling of grated vegan parmesan cheese (optional), A real taste of sweet heaven in your mouth!
Nutrition/Calories: 515kcal | Carbohydrates: 80g | Protein: 9g | Fat: 15g | Saturated Fat: 7g | Polyunsaturated Fat: 3g | Monounsaturated Fat: 4g | Trans Fat: 1g | Sodium: 1270mg | Potassium: 887mg | Fiber: 6g | Sugar: 12g | Vitamin A: 1603IU | Vitamin C: 25mg | Calcium: 62mg | Iron: 6mg

Find out more about our delicious risotto https://www.splashoftaste.com/vegan-risotto/