It's pretty cold at the moment, so we could all do with a big bowl of tasty soup and our sweet potato soup is the perfect winter warmer!
Slightly spicy with a satisfying nuttiness it's one of our favorite recipes. Add in sweet potatoes, coconut milk, and peanut butter and you've got a flavor sensation! Suitable for vegetarians and vegans, this is a great recipe that everyone can enjoy!
Preparation time: 15 minutes
Cook time: 40 minutes

Ingredients: 2 tbsp Olive oil, 1 onion finely chopped, 1 tbsp fresh ginger minced, 1 tbsp Thai red curry paste, 2 cloves of garlic minced, 900g sweet potatoes peeled and diced, 400g carrots sliced, 1 red bell pepper finely sliced, 1 litre vegetable stock, 400ml coconut milk, 65g smooth peanut butter, 1 tbsp soy sauce, salt and pepper to taste, red pepper flakes and coriander to garnish optional.
Instructions
In a large pan or Dutch oven over medium heat, add your olive oil and onions and sauté until the onions have softened. Now add your ginger, Thai red curry paste, and garlic and sauté for a minute.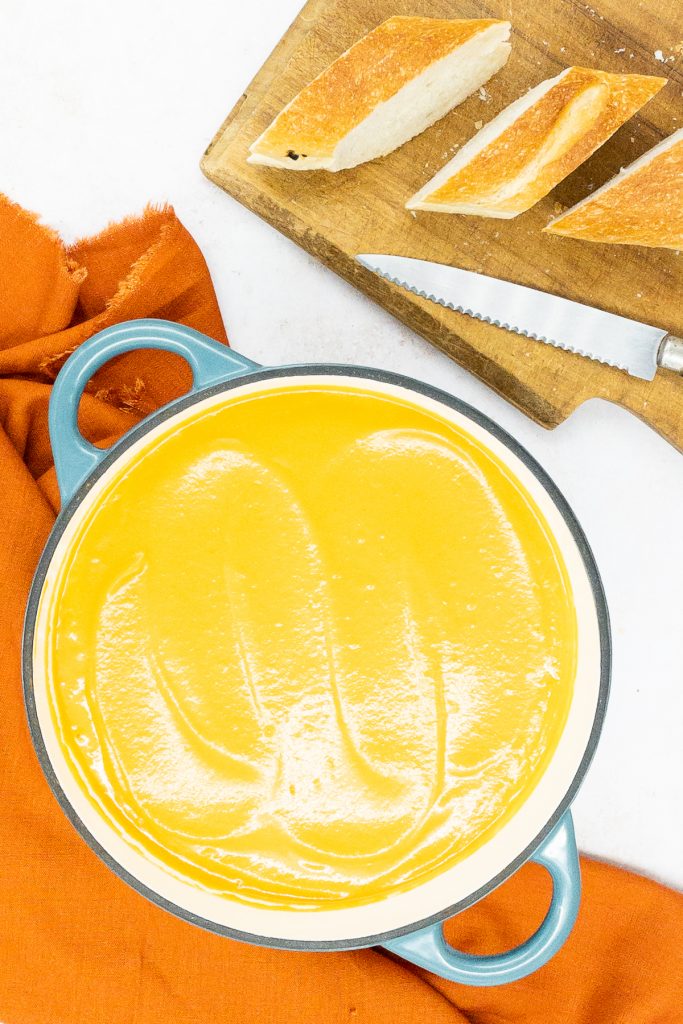 Now, add sweet potato, carrots, red pepper, and stir to combine them with the onions. Next, add your vegetable broth (vegetable stock), canned coconut milk, peanut butter, soy sauce, and stir to combine. Bring the mixture to a boil, reduce the heat, and let it simmer until all of the vegetables are soft and cooked, approximately 30 minutes.
Turn off the heat and let the soup cool for 5 – 10 minutes and then use an immersion blender or add it to your blender and blitz it until it's a smooth consistency, you may have to do this in batches.
Taste and season with salt and pepper. Garnish with a swirl of canned coconut milk or sour cream (but not for vegans). We used red pepper flakes and cilantro leaves, salt and pepper, Red pepper flakes, and cilantro to garnish. Super tasty, super warming – serve and enjoy!
Find out more about our sweet potato soup along with hints and tips https://www.splashoftaste.com/sweet-potato-soup/
Calories: 375kcal | Carbohydrates: 44g | Protein: 8g | Fat: 21g | Saturated Fat: 14g | Polyunsaturated Fat: 2g | Monounsaturated Fat: 4g | Sodium: 401mg | Potassium: 1018mg | Fiber: 8g | Sugar: 12g | Vitamin A: 33450IU | Vitamin C: 35mg | Calcium: 96mg | Iron: 4mg