An exciting array of activities are available to keep families occupied during the February half term.
From brisk boathouse walks and wobble beams to playing I spy with Harris Hedgehog, there is something for everyone to enjoy.
Many of the activities included are free-of-charge and we've also included lots of budget-friendly options too.
Museum in the Park, Stroud
Why not take a walk on the wild side with the Giant Snowdrop Company mini-display and explore the story of the Hyde company and how they introduced the collection of snowdrops in the mid-20th century. Once you've seen the display and found out all about the dainty little flowers, you can then pop into the walled garden to spot the collection of snowdrops.  
Where is Bran Badger the Stone Age Hunter? What about Harris Hedgehog the 1980s Punk? Join the Museum's free-of-charge, half term 'I Spy Trails' and once you've spied as many characters as you can then why not take a packed lunch with you and enjoy a winter wander adventure through the woodland.
Local illustrator Tracy Spiers has created some fantastic colouring-in sheets depicting museum objects for everyone to get creative and have some FUN! There is also a free-of-charge Museum in the Park colouring book but you'll have to be quick as it's first come, first serve (only available while stocks last).
Find out more at: https://museuminthepark.org.uk/
Stroudwater, Thames and Severn, and Gloucester and Sharpness canals
Discover the Cotswold and Severn vale canal networks and see if you can spot the vibrant blue feathers of the elusive kingfisher. As you're navigating your way along the path why not see if you can hunt some Geocaches; you'll need a smartphone to find the tricky treasures. To find out more visit: https://cotswoldcanals.org/canalside-geocaching-update/
The 'Discovering Britain' website also has an excellent guided walk and audio trail from Wallbridge in Stroud to Ocean in Stonehouse: https://bit.ly/2yJMwjR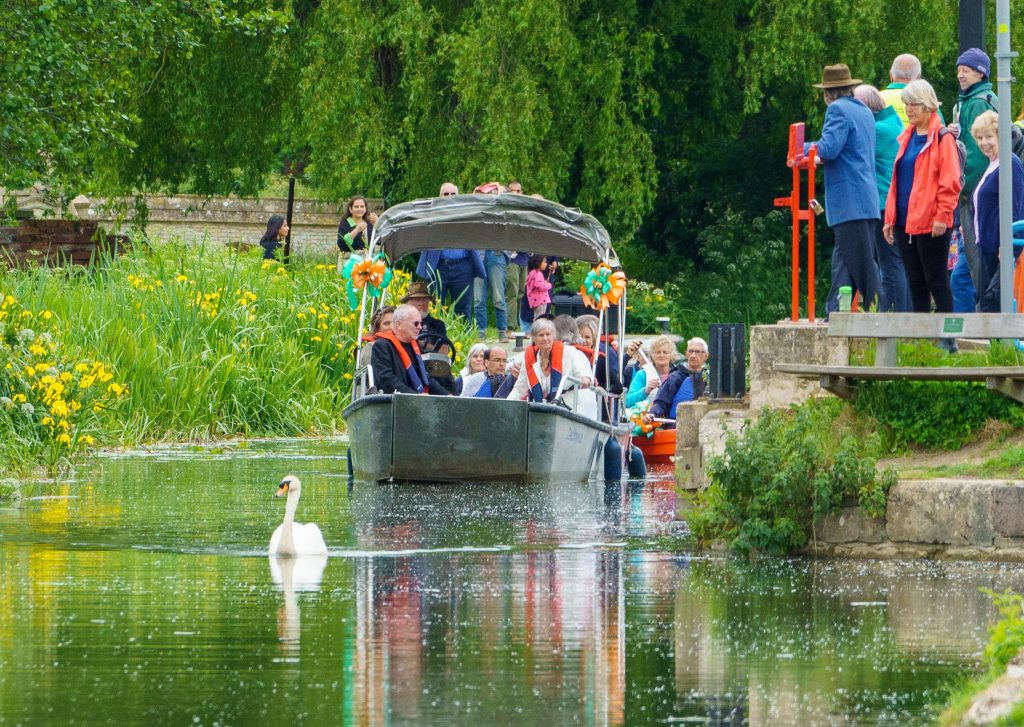 Please remember to keep dogs on leads on the towpaths.
Selsley Common
Explore the open expanses of the spectacular Selsley Common; it's a Site of Special Scientific Interest as it contains a Bronze Age burial mound called 'the Toots'. The common provides far-reaching views and on a clear day you can even see across the border into Wales. Please remember to keep dogs on leads.
Woodchester Park
Brush off the walking boots, wrap up warm and blow away the cobwebs with a bracing walk to the boathouse. Discover the park's woodland Play Trail along the way and why not see how long you can balance on the wobble beams and wobble on the balance bridges.
The parkland is also a designated Site of Special Scientific Interest and you might even spot elusive creatures such as otters, herons and if you're really, (really) lucky Woodchester's population of lesser and greater horseshoe bats!
Entry is free-of-charge for the grounds but there is a charge for parking (free for National Trust members).
Find out more at: https://www.nationaltrust.org.uk/visit/gloucestershire-cotswolds/woodchester-park
The Pulse
Head to The Pulse in Dursley for some fantastic half term fun. From activity days including crafts and an inflatable fun session in the pool to fun-filled dance workshops where parents are invited to come and see the dance performance. If you'd like to boost your child's confidence and ability in the water then there will also be intensive swimming lessons provided (Stage 2).
To find out more and to download their February half term leaflet visit: https://www.pulsedursley.co.uk/downloads/programmes/the-pulse_february-half-term-leaflet_2023-digital.pdf
Libraries
Make use of the local libraries, especially if the weather takes a turn for the worse. There is plenty to do including free access to the internet and wi-fi, library clubs and warm places to read.
To find out more about community libraries, please visit their individual web pages: https://www.gloucestershire.gov.uk/libraries/library-locations-and-opening-hours/
Stroud Old Cemetery and Local Nature Reserve
An old cemetery might not be the first place you would consider for a family-friendly place to visit over half term but you can try the new Nature Detective Challenge, Audio Trail at Stroud Old Cemetery. The site was designated as a Local Nature Reserve and is one of only a few cemeteries in England with this status. The trail is free-of-charge and all you'll need to bring is a curious mind and a smart phone that can scan QR codes.
Learn all about the incredible history and wildlife that Stroud has to offer. There will be fun challenges along the way; there might even be a reward!
Remember that the site is a cemetery and to be mindful and respectful of this.
To find out more visit: https://www.stroudtown.gov.uk/old-cemetery-and-local-nature-re.html
Go Outside Walks
Burn off some excess energy and discover some of the district's delights; from Dr Jenner's House in Berkeley to church steeples in Dursley. There are six walking trails you can download on Stroud District Council's website including Stonehouse Park Trail and Chalford Hill Trail. They are easy to follow and free-of-charge.
To find out more visit: https://www.stroud.gov.uk/community-health-and-wellbeing/go-outside-walks
Parkrun
Every Saturday you can join parkrun in Stroud held in the beautiful grounds of Stratford Park. You'll need to register for this free-of-charge event before you first come along but once you arrive all you'll need is your enthusiasm and a pair of decent trainers. The weekly 5K community event is suitable for all; dogs on leads are welcome, you can push a buggy and feel free go at your own pace – walk, jog, run or you can spectate.
To find out more visit: https://www.parkrun.org.uk/stratfordparkstroud/
There is also a weekly junior parkrun held every Sunday at 09:00am for children age 4-14 in Stonehouse or Wotton. Children of all abilities can attend regardless of their pace and the emphasis is on having fun. The parkrun is free-of-charge and is 2K long. Children age 11 and under will need to be accompanied by an adult on all parkruns.
To find out more about junior parkruns in Stonehouse and Wotton visit: https://www.parkrun.org.uk/stonehouse-juniors/ or https://www.parkrun.org.uk/wottoncommunityparc-juniors/
Stroud Brewery
Get creative at Stroud Brewery's half term special Lego club. Lego will be provided but everyone is welcome to bring their own. Children of all ages are welcome with an adult. From long term Lego enthusiasts to have-a-go first-timers; brick by brick this will be a time to enjoy sitting, talking and being creative together.
They will also be holding a kids yoga camp day. The aim is to have fun, learn some new moves, try out some relaxation techniques and to make new friends.
To find out more and to book you're a place visit: https://stroudbrewery.co.uk/pages/events
Providing access to open, green spaces is one of the top priorities in our Council Plan. We work with local communities and partners to protect and enhance the district's green infrastructure and biodiversity, providing accessible environments that people can enjoy, and which positively contribute to their good health and well-being.
We also aim to help our residents through the cost-of-living crisis; at the heart of our Council Plan we aim to support communities to help each other and build resilience through a network of community hubs and other community-led networks, with mental and physical health and wellbeing at its heart. To find out more about our community hubs or our Council Plan visit our website: https://www.stroud.gov.uk