Lifelong Forest Green fan Tim Barnard pays a heartfelt tribute to former Chairman and President John Duff.
TRIBUTE
John sadly passed away recently aged 86.  He was one of probably a handful of people in the last 100 years who are responsible for FGR's unique place in footballing history, since their formation in 1889.  
Dale Vince is currently overseeing a Football League era at the Club, and the late Trevor Horsley previously oversaw the transformation of Forest Green Rovers FC from The Southern League to a solid Conference level club, in a ground fit for the Football League. But before Trevor and Dale stood John Duff.
John had supported Forest Green Rovers as a child just before the Second World War, and had fond memories of walking over the common to Brimscombe with other FGR fans, for the local derbies to take bragging rights in the Stroud district.
He played his first game for Rovers 70 years ago in 1951, the last year that players would change at The Jovial Foresters pub down the hill, and walk up to the ground to play the match. John continued as a player, when not on National Service, until 1967, when he became players' representative and Chairman of FGR.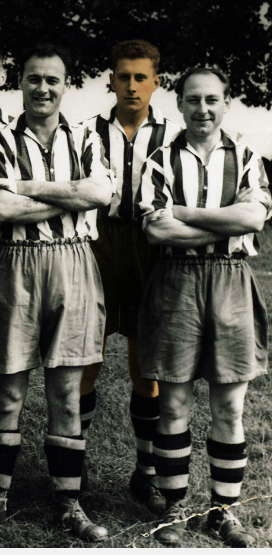 His first move as Chairman was to oversee Rovers' move from the Gloucestershire Northern Senior League (GNSL) to the County League for the 1968-69 season, also the year that the new Social Club opened, which gave FGR a bigger revenue stream. This was followed in 1975 by a step up to the Hellenic League, and competitive games against teams for the first time from outside the County. He was also instrumental in setting up other fundraising schemes such as The Greenliner Lottery, which again massively boosted the Club's income in the 1970s.
In 1982, John took Rovers to Wembley for the FA Vase Final and came away with the Cup, putting Forest Green Rovers firmly on the footballing map. In the same year Rovers won the Hellenic League and entered the Southern League for the first time in their history.
It is difficult today to think of joining The Southern League being such a giant step, but less than 15 years before the Club was still in the GNSL.  Now we are in a play-off for a place in EFL League 1.
John continued as Chairman until 1990 the same year that Trevor Horsley first attended a match at FGR. John was latterly President of Forest Green Rovers.