Construction work is now underway on Stroud's brand-new medical centre which will deliver GP services to more than 15,000 patients in the heart of the town.
The team from the main contractors PDR Construction have moved on site to start work on the refurbishment and partial rebuild of a retail unit on King Street, ready for the new Five Valleys Medical Practice to open in autumn 2022.
The project is creating a new £6.5m town centre facility for two of the town's established GP practices, Locking Hill Surgery and Stroud Valleys Family Practice, as well as a pharmacy and additional space for a range of other complementary health and service providers.
Both practices have outgrown their current surgery buildings, and with the local population set to increase over the next 15 years, the GP partners and NHS Gloucestershire Clinical Commissioning Group (CCG) identified the need to move to more modern premises.
The much-needed extra space in the new building will enable the two practices to extend the range of services they provide, expand training opportunities and support patients with complex needs who require more specialist treatment, as well as being a hub for the local community.
Dr Ewart Lewis, GP Partner at Locking Hill Surgery, said: "For many years, lack of space has hindered the services we can offer. Having additional consulting and treatment rooms will allow us to expand our teams, train more GPs and offer a greater range of services to our patients, for example diagnostics, minor surgery, contraception, mental health support, physiotherapy and social prescribing."
Dr Anne Hampton, GP Partner at Stroud Valleys Family Practice added: "This development is great news for both our patients and staff. It has been carefully designed to support our more vulnerable patients and will be a much more attractive and modern environment for both patients and staff. We are also looking forward to being part of the up-and-coming Five Valleys Centre."
Both practices recently applied to NHS England with a request to merge, and this application was approved in late August. The merger will help the practices to realise the full range of additional services that the new premises can support, as well as build on the strengths of the two well-established practice teams as they continue to care for their patients. The new practice will be called the Five Valleys Medical practice.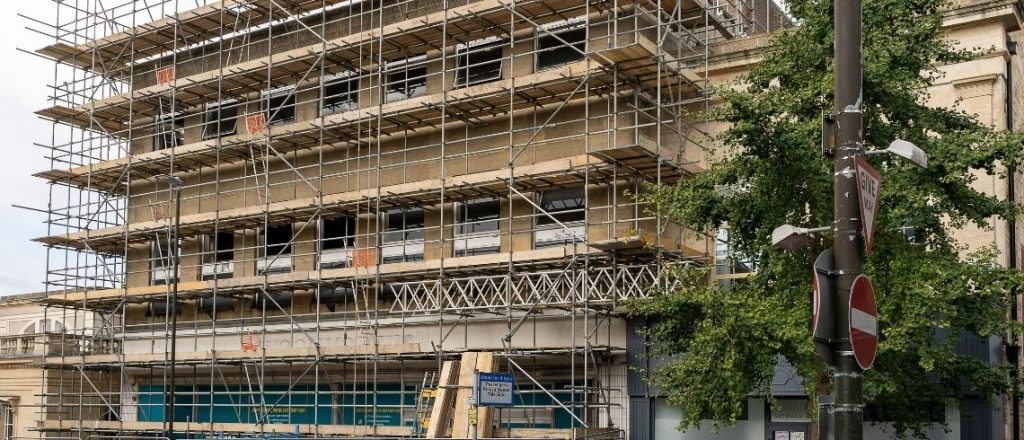 Site preparation and stripping out work has now started, and later this month scaffolding will go up around the building for the first phase of the redevelopment work to begin.
The development is an integral part of the regeneration of the centre of Stroud being delivered by Dransfield Properties.
The new location is very accessible and visible, with 360 parking spaces available in the adjacent Five Valleys Shopping Centre, which will be free of charge to anyone who has an appointment at the surgery. It's also close to public transport, a taxi rank and other amenities in the town, including pharmacies.
Director of Primary Care at NHS Gloucestershire Clinical Commissioning Group, Helen Goodey, said:"This is an exciting development for Stroud, and following the additional investment made by the CCG, we are very pleased to see work getting underway.
"Patients will really benefit from a modern, spacious and environmentally-friendly new health centre which has good access for people with disabilities and better facilities for children and families."
The construction team will be working closely with the Five Valleys Centre management team to minimise disruption to businesses and shoppers throughout the building work. The new facility is scheduled to be handed over in August 2022, ready for opening in the autumn.
Managing Director of Dransfield Properties, Mark Dransfield, said:"We are extremely proud of our work in Stroud, and it is great to see work now starting on this fantastic new facility for the community in the heart of the town.
"The new centre will cater for the town's growing population and have space to offer many more additional services to the patients it will serve."
To keep up to date with progress on site as well as all the news and events at Five Valleys visit www.fivevalleysstroud.co.uk