Artist Katherine Bryan-Merrett has just finished a new mural at Forest Green Rovers' The New Lawn, ahead of the start of the new football season.
Katherine, of Kat and Owen Murals, was commissioned by the club to paint the colourful mural in the children's play area in the Gym Bar, and it features many instantly recognisable features associated with Forest Green.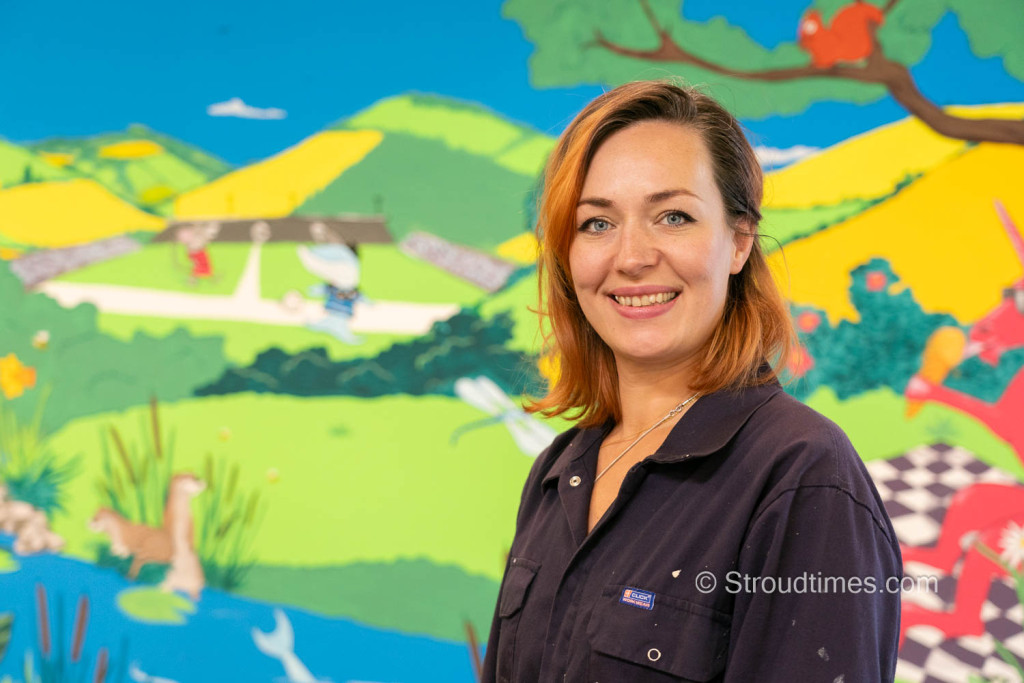 "They got in contact with me, having seen some of the work that I've done on social media and said, would I do something to brighten up the kids play area," explained Katherine, who has a studio in Nailsworth and grew up on Spring Hill.
"When I was younger, I used to live on Spring Hill and we could hear the football ground from where we lived. It's really nice to come back here now and doing what I love doing as well."
At the centre of the mural is a football pitch with characters wearing the club's home and away strips. May Hill can be seen in the distance: "We wanted to give it a sense of local grounding so when people come in, they can recognise those little bits. It's not exact, but I wanted to get a bit of an idea of May Hill in the background," said Katherine.
There are some clever details in the painting, including '1889' carved into the tree trunk, the year the club was founded: "We've got some of the icons from the Forest Green Rovers logo as well so I turned them into characters, which is the Unicorn and the Lion. So far, I think everybody loves it. Tt's really bright and cheerful and brightens the place up."
Katherine used eco-friendly Little Green Paint from Bailey Paints in Stroud and the club donated the leftover paint so she could use it to paint a backdrop for Amberley Parochial School's play.