Two new trail maps have been launched as part of May's Slow Canal Trail to encourage people to get the most of the canal and surrounding areas. 
The themed maps have been developed in partnership with Gloucestershire Community Rail Partnership linking the canal corridor to sustainable transport and active travel through Walking and Cycling and Food and Farm trails. Designed by Stroud-based artist Ruth Hickson the family-friendly maps inspire users giving them a choice of eight routes to follow.
The timing coincides with Mental Health Awareness Week, which this year highlights the benefits of getting active and being out in nature.
"The canal is here for everyone to enjoy and is the perfect environment for people to enjoy and connect with nature.
"There is strong evidence that demonstrates the benefits of nature for our mental health and we hope our maps will provide inspiration for people whatever their level of physical fitness."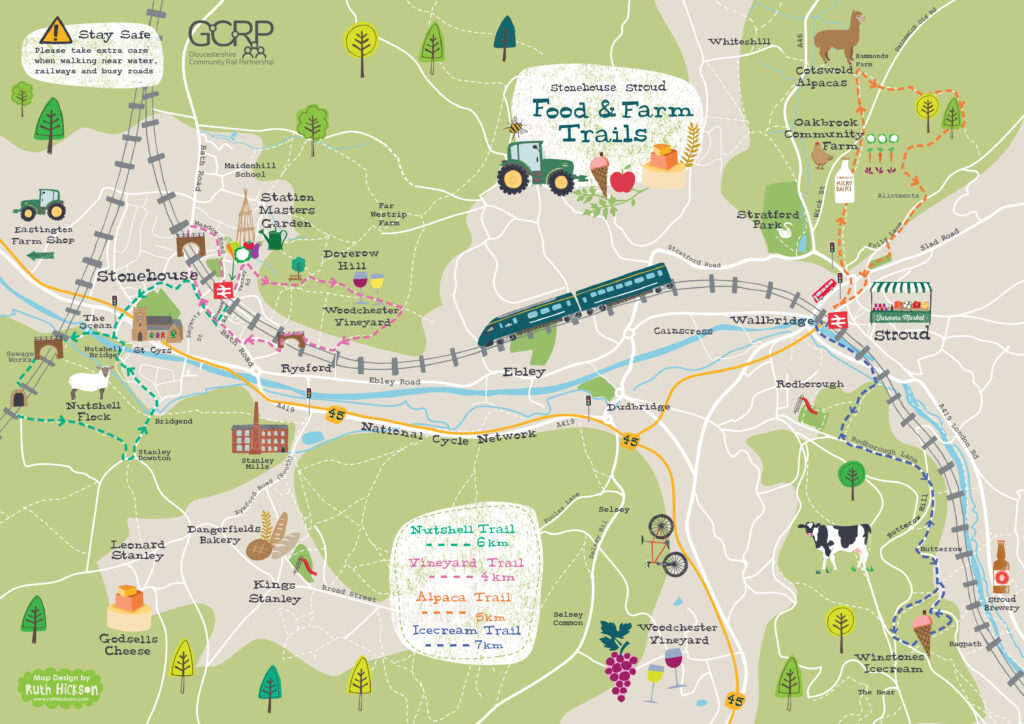 The routes take people on both traditional canal side paths, as well as some areas close to the canal, but further from the towpath.
The Walking and Cycling map gives instructions for four circular routes – a Canal Rail Trail, Cotswold Rail Trail, Stratford Park Trail and Doverow Hill Trail.
The Food and Farms map details a Nutshell Trail, a Vineyard Trail, an Alpaca Trail and an Icecream Trail encouraging people to explore and experience local produce.
Visitors can upload stories, photos and videos taken along the routes to an online community map for others to be inspired by. It means the canal and canal-based activities are available to people that can't be there in person, including those who are still shielding.
The maps form part of the month-long `slow canal trail' to celebrate the beginning of the final stage of canal restoration which will connect the Stroudwater canal to the national inland waterways network.
The event is a relaxed, family-friendly way to discover the canal and surrounding areas, and includes surprise pop up performances, an interactive light and sound installation, art exhibitions, audio posts, wildlife and heritage bingo cards, wheelchair accessible boat trips and more.
More information, including maps and bingo cards to download are on the website www.cotswoldcanalsconnected.org and on the Cotwold Canals Connected Facebook, Twitter and Instagram accounts.
Share your canal trail experiences here on our interactive Cotswold Canals Connected community map.
Find out more about Gloucestershire Community Rail Partnership here.