Jonathan Brough from Minchinhampton is a dedicated para-athlete. At the age of 18, 14 years ago, Jonathan caught meningitis; the disease left him paralysed from the neck down, dependent on a wheelchair and a breathing machine. But this hasn't stopped him from competing in all kinds of running events, using an all-terrain wheelchair, as he explains:
This is my first column for Stroud Times and I'm going to keep it simple.
I am just about to start a huge virtual challenge – climbing the equivalent of Mount Everest at 29,000 feet. To complete this, I will have to achieve the same elevation as Sir Edmund Hillary when he conquered the mountain in 1953 – but I will be doing it in my chair, around the Minchinhampton area, using the app Strava to record elevation gain.
This will be the ninth virtual challenge I've taken on since lockdown began. During that time, I've covered around 1,000 kms and raised more than £1,500 for NHS Charities Together. Being a wheelchair user, and permanently on a breathing machine, has posed all sorts of extra obstacles for me. For example, my body cannot regulate my temperature by itself. I always have a thermometer with me, which I have to check regularly – I can't tell when I'm getting too cold or too hot without it. Extremes of temperature can affect my circulation and be really bad for me. I've been out in all weathers completing my challenges – rain, hail and snow throughout the winter; but I've wrapped up loads with ponchos and coats. And summer means plenty of sun cream.
I have always loved sport – the competitiveness; pushing yourself; the positive impact it can have on fitness and mental health. But when I spent time in Salisbury hospital, rehabilitating after my injury, it was very frustrating. I was the most paralysed person in there, and I could only watch as other people went to the gym or used the rehab pool. Often, they weren't 'sporty' people. They were doing it because they had to. Whereas I really wanted to but wasn't allowed because of my condition.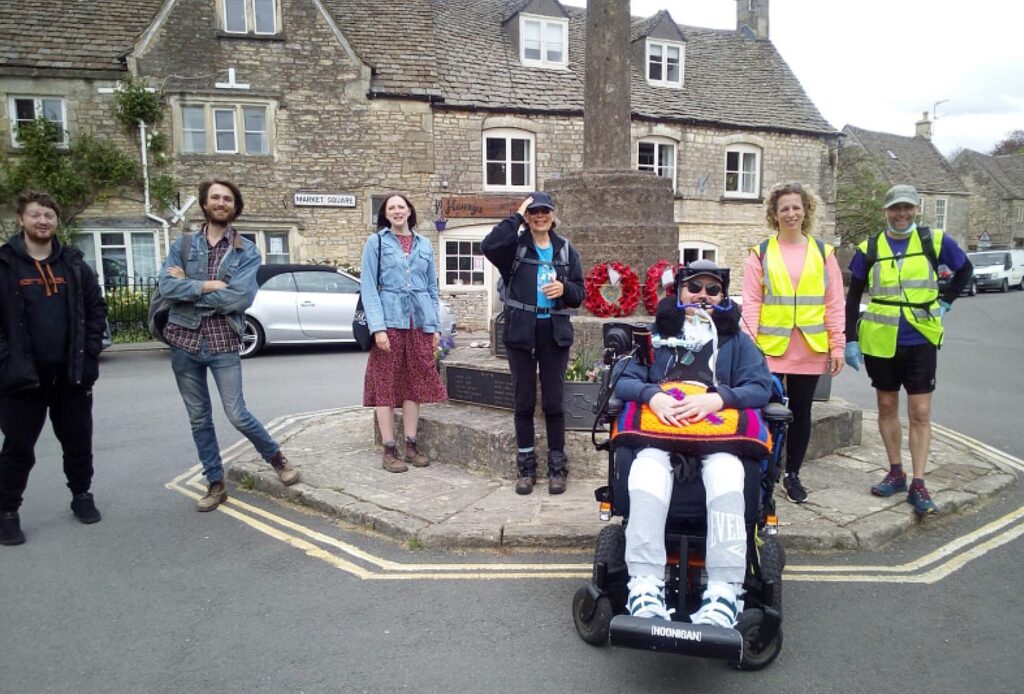 Being able to take part in sport again – especially since I've had an all-terrain wheelchair – has massively helped my mental health. It's been hard in lockdown, not being able to see other competitors or having a crowd around me. But I still feel like I'm achieving. The best thing is when people in the street stop and say, 'Well done!' That pushes me on.
One of the first challenges I took on was the Great Run Solo, where you have to complete a certain number of kilometres in a certain time. I finished it at the Old Lodge, on Minchinhampton Common. My mum and dad, my brother George and his girlfriend Becky, were all there – along with a few friends – to see me complete it. They'd made a 'FINISH' banner for me. Positive feedback. It felt good.