If you love fresh, tasty, and filling food that's easy to make, then you'll love these stuffed peppers.
It looks like it'll be a sunny weekend, so why not eat al fresco in the garden? Filled with savoury rice, beans, and a cheesy filling, these peppers are not only a nutritious dinner option, they oh-so-good!
Preparation time: 15 minutes
Cook time: 40 minutes
Total time: 55 minutes
Servings: 4
Ingredients
4 Large red peppers halved lengthwise and deseeded, 3 tbsp olive oil divided, salt and pepper to taste, 90g rice white or brown, 1 large onion diced, ½ tsp salt, 3385g tomatoes we used canned chopped tomatoes, 2 tbsp taco seasoning, 10g fresh coriander plus extra for garnish, 130g pinto beans drained, 130g black beans drained, 1 tbsp lime juice fresh, and 115g Mozzarella grated.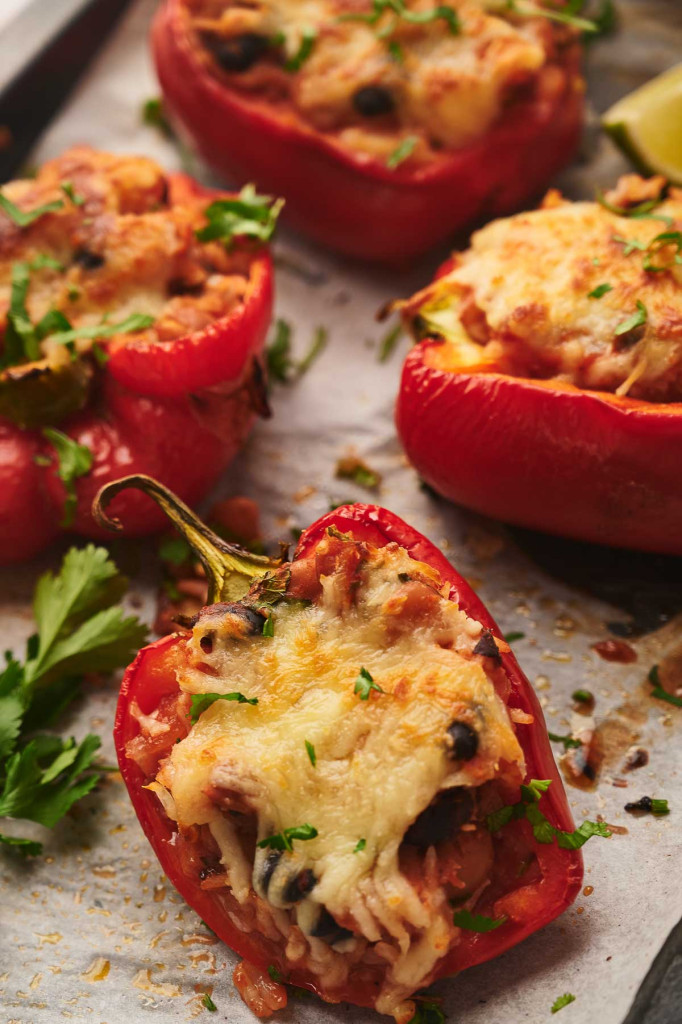 Instructions
Preheat your oven to 220°C. Place the pepper halves, cut side up, in a baking dish. Drizzle them with olive oil and season with salt and pepper; rub the oil so the peppers are coated and baked until they are easily pierced by a fork and slightly blistered. Remove from the oven and set aside.
While the peppers are cooking, rinse the rice until the water becomes clear, then bring a large pot of water to a boil. Add the rice and cook according to the packet instructions. When cooked, the rice should be fluffy and light, not soggy. Set the rice aside.
In a large pan over medium heat, heat 2 tablespoons of olive oil, then add onion and cook until the onion is tender, approximately 5 minutes. Add salt and tomatoes, and stir to combine. Next, add taco seasoning and coriander, stir to combine, and cook for 30 seconds.
Remove the pan from the heat and add the cooked rice, pinto beans, black beans, and lime juice; stir to combine. Season with salt and black pepper.
Ensure that the peppers don't have any juices in them, then stuff each pepper with an equal amount of the rice mixture, top the mix with a generous amount of cheese, return the peppers to the oven, and bake until the peppers have heated throughout and the cheese is melted, and brown spots have appeared on it, approximately 10 – 13 minutes. Remove from the oven, garnish with coriander, serve, and enjoy.
For more cooking tips and notes, see https://www.splashoftaste.com/vegetarian-stuffed-peppers/
If you want to make these in an air fryer, see https://www.splashoftaste.com/air-fryer-stuffed-peppers/
For homemade taco seasoning, see https://www.splashoftaste.com/taco-seasoning-recipe/
Nutrition
Calories: 354kcal | Carbohydrates: 37g | Protein: 15g | Fat: 18g | Saturated Fat: 5g | Polyunsaturated Fat: 2g | Monounsaturated Fat: 10g | Cholesterol: 22mg | Sodium: 588mg | Potassium: 921mg | Fiber: 11g | Sugar: 12g | Vitamin A: 6380IU | Vitamin C: 228mg | Calcium: 197mg | Iron: 3mg
Disclaimer
Please note that nutrient values are estimates only. Variations can occur due to product availability and manner of food preparation. Nutrition may vary based on methods of origin, preparation, freshness of ingredients, and other factors.