A Stroud mum is encouraging others to be brave and ask for help, with a powerful message on World Mental Health Day (Sunday, October 10).  
Tracey Edwards, 49, is sharing her experience of how she was supported by Home-Start after the birth of her second baby. Her journey began when she reached out for support herself, which led to her now co-ordinating the Mothers In Mind (MIMs) drop-in sessions at Home-Start Stroud and Gloucester, where she feels it is a huge privilege to watch mums blossom and grow. https://homestartsd.org/
"If Home-Start hadn't scooped me up I would have been in crisis mode," Tracey said. "I always say they were the umbrella in my darkest storm. I was in a very dark place. I dread to think what life might have been like had I not discovered the Mothers in Mind sessions.
"I remember the first group I attended in 2017. We created masks. At the time I was just cutting things out with my daughter sat on my lap, talking to the mums on either side of me. The aim was to create masks for a local exhibition, but later when I took the pieces home to stick onto my mask. I realised this was therapy in itself. Every item on my mask related to my journey with my poor mental health and how I was feeling.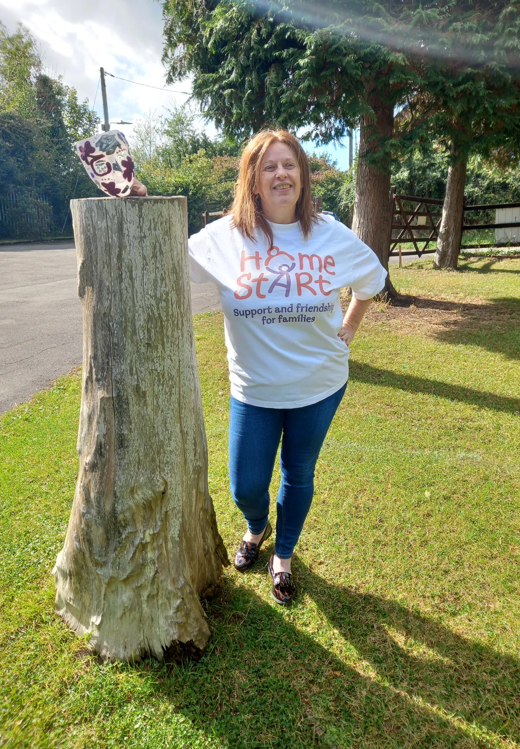 "I soon realised I'd been wearing a mask for much longer than I should have, trying to pretend I was OK when I wasn't.  I wore that mask when I should have been asking for help. That mask-making session was a big eye-opener for me."  
Tracey, whose son Dan is 33and daughter Tia is six, said: "I absolutely love my role within Home-Start. It is a huge privilege to encourage other mums on their own journeys to better mental health supporting each other, reducing isolation, and developing new friendships and I love seeing the progress." 
For Tracey, it all began when she took Tia to a baby weigh-in session and her health visitor noticed she wasn't herself.  
"I was agitated, upset, and a little angry at her questions. She referred me to another health visitor who recommended a referral to Home-Start. I had never heard of Home-Start but knew I was struggling and needed help."  
Tracey was matched with a volunteer who visited once a week.
"She changed my life," Tracey said. "It sounds like such small things but actually they were the big things. Tia was a colicky baby and cried every night between 5pm and 11pm. I remember the first time my volunteer came I managed to wash my hair and shower in almost silence because my volunteer was taking care of her. She gave me time to sort out my unpaid bills and unopened post. It gave me some much-needed time, space, and peace to enable my head to undertake these tasks. It meant so much at what was a really difficult time."  
Tracey's partner left when Tia was six months old which was tough. She was a single parent and as an older mum thought she should be able to cope as Tia was her second child.
"I tried to get out to baby and toddler groups, but I really struggled. I'd cry before I went in and cry all the way home afterwards. It took me a very long time to find a group I could just be myself and feel comfortable with the other families." 
Thankfully the team at Home Start Stroud and Gloucester recognised her struggles and façade and provided the gentle support Tracey needed to enable her to seek specialised therapy to help her with undiagnosed PTSD, severe depression and anxiety. "I didn't make it easy and was very reluctant to step into therapy," Tracey said.  
"Tia was always clean, fed, well looked after, communicated with and loved but I was severely neglecting myself on autopilot caring for my daughter, doing it all staring into space with depression and sadness. I was present but I wasn't really there. Luckily, she has thrived but that will not be the case for every child. 
"I hope sharing my story makes a difference to another mum. It's not a weakness to admit you need help. It is strength and the bravest step you will ever make."
Tracey knows many important social connections were lost in lockdown, making groups like MIMS more important than ever.
"I feel so sorry for mums who weren't able to have their partners with them during antenatal sessions and birth units until labour. Not getting baby weigh-ins, limited health visitor visits. It must have been so isolating.
"Nowadays, it feels like you have your baby and you're left to get on with it. You're supposed to know what to do and be all smiles and happy. The reality is being a parent is hard work. 
"It's too easy for mums to drop off the radar if there's nobody to notice they need a helping hand. The number of families I support has trebled since lockdown and the long-term mental health consequences on families due to Coronavirus will slowly unravel, support will be needed for a very long time and this will require adequate funding. Now is the time that organisations need to work hard together to ensure every Mum is fully supported." 
And for Tracey, what is her goal? "Until every Mum in Gloucestershire receives the vital perinatal support they need when faced with difficulties I won't rest. I would love to see the Mothers in Mind group available to every mum throughout the UK. My goal for the moment is to put MIMS at the forefront of perinatal mental health peer support groups within Gloucestershire!"