Two mothers and three fathers from Stroud took to the streets of London in Just Stop Oil slow marches that ended up in Hamleys toy store and Selfridges. 
They were among 30 parents from the West Country all taking part to demand an end to all new licences for oil and gas in the UK. 
A group of 24 mothers held signs with slogans that included "give our kids hope" and "I am a mother, I won't look away" as they slow marched down Shaftesbury Avenue before police arrived and issued a section 12.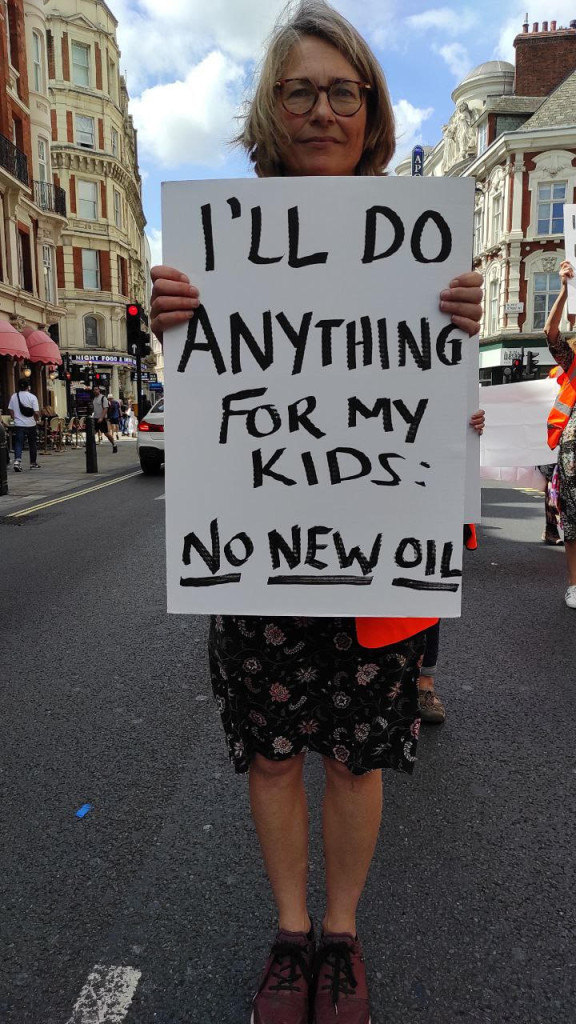 Two Bristol women and another from Bradford-on-Avon were arrested for refusing to leave the road. The remaining mothers later marched to Hamleys toy store where some entered the store to march while others held signs outside.  Gill Tavner, 53, an ex-teacher studying for an MSc in Society, Politics and Climate Change, and Frankie Duggan, 57, a yoga instructor, were among those mothers involved.  Gill, a mother-of-two, said: "The government and the fossil-fuelled side of the media try to 'other' protest, and they try to 'other' Just Stop Oil' as eco maniacs, terrorists and other such nonsense. But we're not. We're ordinary people from different walks of life stepping way out of our comfort zones to try to ensure a future for our children. 
"We decided to march together as mothers to defy this 'othering' and stereotyping. We're marching because surely, only the cruellest, most heartless journalists and politicians would try to other a mother. This is maternal love and power in action. And we will not stop until the government ends its criminal and dangerous pursuit of fossil fuel extraction." 

Frankie, also a mother-of-two, added: "I marched with these mums today because I'm desperate to get our voices heard. For whatever reason our government seems hellbent on destroying our kids' futures and as mothers we simply won't stand for that."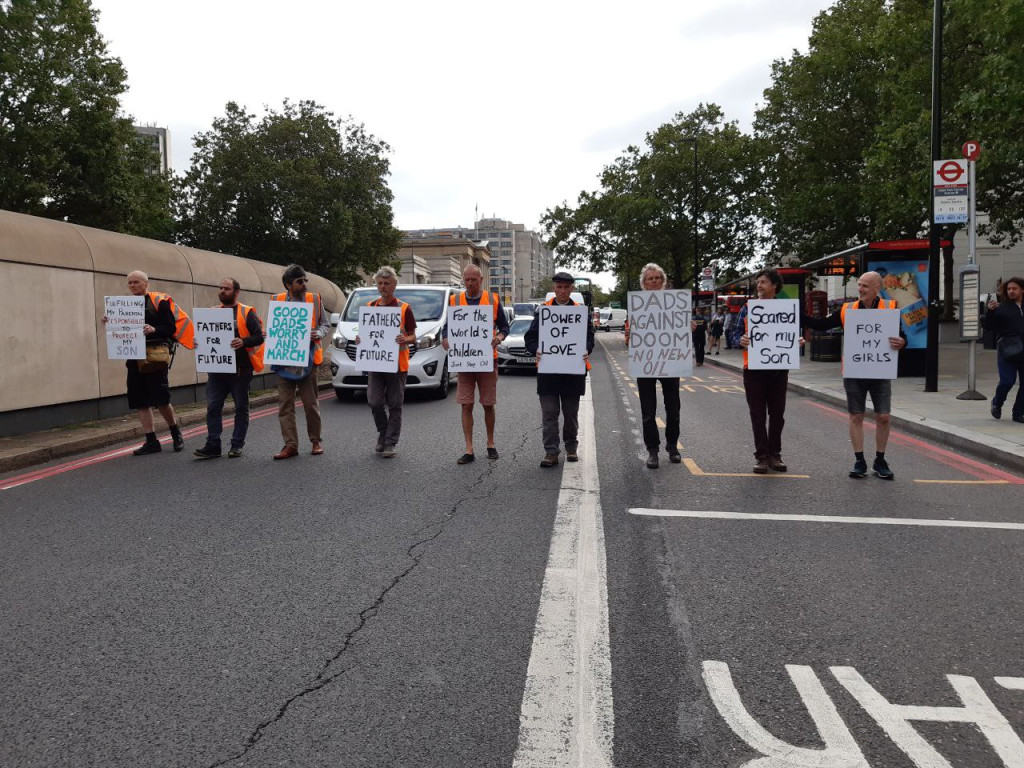 A group of nine dads marched through Selfridges with signs saying 'fathers for a future' and 'will our children survive 3.5 degrees?' at one point posing next to a Delorean, the iconic car from 'Back to the Future'.
One of the dad's marching in Selfridges was Adam Beard, 54, a gardener, who said: "The famous clock above the entrance to Selfridges depicts mother time. This clock and statue was designed 80 years ago by Gilbert Bayes, my great great uncle. In 80 years time, if we carry on putting carbon into the atmosphere as we are now, we will likely have seen three degrees of warming, tipping points passed and runaway climate collapse bringing untold misery and death around the planet, as well as the complete breakdown of our society. I wonder what Gilbert would think about the legacy that we're leaving our grandchildren."
He was joined by Mike Exley, 66, and Bill Roberts, 67, a music teacher who, speaking outside Selfridges, said: "I'm here because I'm terrified for the future for my son and my grand-nephews and grand-nieces who were born last year. I don't know what the future will hold. I'm in despair about our government's lack of action on the climate." 
In total, six Stroud Just Stop Oil supporters have been marching in London twice a day every day as part of the campaign's twelfth week of continuous slow marches.
The action comes amid reports that Europe's record breaking heatwave has claimed its first life this summer, prompting health warnings for tourists. The European Space Agency suggests that the heatwave has only just begun. Italy, Spain, France, Germany and Poland are all experiencing extreme heat. The islands of Sicily and Sardinia are expected to hit 48°C– potentially the hottest temperatures ever recorded in Europe.
ESA reports that yesterday land surface temperatures reached over 50°C in Sicily, and Spain saw land surface temperatures reach 60°C. [2][3]Just Stop Oil supporters have completed up to seven marches a day, six days a week since the 24th April.
Over 800 ordinary people from all over the UK have taken part. Including arrests at the Coronation and cultural and sporting events there have been around 238 arrests this year.
Since the Just Stop Oil campaign launched on 14th February 2022, there have been over 2,200 arrests and 138 people have spent time in prison, many without trial.
Just Stop Oil supporters Morgan Trowland and Marcus Decker are serving three-year  prison sentences for resisting new oil, gas and coal in the longest sentences for peaceful climate action in British history.
A Just Stop Oil spokesperson said: "It's time to pick a side and join in civil resistance to end new oil, gas and coal. We are inviting everyone to come and march with us every day in London from the 16th-23rd July. Sign up for action at juststopoil.org."