Stroud Times sat down with Clare Honeyfield. Transformational coach, yoga teacher, and director of The Made in Stroud Shop; Farmers market founder and champion of entrepreneurs & creatives.
When are you at your happiest?  I am always happiest in aerial classes where I learn trapeze, silks and hoop. I train with the School of Larks. It's not that I'm really accomplished, it's just a real passion. Or sailing around the Greek islands swimming in turquoise seas with friends after morning yoga. Or on the yoga mat after one hour of practice.
What has been your biggest disappointment?  As Tony Robbins says – disappointment destroys you or drives you, the choice is yours.
What is your guiltiest pleasure? I always try to keep my pleasures guilt-free, but I'm most definitely one of life's pleasure seekers.
What is your favourite smell? Roses in the summer sun.
Who would play you in a film about your life? Claudia Schiffer obviously. If she wasn't available, Daisy May Cooper.
What do you like most about  Stroud?  I love how friendly and relaxed Stroud is, the strong sense of community, the characters. I adore the landscape, the air quality, and love the independent shops & cafes, the arts scene, and the music scene. The views seem to improve the longer one lives here. And the proximity to London and Bristol is very cool.
What would you improve about Stroud? Make it more representative of the wider community in the UK, more culturally diverse and more inclusive, and importantly more tolerant.
What is your ideal weekend? Stroll around the farmers' market, coffee in Birch whilst people watching. Woodland walking. A yoga class or aerial training. Lunch from Woodruffs or Star Anise. Dancing to live music at The Albert. A lazy Sunday with family and friends.
That or Glastonbury festival.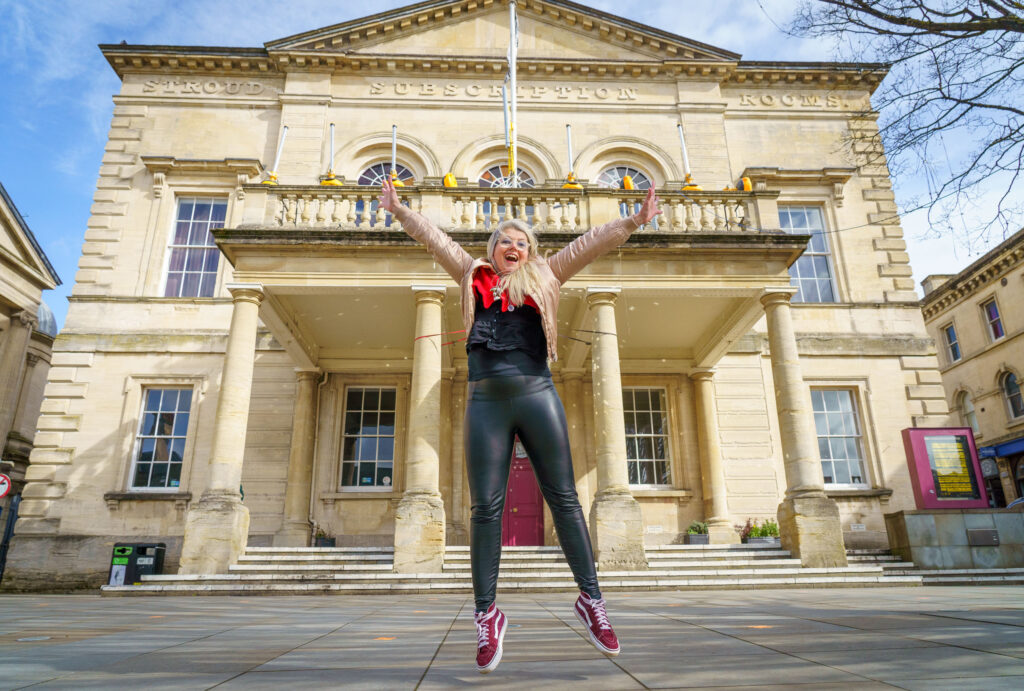 What is on your bucket list?  I don't have a bucket list as such but I was booked to do a wing walk for charity last autumn. I'm hoping that will be rescheduled. I love the beach in north Goa and I'd like to spend some big chunks of time there. Oh and I've got a novel to write.
What is the most important lesson life has taught you? That it is very short and we have to cram in as much adventure as we can. That everything is energy.  To be as outstanding as possible, and take opportunities. And, importantly, that you're the average of the 5 folks you spend the most time with, (including online) so chose carefully. That everything is temporary, so enjoy it, or conversely "it's ok, it'll pass."
What book and song would you take with you if stranded on an uninhabited island? Say a little prayer by Aretha Franklin
Yoga Step by Step By Yogamaharishi Dr Swami Gitananda Giri.
What public figures do you most admire? Gosh!! Such a good question!! Dr Ananda Balayogi Bhavanani Brene Brown, Tony Robbins, David Goggins, Wim Hof, Joseph McClendon, Nick Santonastasso, Jean-Pierre de Villiers are currently in my top ten.
Who is the most famous person on your phone? Fat Toni.
What are your best and worst qualities? Best – impetuous nature, Worst – impetuous nature.