The Chalford Sports & Social Club has scooped the title of Stroud CAMRA Club of the Year for the third year running. Ali and Rob Brady were presented with a certificate recording their achievement at a presentation ceremony and celebration on Sunday 16 July.
'We had a good turnout of Stroud CAMRA members and the club was very busy, confirming its status as the sporting and social hub of the village,' reports Tim Mars, Stroud CAMRA Pubs Officer. 'Sadly this meant we were unable to use the skittle alley, which was the high point of last year's presentation.'
Rob Brady runs the Good Beer Company, a leading local wholesaler that exclusively distributes Stroud Brewery beers, and supplies the Ale House and Prince Albert (among many other pubs) with cask ales from a wide roster of breweries up and down the country. So a good selection of beers was a given. On tap were Brew By Numbers 21, a 4.0% pale ale, This Mess from Twisted Barrel, a unfined vegan 4.0% hazy pale ale, Hammerton Crunch, a 5.4% Peanut Butter Milk Stout and Hattie Brown's Dog on the Roof (6.0%). So a wide range of tastes and strengths was catered for.
Sadly, this might have been the first and last chance to sample any Brew by Numbers beers as the Greenwich-based craft brewer appointed administrators in June to look for new owners—further evidence (if any were needed) of how tough things are for small brewers.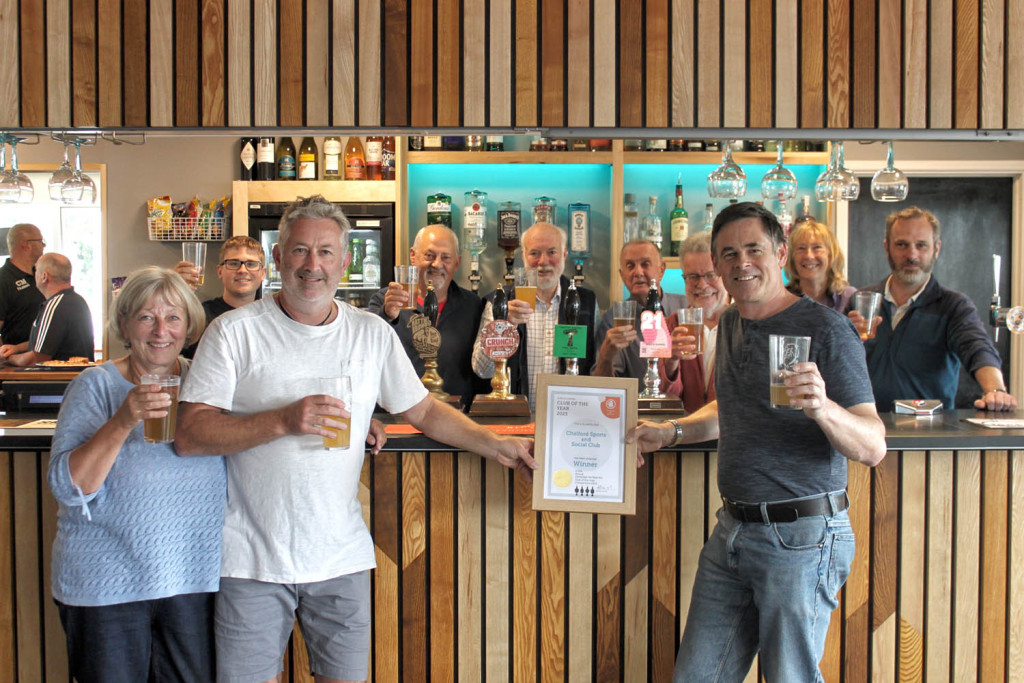 The Chalford Sports & Social Club sits right at the top of Chalford Hill with a glorious southerly aspect across its own tennis courts. The club is the sporting and social hub of the village, with around 500 members who pay £15 a year for membership. It is an astonishing resource at the heart of the community, offering a wide variety of social and sporting opportunities, from craft clubs to skittles, fitness classes to sport on TV. It is a warm and welcoming place, very family-orientated and where children are always welcome.
The club is justifiably proud of its sporting prowess. It hosts four men's football teams, with the 1st team currently sitting pretty in the Northern Senior League. Two cricket sides play out of Chalford, with the 1st team playing in Stroud Division 2 and the 2nd team currently playing in Stroud Division 4, as well as a pub cricket team. As if that were not enough, the club has no less than five tennis teams, with their top players battling it out against the best in the area in the premier division. The club boasts five floodlit courts, including two synthetic clay ones.
The clubhouse is an unprepossessing flat-roofed, concrete-block bunker, but it proves to be an Aladdin's cave when it comes to the range of facilities and activities within. The main hall is big enough to accommodate 150 people and is a popular choice for wedding receptions, parties, concerts and family events. It is also used for short mat bowls, with several sessions each week. There is a dartboard in the comfortably-furnished lounge.
But skittles is at the heart of the club, with several teams, regular competitive and social events throughout the winter and a weekday league in summer.
Ali Brady became manager in March 2018 and from that point on it was all change on the beer front. In came the handpumps and on came the real ale, and overnight the club changed from serving only pressurised keg beers to an oasis of real ale. Rob is solely a volunteer at the club but takes care of beer ordering, line cleaning and also serves behind the bar.
The Chalford Sports & Social Club now goes forward to the next round—to compete with other Gloucestershire CAMRA sub-branch nominations for the title of Gloucestershire CAMRA Club of the Year.
Last year it was possible to get to and from the club by bus on a Sunday on the Stagecoach 67 service, running from Cashes Green to Bussage and calling at Merrywalks. No more. Due to savage cuts to this route, the 67 bus no longer runs on Sundays or on weekday evenings.
Pictures by Rachel Andrews