Stroud MP Siobhan Baillie and the children's minister Claire Coutinho visited a series of nursery and childcare providers and a charity in the town last week to discuss the government's plans to increase free provision.
The Stroud MP led the campaign to reform childcare provision to make it more easily accessible and affordable.
The Chancellor named Ms Baillie in the Spring Budget when he announced a free 30 hours' provision for all children under five by 2025 and improved funding for the sector.
Ms Coutinho joined Ms Baillie to visit BarBar Nursery, Curious Caterpillars Nursery, Allsorts Gloucestershire and a local childminder, Tina Pipe and discuss the new measures.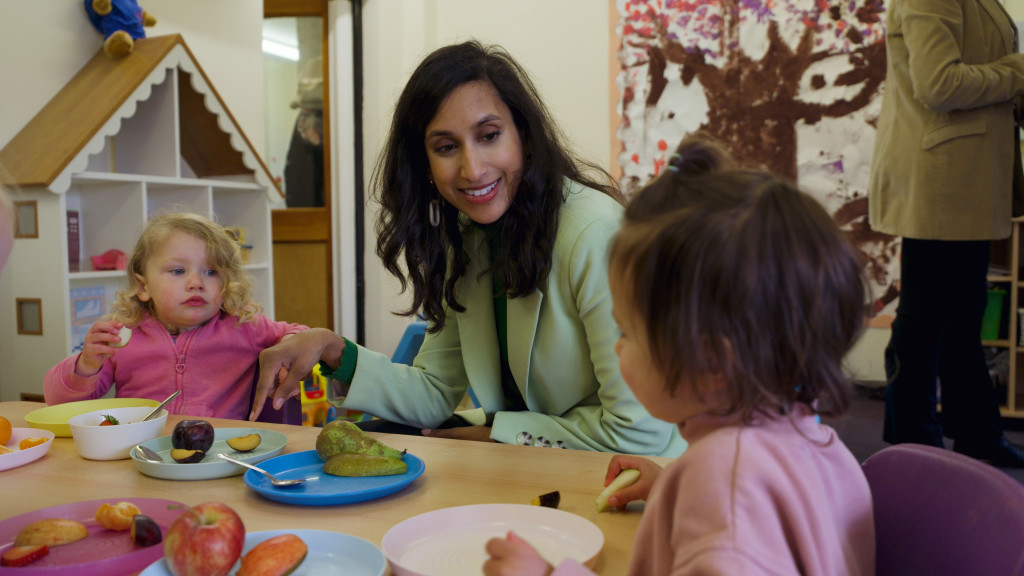 "I thank the minister for coming to Stroud.  It is unusual for them to take part in such a wide range of visits but the Department for Education knows I am still leading the charge on this and wanted to learn about different views from different parts of the sector here," said Ms Baillie.
"I was impressed the Chancellor announced free hours and a rise in the hourly funding for the pre-school providers. But more work is needed to support the sector and to ensure we have capacity to cope with the free element as it comes online. I wanted the minister to meet local childcare experts to understand why we need to boost the workforce."
The minister added: "It was wonderful visiting Stroud and meeting the fantastic folk at BarBar Nursery, Curious Caterpillars and All Sorts and a brilliant local childminder. The work that they do is so important to our children's development.
"We spoke about recruitment and funding and the Chancellor's recent Budget announcement which was the single biggest investment in childcare in England ever.
"Our plans for childcare will save an average £6,500 every year for a family with a two-year-old child using 35 hours of childcare every week, and it will support thousands of parents and mums in particular back into work."
Director of BarBar Nursery Sandra Barton said: "It was lovely for the BarBar Nursery teachers and children to meet and talk with the Minister, the MP and their team recently and we hope that they all enjoyed their time playing alongside our children.
"We shared our thoughts on how the Government can help and support nursery settings to meet the Government remit of extending Early Years provision including exploring the funding rates paid to settings, staff qualifications, recruitment and retention, space and ratio requirements, business rates and VAT to name but a few.
"Nursery teachers provide a vitally important role within society; after all we care for parents' most important possession in the world and we are teaching the MPs of the future. The Minister listened to our views and it was lovely to feel valued and heard by her and her team."
Tina Pipe, a local Childminder, welcomed the politicians to her home. She added: "I was honoured to welcome the Minister and Siobhan. Both listened to my concerns around funding and engaged in discussing the idea of rebranding and professionalising the career of Childminding."
 Kim Curd, Nursery Manager at Curious Caterpillars said: "It was a pleasure to have Siobhan Baillie and the Minister visit, the children were very excited to show them around our nursery. It was lovely to have the opportunity to discuss the struggles within the early years and to feel like we were being heard."