Our homemade tahini pasta sauce is combined with vegan bacon pieces and fresh vegetables to create a dreamy delicious creamy pasta sauce, writes Mandy Applegate from https://splashoftaste.com/vegan-pasta-tahini/
Preparation/ cook time: 12 minutes; servings: 4.
Ingredients
525g Mixed mushrooms, 1 red bell pepper, 70g frozen peas, 70g tahini, 1 lemon, 3 cloves of garlic, 130ml water, 1 tbsp olive oil, 175g vegan bacon pieces, salt and pepper to taste, black sesame seeds optional.
Instructions
First, you'll need to prepare your vegetables. Roughly chop your mushrooms into chunky slices. We used a mixture of mushrooms that have a good umami meaty taste, oyster, shitake and forestiere mushrooms, but you can use whatever you prefer.
Next, take one red pepper, deseed and slice it into long thin slices.
Weigh out your frozen peas.
Then it's time to cook your pasta. In a large pot, bring water to the boil, add salt and then your pasta of choice and cook the pasta according to the packet instructions. We chose linguini and it was delicious. While your pasta is cooking, it's time to make the tahini sauce.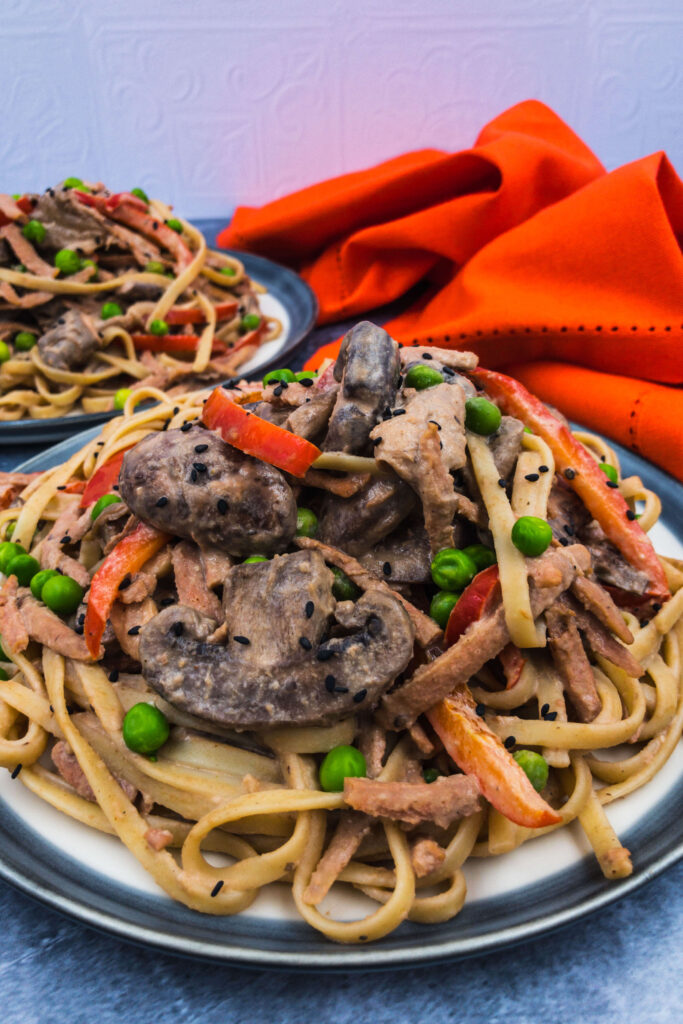 In a food processor or blender add your tahini. Then juice your lemon and add the lemon juice to the food processor or blender and crush in 3 fresh garlic cloves (you can substitute with garlic powder if you don't have garlic cloves).
Next, blitz the mixture and slowly, little by little, add in your water, you may not need it all, just add enough to get to your desired consistency, it should be nice and smooth.
Once you've made your tahini sauce, set it aside and heat a frying pan over medium heat.
Add a tablespoon of olive oil and then add your vegan bacon pieces, stir and cook for 1 minute, then add your red pepper, stir and cook for 1 minute.
Next, add your mushrooms to the pan, cook for 4 minutes stirring occasionally and then add the creamy tahini sauce and season with salt and black pepper.
Add in your peas and give the ingredients a good stir to make sure that all of the vegetables are covered, continue to cook until the vegetables are cooked.
When the pasta is cooked (you want it al dente), add it to the pan. You don't need to drain it, just add the pasta directly, it's not a bad thing to get a little of the pasta water in the pan as it helps the tahini sauce stick to your pasta.
Toss the pasta to ensure that it's evenly incorporated into this delicious creamy sauce and then serve in bowls or on plates.
Lastly, garnish with black sesame seeds. Plant-tastic! Enjoy your wonderful pasta dish!
The nutritional values do not include the pasta of your choice, please refer to the packaging for details.
Nutrition/Calories: 258kcal | Carbohydrates: 26g | Protein: 14g | Fat: 13g | Saturated Fat: 2g | Cholesterol: 2mg | Sodium: 314mg | Potassium: 769mg | Fiber: 8g | Sugar: 6g | Vitamin A: 2626IU | Vitamin C: 58mg | Calcium: 106mg | Iron: 3mg
Find out more about this vegan pasta dish https://splashoftaste.com/vegan-pasta-tahini/