Music-based radio shows have traditionally stuck to the familiar format of a disc jockey playing records and chatting in between. Dekan Devlyn's Sunday evening show on Stroud Love Radio is different, writes Ade Blair. 
There is music, and some chat, but the songs don't come from a CD, vinyl record or MP3 file; Dekan plays and sings them all himself.
Once a week from the studio in his Ebley home Dekan treats his audience to an hour of laid-back tunes played on his acoustic guitar, harmonica, synthesizer, kick drum, and some amazing hand-built Italian metal tongue drums. 
He plays a mixture of his own compositions, which have a pleasant uplifting spiritual edge, and a few cover versions of songs by artists as diverse as Paul Weller, Ray LaMontagne, and Blur, all of which he stamps with his own musical style.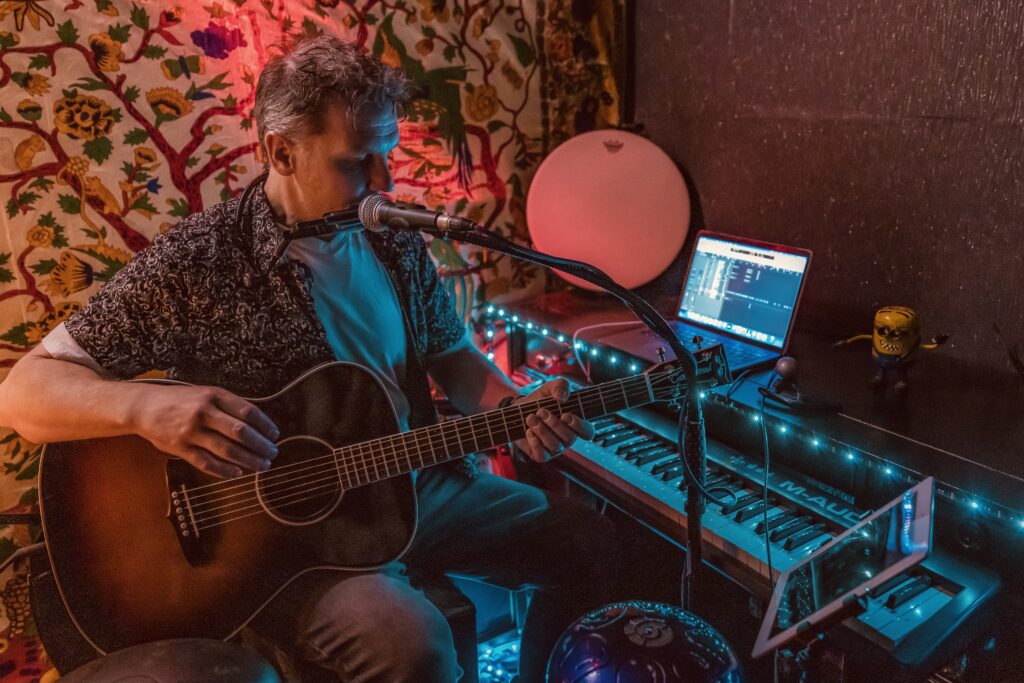 Back in the year 2000, Dekan studied drums at The Academy of Contemporary Music in Guildford. He was so obsessed with drums at the time that he spent on average eight hours a day practising. This, however, did stand him in good stead, as he went on to play drums in both a Beatles and a Led Zeppelin tribute act.
Dekan's next appearance will be this Sunday (August 1st) at The Clothiers Arms, on the corner of Bath Road and Rodborough Hill, which is hosting a weekend of live performances and broadcasts from Stroud Love Radio presenters. Dekan will be playing and broadcasting live on Sunday evening between 5 and 6pm. His radio show will be back to its usual timeslot of 7 to 8pm the following week.
Stroud Love Radio currently broadcasts numerous shows live online from Friday evening to Sunday evening and can be found either through its Facebook page or via Mixlr.com