A group of collaborative artists have launched a crowdfunder.
Covering the costs of their exhibition at the popular Three Storeys gallery in Nailsworth, artist Susie Hetherington and poet JLM Morton began an experiment in Lockdown #1, an art-mapping project which saw ordnance survey maps passed house to house between artists, writers, musicians, performers and makers who created their own outposts of isolation by pasting a piece of work onto a square of the map.
JLM Morton said: "We began with a map that moved between over thirty artists in the Five Valleys area around Stroud, Gloucestershire, where we live. This included the work of much-loved local artists and writers including Nick Grellier, Daisy Murdoch, Rod Nelson, Adam Horovitz, Jonny Fluffypunk, John Holland, Emily Hall and many more. 
"Over time, new maps sprung up in Brighton & Hove, South London, and the Brecon Beacons, creating a connected community of artists across the southern reaches of the United Kingdom.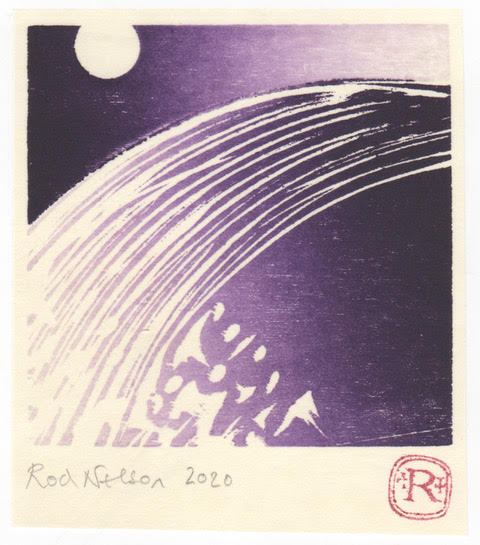 "Right from the very beginning, the Outposted Project has been a totally DIY project, led by artists for artists. It has been artists who have propelled Outposted onwards and helped it grow and we are delighted to have the opportunity to finally showcase this extraordinary project in an exhibition this March at the Three Storeys gallery in Nailsworth."
To make this happen, Susie Hetherington and JLM Morton have launched a Kickstarter crowdfunding campaign to cover the costs of this exhibition.
"We will be offering a number of brilliant rewards, including signed, limited-edition prints and a pamphlet of selected poetry and artwork from the project. Susie and Juliette have donated their time and energy to Outposted completely free throughout the project but wouldn't be able to fund the costs of the exhibition alone. This crowdfunder is intended to harness the combined resources of artist-participants and supporters to make sure the exhibition can go ahead so that we can all celebrate and enjoy the fruits of this truly collaborative labour. 
"Since launching the crowdfunder two weeks ago we have raised 54% of our target £1990. This is an 'all or nothing' crowdfunder so if we don't hit our target, all of the donations will be returned to the sender. In the final 8 days of our crowdfunder we are reaching out for the help of the Five Valleys' vibrant communities that have historically been so supportive of the arts. We hope that together we can make this happen."
Link to Kickstarter page: The Outposted Project Exhibition by Susie Hetherington — Kickstarter
Link to The Outposted Project website: The Outposted Project