This year's Record Store Day (RSD), on Saturday, April 22nd, is when more than 260 independent music shops in the UK come together to celebrate their unique culture. Limited edition albums are released to coincide with RSD and many stores see eager shoppers queuing for hours before opening time.
Stroud's Sound Records in George Street and Trading Post in Kendrick Street will once again participate, with Sound Records opening at 8am.
"The big releases this year are albums by Taylor Swift and The 1975," said Tom Berry, owner of Sound Records.
"We're having a Hip Hop Super Jam from midday, with DJ sets featuring DJ Fade, Heavy-T, Harry-G and Jake Beefy and later live performances by Griz-O, Bro, Skunkadelic, Layman, Dutty Goonz, Spokesmao and J Chalks."
Simon Vincent, owner of Trading Post, said: "Happy to confirm that Trading Post will be taking part in Record Store Day and that it will be my final one at the helm as I shall be retiring before the next one.
"As usual we have a lots of DJs playing in the window all day – from 8-9am Dubbu; 9-9.45 Will Cookson; 9.45-10.15 Fidel Castro; 10.15-11 Andy Edwards; 11.45-12.30 Mz Monique; 12.30-13.15 Danny Toft; 13.15-14.00 Neil Arthur of Blancmange; 14-14.45 DJ Spooky; 14.45-15.30 Situation Sounds; 15.30-16.15 The Donnelly Sisters and 16.15-17.00 Keith Allen and Patrick Baladi."
Stroud Times asked Tom, Simon and Sean Roe to list their top ten albums and briefly explain why.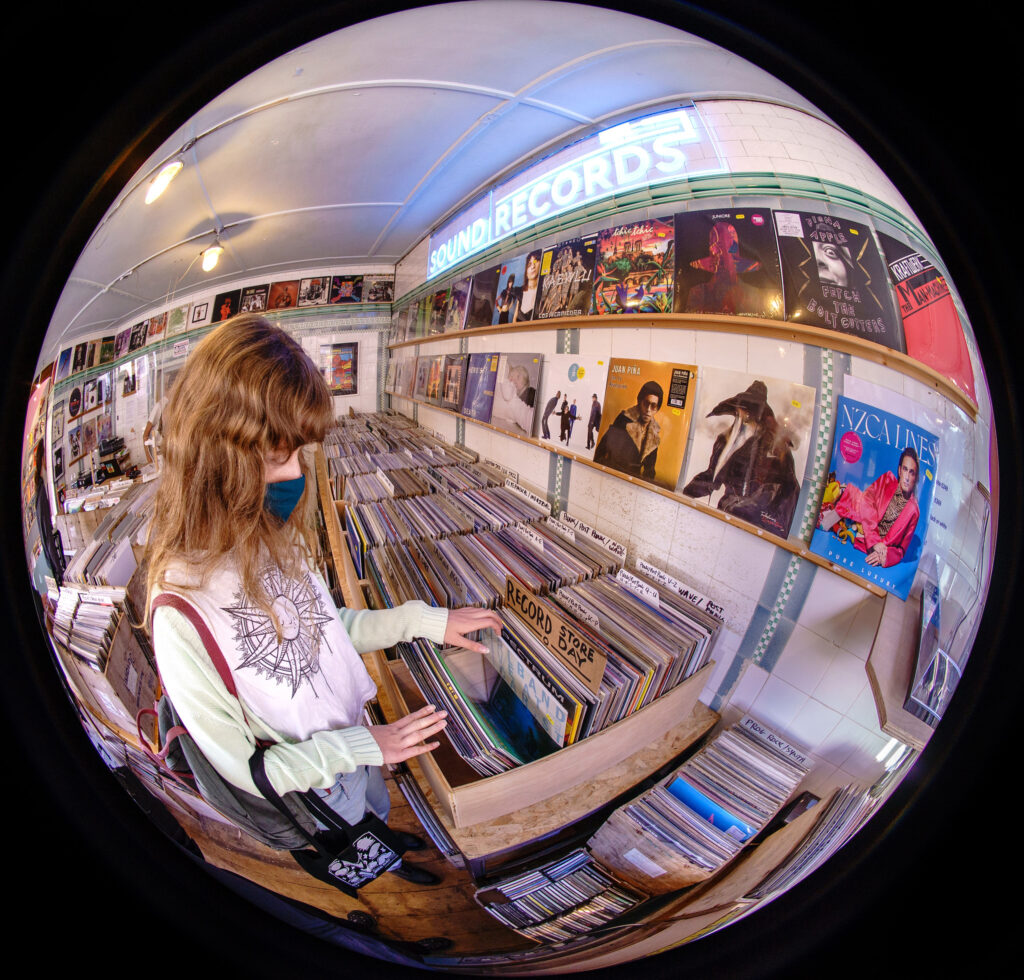 Tom kicked off with his list: "It's an impossible task to limit it to just 10 records but these are 10 I really enjoy across the broad range of music we sell:
Horses – Patti Smith. For me the greatest example of an LP of the rock n roll era – love, sex, death – its all here! I also love the simplicity and ambiguity of the sleeve.
In a Silent Way – Miles Davis. My favourite jazz lp and a great entrance point to the genre – the moment where Miles moved to electric.
London Calling – The Clash. A brilliant culmination of the punk movement where the Clash had incorporated rockabilly, dub and so much more. Every track is a highlight!
Lyre of Orpheus/Abattoir Blues – Nick Cave and The Bad Seeds. An example of a songwriter at the peak of their powers – Cave's old testament lyrics interspersed with the soul of the London Community choir is a winning combination.
Hounds of Love – Kate Bush. Side A is chocka-block full of hits while side B is a weird concept piece about someone lost in the ice – one of the UK's greatest songwriters.
Appetite for Destruction – Guns n Roses. The record that set my love of music into hyperdrive at the age of thirteen. This still rocks like no other record and is unapologetically sleazy.
In Rainbows – Radiohead. Undoubtedly the most important guitar band of the 21st century and for me this is their best album. The drums on this LP are unbelievable and very reminiscent of Jaki Liebezeit of Can!
Spirit of Eden – Talk Talk. For many years a sleeping classic – now regarded as the classic it is. A perfect example of less is more and a massive influence on the music that followed it.
Good Kid Maad City – Kendrick Lemar. A perfect example of everything that is great about hip hop – summery, thoughtful, edgy and conceptually dense – one of the great artistic talents of this century.
Songs – Rotary Connection. Rotary Connection were a band put together by orchestral producer Charles Stepney and featured a young Minnie Ripperton – here they tackle rock classics through the lens of psychedelic soul – a great listen!
Simon Vincent: "My all-time top 10 albums is a tricky one. I find all music to be mood music. Here's a list of some of the most important albums from different times in my life and why:
T.Rex – Ride A White Swan. This was the first album I ever owned. My mum bought it for me when I was four.
Sex Pistols – Never Mind The Bollocks. A real eye (and ear opener) for a nine year old living in North Staffordshire.
The Clash – London Calling. Punk was growing up.
The Specials – The Specials. I'd not really been exposed to the Ska acts of the 60s so the whole 2-Tone sound was so fresh to me.
Gary Numan – The Pleasure Principle. My first glimpse of things to come and my love of electronic music.
Soft Cell – Non-Stop Erotic Cabaret. I loved this album and listened to it constantly. In 1982 it kinda became my soundtrack when my life turn upside down when my mum died. She was a huge influence on my musical taste and encouraged me to look out for new and interesting artists.
Depeche Mode – Construction Time Again. These Basildon boys had grown up and now they had an edgier, industrial element. I'm still a massive fan today.
Frankie Goes To Hollywood – Welcome To The Pleasuredome. The production, the hype, the imagery, the attitude and the style.
Stone Roses – Stone Roses. Manchester was ruling music and would do for the next ten years.
The Prodigy – Music For The Jilted Generation. Rave music became more than just singles and The Prodigy broke the mould.
Sean Roe at Klang Tone Records in London Road added his top 10: "I'm not signed up for record store day this year – BUT importantly I'll be actively taking part in my own way – I've been holding back on an incredible selection of records (around 500) to put out on Record Store Day. The records have all been personally selected by me – all are, for me, exceptional recordings- works of artistic merit across a variety of genres – jazz – rock – reggae – African – world – funk – soul – electronica.
"The purpose of RSD is to celebrate Record Shops but I think it's also about the customers who support the shops and musicians who create the music we purchase!
"I look forward to offering a great selection of records to my customers when they visit on the day and I'll have live music on the mezzanine level with local electronica act TEN HYPHEN TWENTY performing between 4-6pm.
Fleetwood Mac – Rumours. Never tire of this LP – bad interpersonal relationships and drugs set the scene for the creation of a musical masterpiece!
Jethro Tull – Thick as a Brick. First Concept LP I heard – started playing flute as a result – innovative 12-page newspaper cover design that's actually a good read!
Talking Heads – Fear of Music. While Remain in Light is also fantastic – FOM feels more edgy and paranoid with unwelcoming title and cover art.
Joni Mitchell – Shadows and Light. Live double LP with amazing jazz musicians backing. Peak Joni.
Eno/ Byrne – My Life in The Bush of Ghosts. Innovative use of samples and found sounds – studio trickery and Afro Beat rhythms compelling!
Television – Marquee Moon / Patti Smith – Horses. Since Tom Verlaine passed away recently, I've been listening to these two LPs a lot – Verlaine and Smith both created literate energetic and incredibly taut music born out of New York downtown scene in the mid-seventies.
Don Cherry – Brown Rice. Massive fan of most DC releases – but this one is great – can be described as funky free jazz accompanied by the drone of a tambura! Peace love and harmolodics!
Linton Kwesi Johnson – Forces of Victory. Produced by Dennis Bovell – powerful fusion of words music – deep reggae rhythms
Ahmad Jamal – passed away recently so had to include his record The Awakening – pure magic manifested as music!