What an amazing result that was for Forest Green Rovers last Saturday. 5-5 is not a very common scoreline, the last one I can remember was West Brom and Man Utd sharing ten goals eight years ago. I'm one of a generation that went through life-supporting ABU, Anyone But United, but even I felt sorry for Manchester United that day. 
It was Sir Alex Ferguson's 1,500th and final game in charge of the Reds and it appeared to be business as usual as United held a 5-2 lead going into the last stages of the match. What a dampener those three late West Brom goals put on the occasion and imagine how the players must have felt having let their manager down so badly on such a special day.
I suppose that the Rovers' dressing room must have been a little flat having surrendered leads of 4-1 and 5-3 on Saturday but we'll never know, only those inside the inner sanctum will know what was said and how the Gaffer and his staff reacted.
Games like that are, from the manager or head coach's point of view, thankfully few and far between. Obviously, it's Box Office stuff for the supporters but from my experience, bizarre results like that are not something I enjoyed. High-scoring games when you are either steamrolling the opposition or on the wrong end of a tanking are relatively easy to manage. When you're winning handsomely it's a case of a 'more of the same' mantra from the dugout. When you're getting leathered it's either admonishment or encouragement dependant on the level of commitment and desire being shown. But when it's to and fro, 'you attack and score and then we'll attack and score' it's not much fun on the touchline trying to work out what is going on.
I remember two games in particular. The first was away in some far-flung place, I genuinely can't remember where but it was during our season of promotion to the Conference. I think it was either Sittingbourne or Crawley, one of the two. We won 5-4 and my most vivid memory of the experience is helplessness. The chant directed at the dugout 'you don't know what you're doing!' has never been more relevant. What do you do? Imagine it yourself, you lead 1-0, it's 1-1 four minutes later, you go 2-1 up, eight minutes later it's 2-2 and then you go 3-2 down, I'm sure you get the picture. 
You look a million dollars going forward and about ten cents when defending. When you poke your head in front you could try and shore it up defensively but your team is looking so good going forward you're confident you can put some daylight between you and the opponents. Forest Green did that on Saturday, as did Manchester United on that special day but still ended up dropping two points.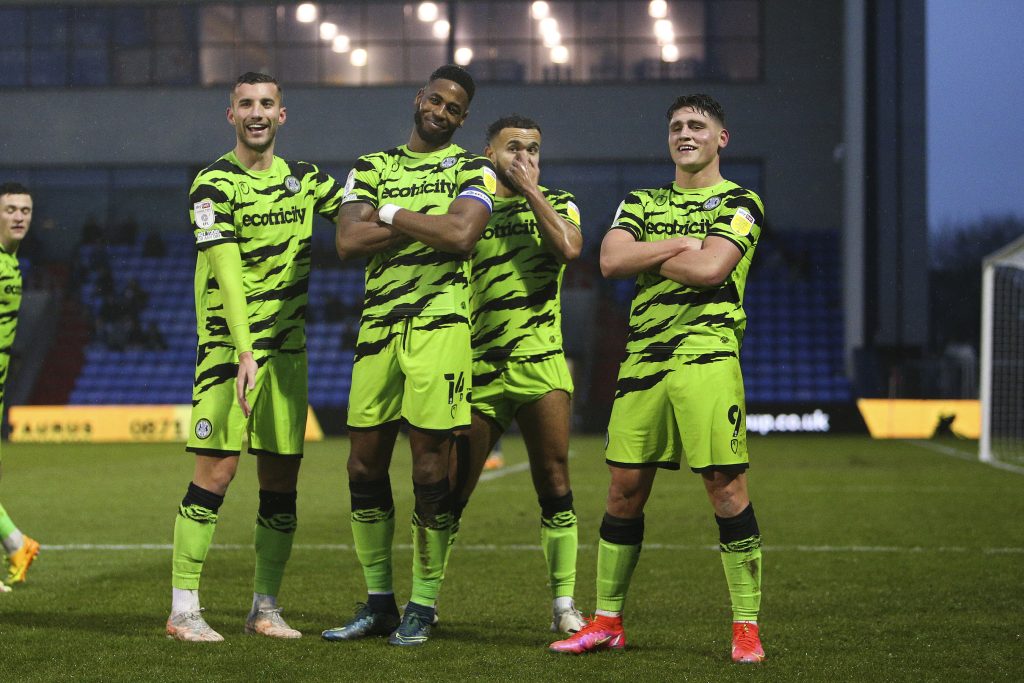 The other weird result I recall was a home game against Dagenham and Redbridge. We were awful in the first half, they were much the better side but we had two long-range efforts and won a corner. Our return for that slither of the game was a 3-0 half-time lead. What do you do? You can start singing that song again because I really didn't know what I was doing. How do you rollick a team that's 3-0 up at half- time? In the end, I spouted some nonsense about 'if we're better in the second half, imagine how much damage we can do to them.'
It didn't work, we were 4-3 down pretty quickly but somehow managed to scrape a point courtesy of a late corner that Wayne Hatswell got his head on. A 4-4 draw at home, another day at the office.
I think the time when 'you don't know what you're doing chant' was most relevant to me was when we were 6-0 up at home in the First Round of the FA Cup. It was honking down felines and canines and I'd barely stuck my head out of the dugout after we went 4-0 ahead trying to keep dry and making Steve 'the wally with the brolly' McClaren look like Aquaman. We scored the sixth deep into injury time and I came charging out of the dugout demanding the players 'keep it in the corner!' Why? That's a story for another day. Merry Christmas to all, particularly the Forest Green faithful. Keep enjoying the ride.
In a regular column, iconic former Forest Green manager Frank Gregan has teamed up with Stroud Times to look back on his time at the New Lawn.
Now living in Spain and a published author, the former sergeant major joined Rovers in 1994 – leading his side to back-to-back promotions and Wembley final. Frank transformed the club from non-league minnows, charting the way for what they have gone onto achieve under the late Trevor Horsley's successor Dale Vince.
Follow Frank on Twitter: @Greegers