REVIEW
After a year of lockdowns, divorced from the hustle and bustle of humanity, there is surely nothing more urgent and necessary than a bit of a hooley, albeit a carefully socially distanced one at Fennells Farm.
The day the circus came back to town began rain-lashed and thunderous, but by the time the cautious but enthusiastic crowd began clambering in to find their seats, the carefully ventilated canvas was aglow with summery evening sunshine and the river Severn was lit up in the distance like a bar of steel in a blacksmith's forge.
Inside, the circus ring was set against ruins that loured mysteriously, until the lights came up and the band stumbled out to cheers and whoops. They were followed by Tweedy, pretending to be a leprechaun so that he could trick the fairy folk into letting him into their lands, sporting a bright green suit, an outrageous accent and his usual array of charmingly wonky props backed up with his crowd-pleasing brand of gentle anarchy.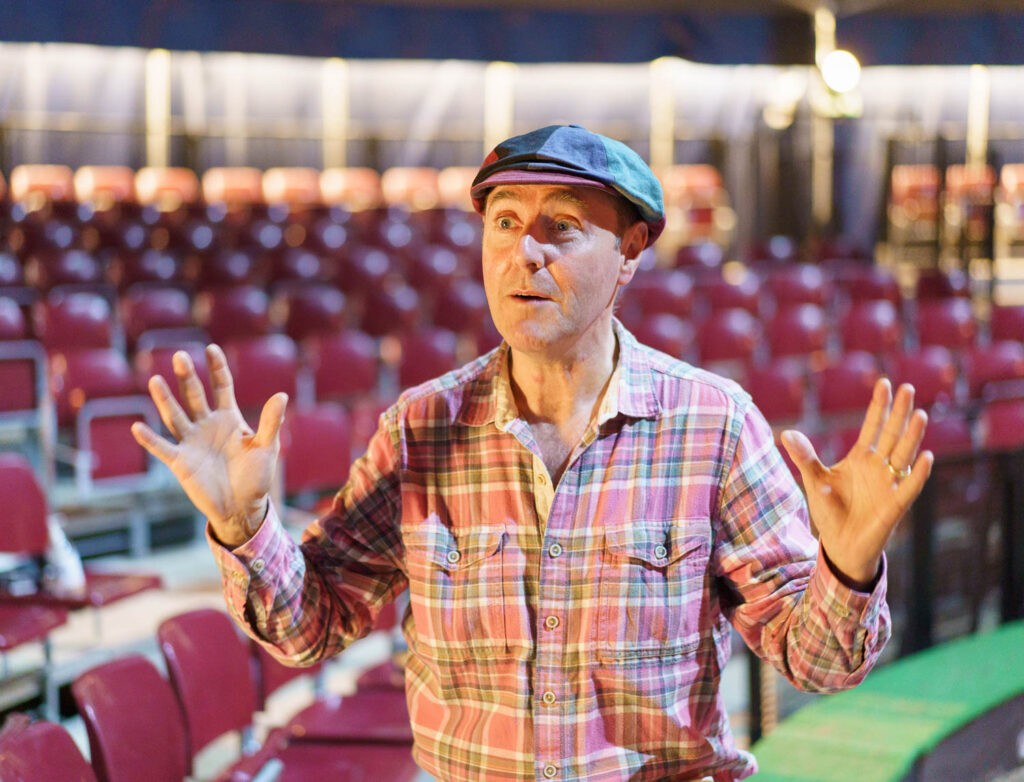 Tweedy's presence is enough to put anyone at their ease; his clowning is sublime, as is his balance, as a second-half stunt with a revolving ladder proved.
Soon enough, a pair of goblins came in to steal his pot of gold and drive the story on, only to be scared off by a papier maché cake-loving dragon who gleefully announced where the exits were in case of emergency. Then the show began in earnest. The ring rapidly became a smoke-infused fairyland full of dancers whose glamours and smiles shone almost to bright to bear.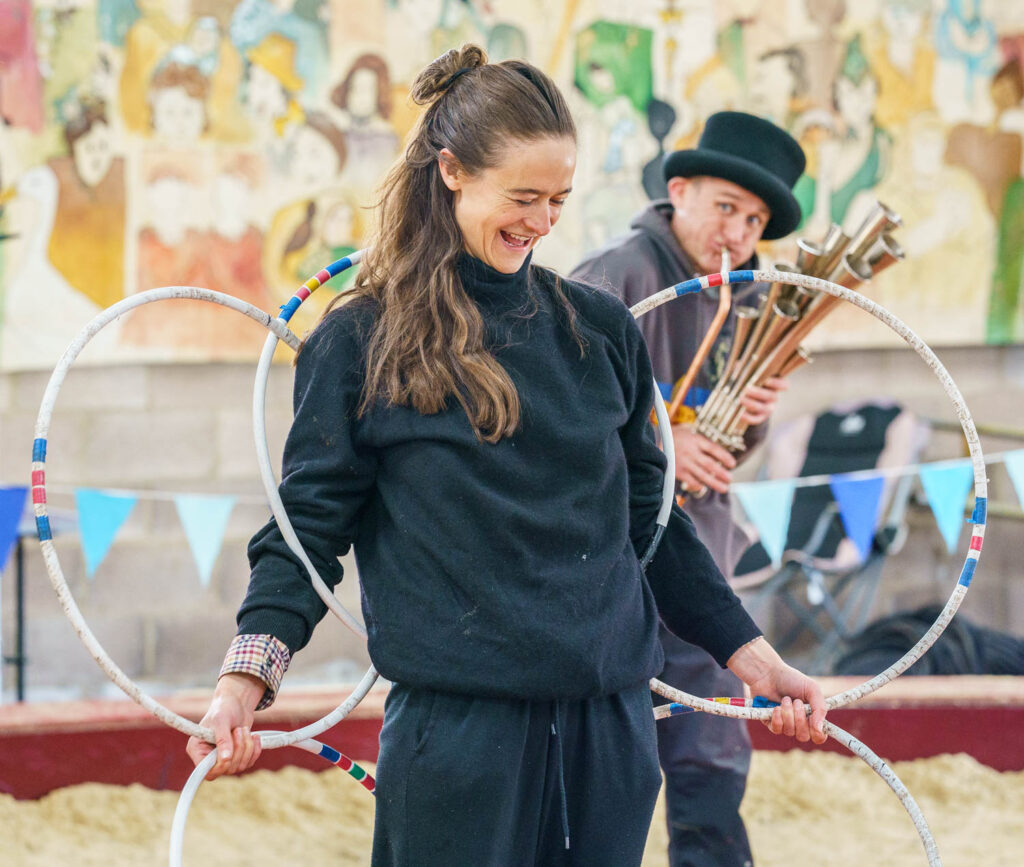 And what a show it was! Here are some of the images that have stayed with me: a storm of white wings, closing Andrejs Fjodorus's delightful dove show in almost hallucinatory clouds; the ecstatic smiles of the New Revolution Troupe, from Cuba, as they pulled off ever more outrageous stunts and tumbles while their comrades danced to a relentless beat; a fairy flying over a black horse dressed as a gothic unicorn; a luminous hoop dance, the dancer wreathed in smoke as she turned hoops into wings, atoms and a multitude of other shapes; the audience clapping so loudly that the clack of the Irish dancer's heels on the boards was entirely drowned out; the mischievous pony, upsetting the trick that should have made it look like it was talking to the audience by pulling the apple secreted in the fake microphone out and studiously eating it from the floor as the poor disembodied voice improvised wildly whenever the pony could be persuaded to go anywhere near the mic again.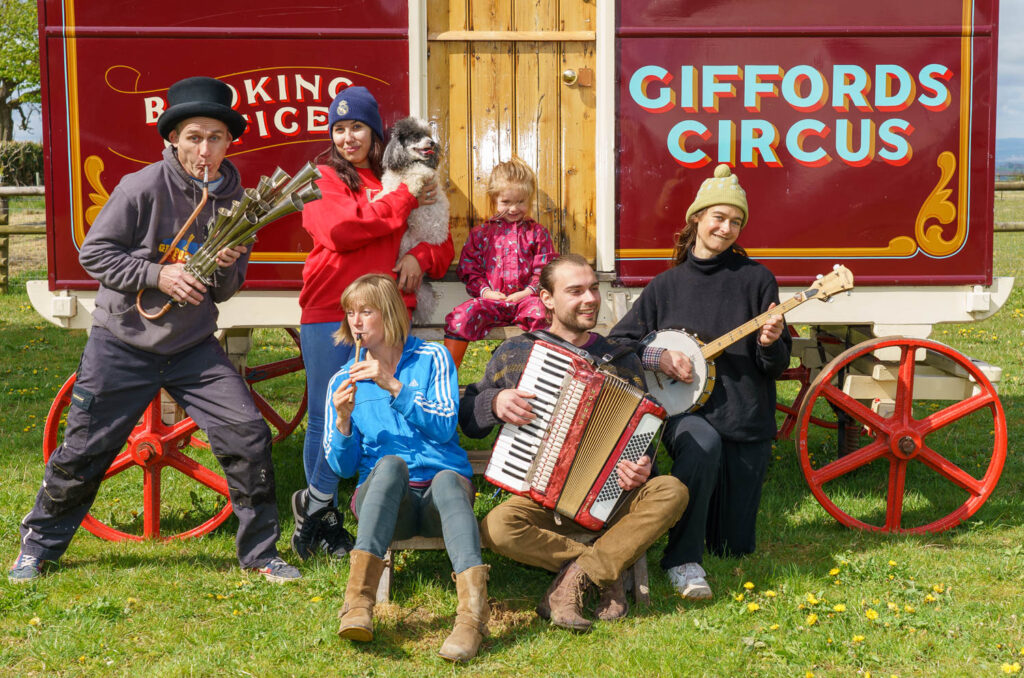 In an evening comprised almost entirely of highlights, Jonny Grundy and Manuel Artino on the aerial hoop were the act that stood out for me. They seemed to melt into each other so that it was at times impossible to tell where one of them ended and the other began. They moved with intensity and grace that beggared belief.
Equally worthy of mention is Nancy Trotter Landry, who managed to slip between singing, hoop dancing, and clowning alongside the irrepressible Tweedy, equal to his anarchy as they drew the audience into the Hooley's imaginary world.
Giffords Circus has always found just the right balance of intimacy and spectacle, and The Hooley was right up there with the best of their shows – the presiding spirit of the late, lamented Nell Gifford was immediately evident in every swelling muscle and flapping fairy wing. It is a spectacular tribute to her memory and irrepressible evidence that this is a circus that will live on and on.
Stop what you are doing this instant and book yourselves tickets!