Football really is coming home, and Phil and Matthew Butterworth felt privileged to soak up the Wembley atmosphere after Harry Kane's extra-time goal led Gareth Southgate's side to an epic 2-1 Euro 2020 semi-final victory.
On a night of nerve-shredding tension then exuberant joy at Wembley and in front of 66,000 fans, Phil, vice-chairman of Forest Green Rovers shouted himself hoarse alongside his son Matthew as England made it through to the final and a showdown with Italy on Sunday.
He said: "It was an awesome experience- an overused word perhaps, but the atmosphere trumped anything I've experienced before. Wembley rocked on all sides, the sheer joy on everyone's faces, a great feeling of unity and achievement amongst the crowd. Always terrific to see fans from every club in the country join together as one and it was a great privilege to enjoy it with my son, we both ended up hoarse singing throughout."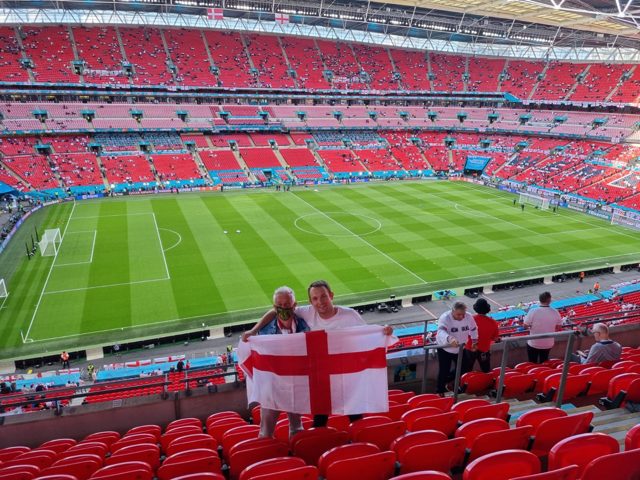 Phil's son felt the result was the perfect medicine for the country after 18 months of Covid 19 disruption.
Matthew said: "I felt incredibly lucky to be at Wembley. I've never experienced anything like it and I'm not sure I will again.
"Every fan was on their feet for 120 minutes living every Sterling run, Maguire header and chance created. It was great to be at Wembley with my dad, but I was concerned for his back – don't think he's stood for 120 minutes for decades. He's definitely never had another England fan (not me!) jump into his arms before. He might have a sore drive back to Nailsworth, but it was all worth it. I hope the result gave at least some joy to everyone who watched it, particularly those who have been affected by Covid over the last 18 months. Is it coming home? Bring on Sunday."