Gloucestershire-based dairy farmers and producers of the famous Godsells Cheese are joining the award-winning 'Refill App' that directs people to places they eat, drink, and shop with less plastic.
The farm in Leonard Stanley offers an innovative 'refill station' where customers can refill their bottles with fresh milk from the farm alongside a vending machine that offers a range of other fresh produce. The machine has already saved over 13,000 single-use plastic milk cartons with comparable sales in refillable containers.  
The scale of the problem is considerable. It is estimated that we now produce over 300 million tonnes of plastic every year and up to half of which is single-use. Worse still, less than 10% of the plastic we've produced has ever been recycled and 80% has been sent to landfills or ended up in our natural environment.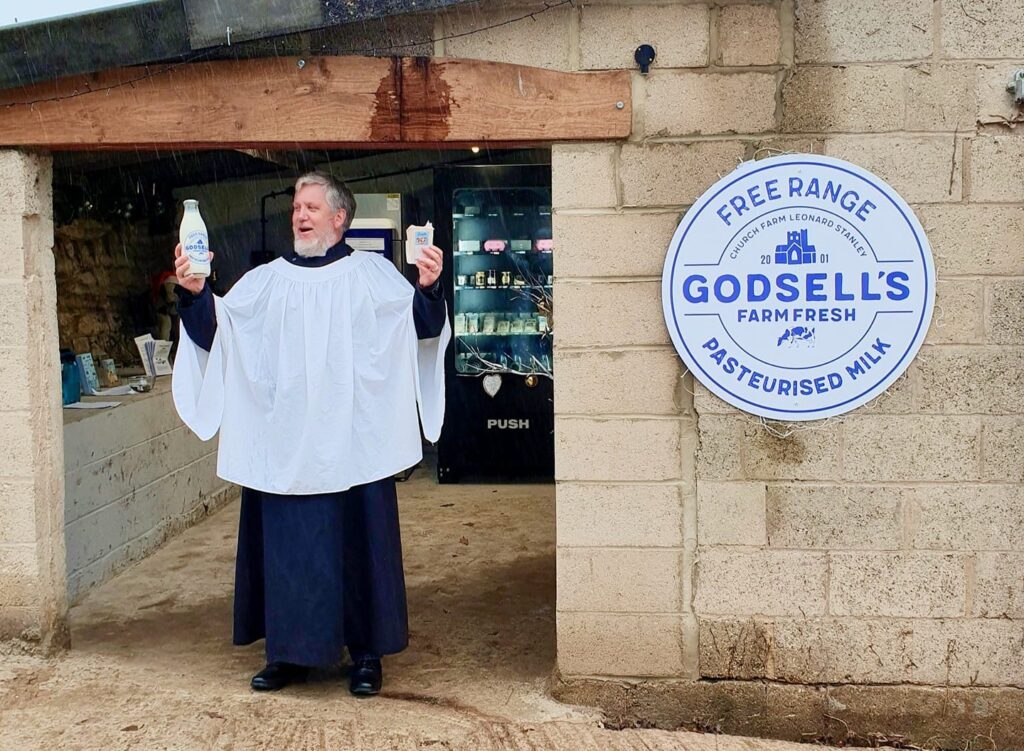 World Refill Day is a global public awareness campaign to prevent plastic pollution and help people live with less waste.  For this year's campaign, City to Sea, the organisation behind the Refill campaign, along with thousands of other NGOs, sustainable businesses, and individuals will be encouraging people to make small changes to their everyday shopping, reducing single-use plastic and finding out what they can refill or reuse near them.  
Godsells Cheese has stepped up to this challenge logging their 'refill station' as part of the app and are encouraging customers to use the refill station more to avoid unnecessary single-use plastics. The machine is accessible 24 hours a day 7 days a week. Customers can bring their own bottles to refill or they can buy reusable glass bottles from the vending machine next to the machine which also sells a variety of local produce including Day's Cottage apple juice, Jess Ladies Organic Kefir, and, of course, a selection of Godsells Cheeses.  
Commenting, Liz Godsell said: "We wanted to do our bit to encourage our customers to reduce their use of single-use plastics whilst offering an easy way to buy local produce. One of the easiest ways of doing this was to offer our milk fresh from the farm to customers in containers that they can use time and time again. We would encourage everybody to come down to our farm shop and try out the milk refill machine."  
Steve Hynd, Green Party Councillor for Leonard Stanley and the Policy Manager at City to Sea and added: "Godsells Cheese is a tasty example of a local business making it easier than ever for customers to choose to reuse. This World Refill Day we have events happening from Japan to Ecuador but I am really proud that right here in Leonard Stanley just outside Stroud that we have businesses working with customers to tackle the plastic pollution crisis we face. We need to find innovative ways to replace single-use plastics with reuse and refill and I am delighted that a local business like Godsells is pioneering one such example." 
Steve Hynd, Green Party Councillor for Leonard Stanley and the Policy Manager at City to Sea and added: "Godsells Cheese is a tasty example of a local business making it easier than ever for customers to choose to reuse. This World Refill Day we have events happening from Japan to Ecuador but I am really proud that right here in Leonard Stanley, just outside Stroud, that we have businesses working with customers to tackle the plastic pollution crisis we face. We need to find innovative ways to replace single-use plastics with reuse and refill and I am delighted that a local business like Godsells is pioneering one such example."

Photo: TheRev. Steve Harrison blessing the new machine next door to his church. Credit: Godsells Cheese 
 
Local MP, Siobhan Baille, added: "Plastic pollution is one of the issues that residents raise with me time and time again that this government is determined to tackle. But it is wonderful to see businesses here in Stroud, like Godsells Cheese, leading the way and helping people to cut down on the amount of plastic they use. We need a huge transformation in the way we consumer away from single-use plastic packaging towards reuse and refillable options. And Godsells have shown that this is possible and businesses can put the environment at the heart of their business while also supporting our local economy. Frankly, it's really 'brie-lliant' to see."