Sometimes only a burger will do, and this black bean burger is bursting with flavour and may just be my favourite burger ever.
I pop it in a sesame brioche bun, add lettuce, tomato, and a good slathering of BBQ sauce, and then take a big bite – it's so good! And the best thing is that it takes just over 20 minutes to make from start to finish; it's super quick. I hope you enjoy it.
Preparation time: 10 minutes  
Cook time: 12 minutes  
Total Time: 22 minutes  
Servings: 6 patties
Ingredients
520g black beans cooked, drained, and rinsed, 55g onion grated, 2 cloves garlic minced, 1 tbsp vegetarian Worcestershire sauce, 1 tsp ground cumin, ½ tsp chili powder, ¼ tsp smoked paprika, 1 egg, 60g Panko breadcrumbs or gluten-free, and olive oil for brushing.
Instructions
In a large mixing bowl, combine black beans, onion, garlic, vegetarian Worcestershire sauce, cumin, chili powder, and smoked paprika, and roughly mash them using a potato masher or fork until you have your desired consistency. Use a spatula to fold in the egg, and then add the Panko breadcrumbs.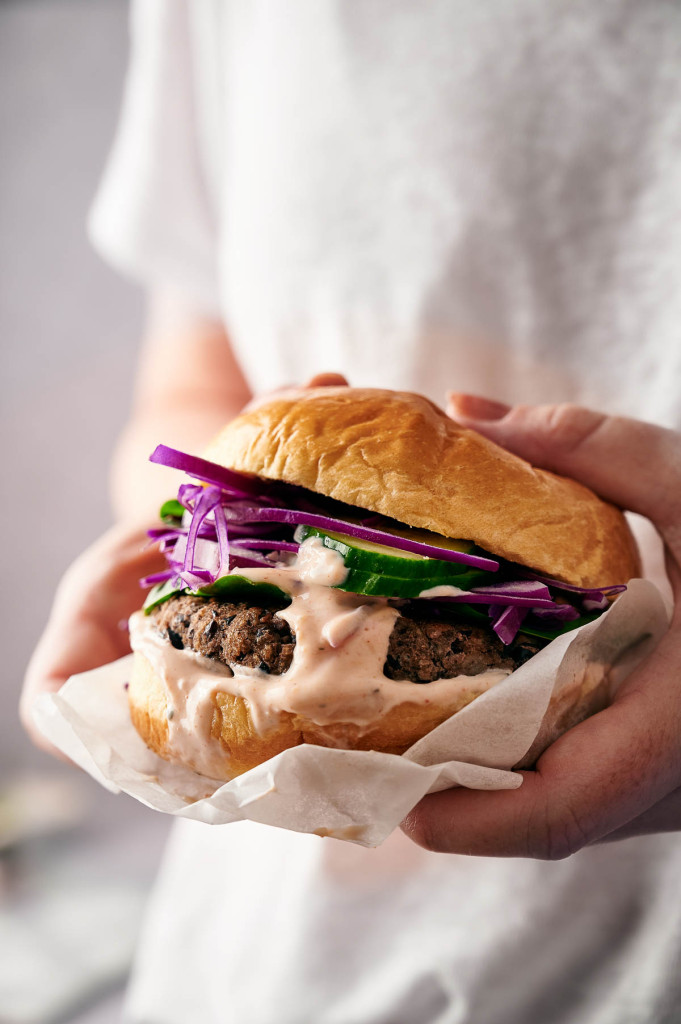 Form six evenly-sized patties, shaping them with your hands. The patties should hold their shape; if you find they are too wet, place the mixture in the fridge to firm up. Press the patties into flat burger-shaped discs.
Heat a frying pan over medium heat and brush the bean burgers with a little olive oil. Cook the burgers until they are charred on both sides, approximately 12 minutes in total.
Remove from the pan and serve between burger buns, sauce, and your favorite fillings.
For more information, tips, and serving suggestions, see https://www.splashoftaste.com/black-bean-burger/
If you'd like to make it in an air fryer, see https://www.splashoftaste.com/air-fryer-black-bean-burger/
For a delicious BBQ sauce to slather all over your burger, see https://www.splashoftaste.com/bbq-sauce-recipe/
Nutrition
Serving: 6g | Calories: 173kcal | Carbohydrates: 30g | Protein: 10g | Fat: 2g | Saturated Fat: 0.5g | Polyunsaturated Fat: 1g | Monounsaturated Fat: 0.5g | Trans Fat: 0.003g | Cholesterol: 27mg | Sodium: 126mg | Potassium: 386mg | Fiber: 8g | Sugar: 1g | Vitamin A: 143IU | Vitamin C: 1mg | Calcium: 56mg | Iron: 3mg
Disclaimer
Please note that nutrient values are estimates only. Variations can occur due to product availability and manner of food preparation. Nutrition may vary based on methods of origin, preparation, freshness of ingredients, and other factors.