Now the colder days are here, it's roast dinner season and this is the perfect side dish accompaniment. Dauphinoise potatoes is a creamy, cheesy potato dish. Like potato gratin, then you'll love this! You'll enjoy our easy-to-make recipe.

Preparation time: 20 minutes.
Cook time: 45 minutes.

Ingredients: 8 large potatoes peeled and sliced, 500ml double cream, 500ml full-fat milk, 1 tbsp Dijon mustard, 1 tbsp garlic minced, 2 sprigs of fresh thyme, salt and pepper to taste and 150g vegetarian cheddar cheese

Instructions
Preheat your oven to 190°C. Now, slice your potatoes, the slices should be approximately 3mm or 1/8 inch.
Then, in a large saucepan, pour your double cream (heavy cream), milk, and add Dijon mustard, minced garlic and gently bring it to a simmer. Add two sprigs of fresh thyme and season with salt and pepper.
Add your sliced potatoes to the simmering cream and let them cook for 4 minutes, stirring gently to avoid the potatoes sticking to each other or sticking to the bottom of the pan.
Using a slotted spoon, transfer the potato slices into an ovenproof prepared baking dish (casserole dish) and arrange them so they are approximately 5/6mm, almost ¼ of an inch deep.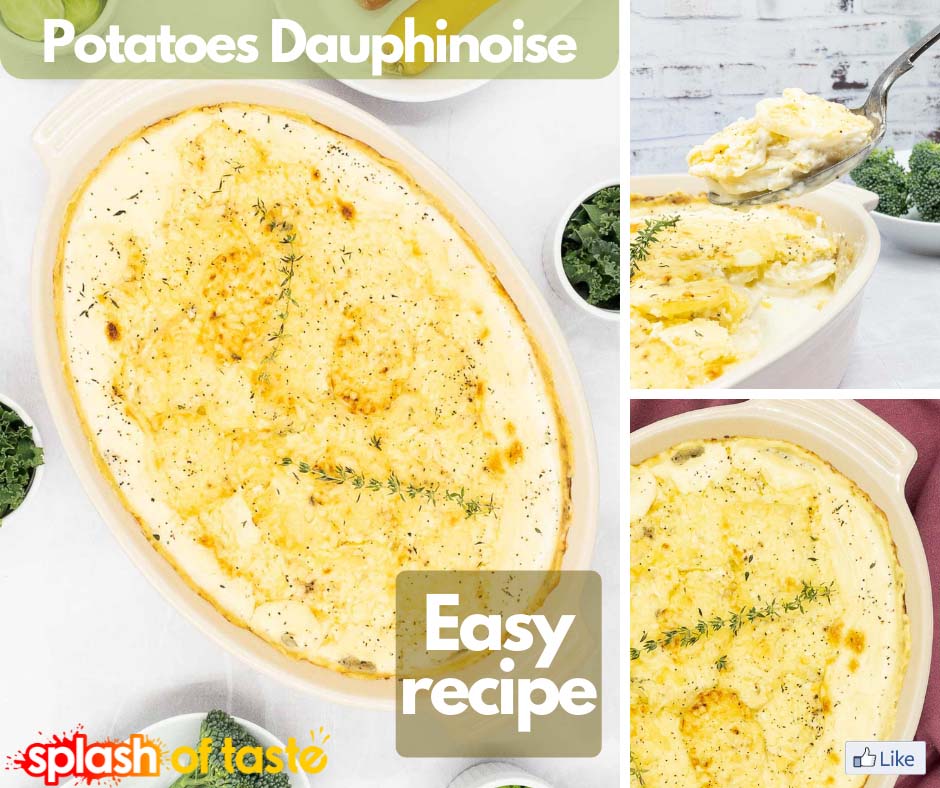 Then pour the cream mixture so it's seeping through the layers and there's a little on the top layer, but it's not swimming in it. Next, scatter the freshly grated cheese over the top and place it in the oven and bake for 30 minutes, turning it halfway through.
When the potatoes dauphinoise is ready, it will be golden brown on the top and bubbling. It will be extremely hot, so let it cool slightly before serving. Serve with seasonal vegetables, a nut roast, or whatever you fancy!

Find out more about this easy recipe https://www.splashoftaste.com/potatoes-dauphinoise/
Nutrition/Calories: 616kcal | Carbohydrates: 70g | Protein: 16g | Fat: 32g | Saturated Fat: 20g | Polyunsaturated Fat: 1g | Monounsaturated Fat: 9g | Cholesterol: 112mg | Sodium: 211mg | Potassium: 1709mg | Fiber: 8g | Sugar: 6g | Vitamin A: 1229IU | Vitamin C: 74mg | Calcium: 295mg | Iron: 3mg