Christmas dinner has never been so tasty with our crispy maple syrup and honey-coated roast parsnips.
They've got an insanely delicious soft center and come out perfect every time. Serve them with a delicious nut roast, roast potatoes and carrot, and swede mash, then top them off with red wine gravy – perfect!
Preparation time: 5 minutes
Cook time: 45 minutes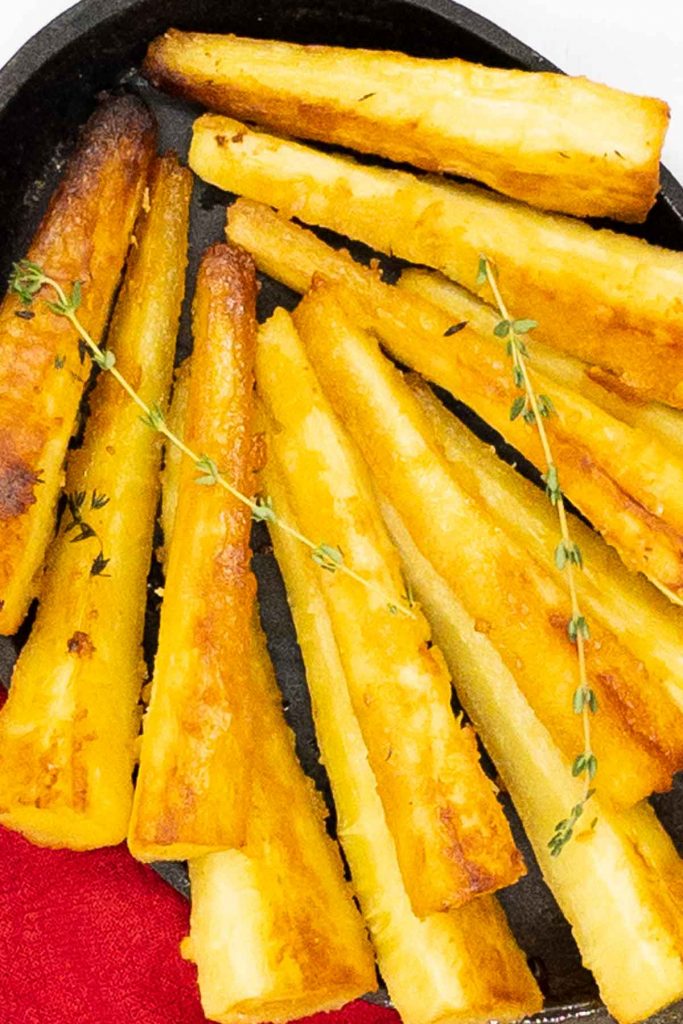 Ingredients: 500g Parsnips peeled & halved, 1 tbsp semolina, 1 tbsp honey, 1 tbsp maple syrup, 1 tsp white wine vinegar, a pinch of kosher salt, 2 tbsp sunflower oil, 2 tbsp butter, and 3 sprigs fresh thyme.

Instructions:
Preheat your oven to 170°C.
Wash or peel your parsnips, then top and tail them. Using a sharp knife cut your parsnips in half lengthways, and if they are large parsnips, cut them in half again. Bring a large pan of salted water to a boil and boil your parsnips for 5 minutes. Drain your parsnips in a colander and set aside for 5 minutes.
In a large mixing bowl, add semolina, honey, maple syrup, white wine vinegar, and salt. Add your parsnips to the bowl, and toss until they are all evenly coated.
On a baking tray, place your coated parsnips as a single layer, ensuring that they don't touch each other. Add with sunflower oil, nobs of butter, fresh thyme sprigs, kosher salt, and roast for 40 minutes, turning halfway through to ensure an even roasting.
When your roast parsnips are ready, they will have turned a lovely golden brown and should be crispy on the outside and soft on the inside, but not burnt. Serve immediately. Enjoy!
For tips on our roast parsnips and other festive recipes, take a look at our website https://www.splashoftaste.com/roast-parsnips/
Nutrition/Calories: 168kcal | Carbohydrates: 22g | Protein: 1g | Fat: 9g | Saturated Fat: 3g | Polyunsaturated Fat: 1g | Monounsaturated Fat: 5g | Trans Fat: 1g | Cholesterol: 10mg | Sodium: 43mg | Potassium: 331mg | Fiber: 4g | Sugar: 9g | Vitamin A: 142IU | Vitamin C: 15mg | Calcium: 38mg | Iron: 1mg