I'm an experienced press photographer – forged in London, but working for more than 30 years in the regional press in Gloucestershire, writes Simon Pizzey, so it was  an odd experience for me to feel slightly nervous about photographing Stroud-based clowning legend Tweedy at the bustling Bohemian Giffords Circus near Bisley.
Rehearsals were underway for the new season under the banner Les Enfants du Paradis with acrobats, ponies and musicians performing or waiting in the tented wings. I was greeted with his trade mark tuft of vivid red hair and a soft voiced apology for being late (after taking 'a puppet to the hospital'). While applying his rouge and eye liner, we were soon discussing our favourite Laurel and Hardy shorts, his being Dirty Work and mine Big Business. The duo were one the early influences on his vaudeville slapstick style. Charming, enigmatic, obliging and full of infinite variety he is the photographer's perfect model. In black and white or colour he has a striking face that politely demands your attention.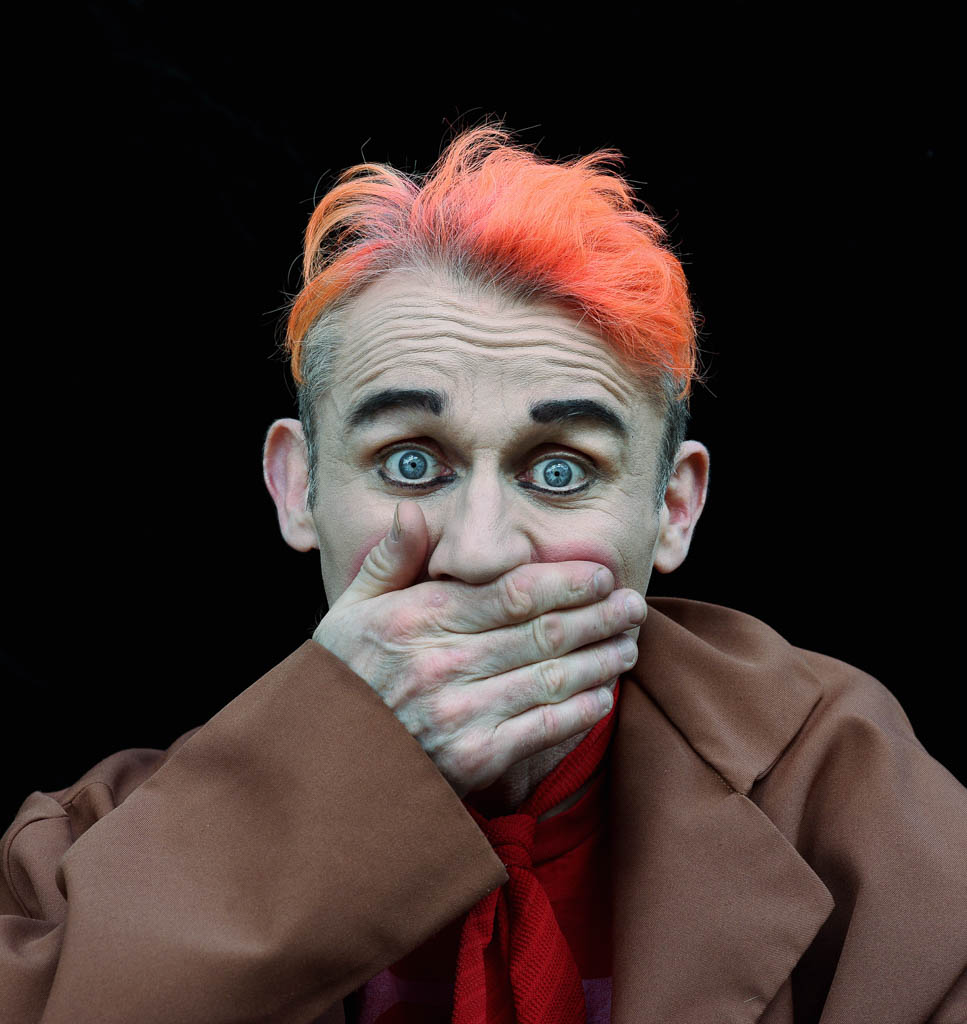 Tweedy has performed at Giffords Circus for more than sixteen years, bringing new comic routines and skills to the show each year. He is accomplished in most circus skills and is proficient at playing various musical instruments. In January 2023, Tweedy was named in the King's New Year Honours List for his services to Circus and local community, he was awarded a BEM (British Empire Medal) which hasn't gone to his head at all!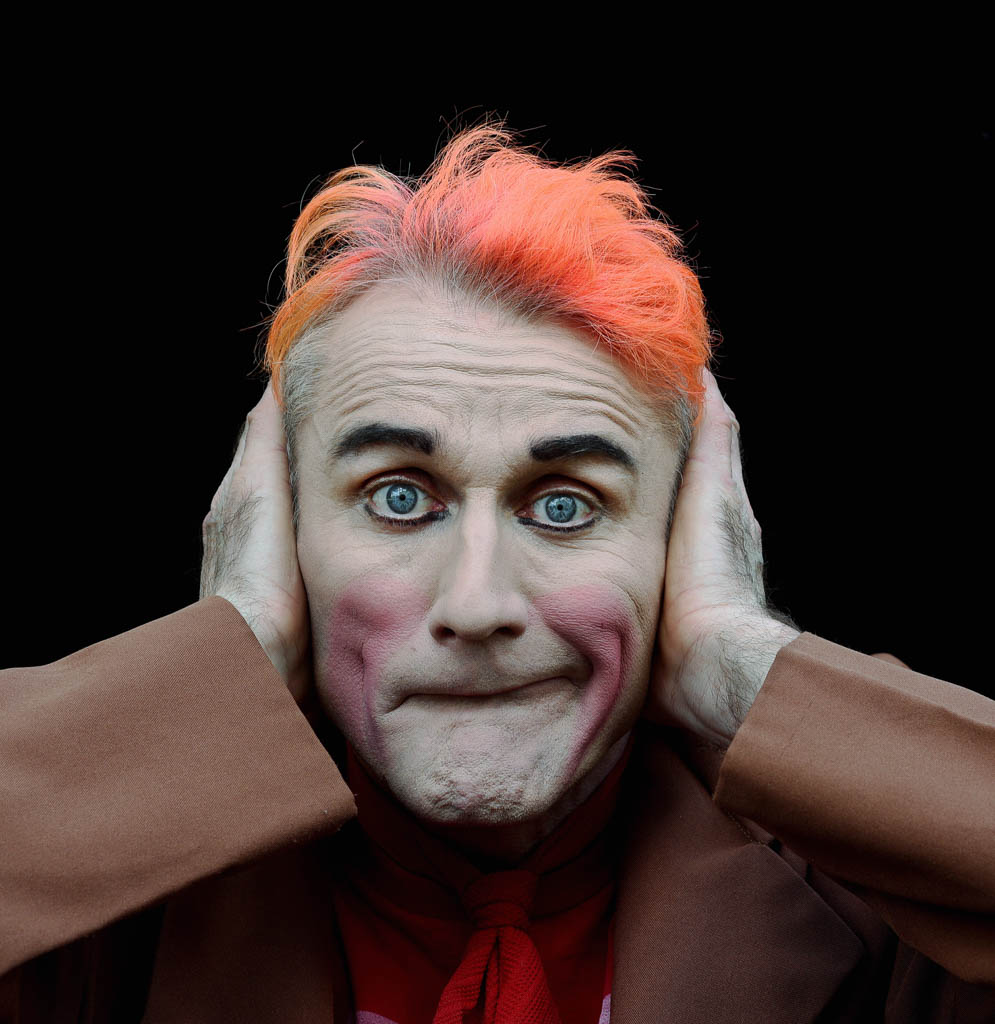 Born in Aberdeen in 1974 his father was an electronics engineer and his mother worked at a local swimming pool.
The name 'Tweedy' derives from his real name Alan Digweed. Nicknamed 'Weedy' he very nearly became 'Weedy the Clown' but his first manager decided because he was a Scot 'Tweedy' was a better fit.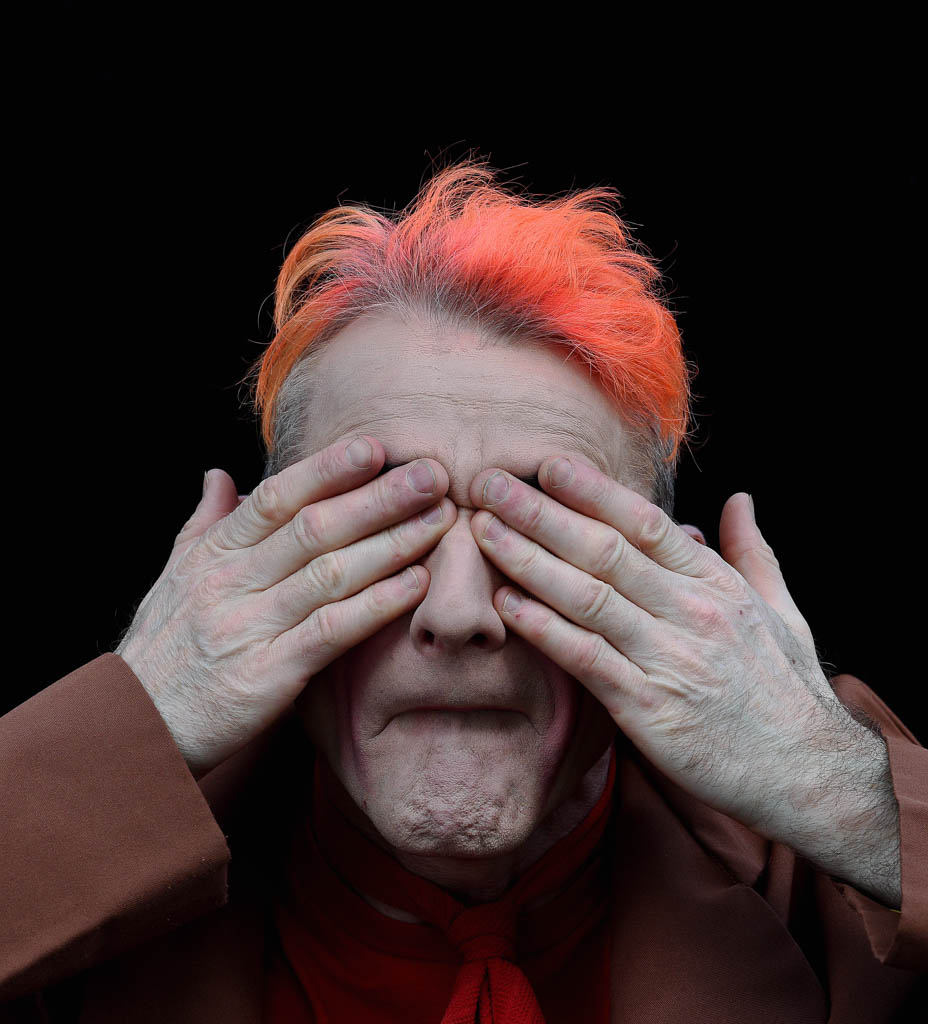 No stranger to comedy awards and his talents are in much demand in circus, theatre, TV, and film, both at home and abroad. He has built up a cult following which includes several celebrities.
Tweedy was a featured clown on Ringling Brothers, and Barnum and Bailey, playing such prestigious venues as Madison Square Garden and The Staples Centre, Los Angeles. He also toured theatres for several years with Cirque Berserk including runs in the West End and appeared as a comic stuntman at Buffalo Bills Wild West Show at Disneyland Paris.
Tweedy started his circus career with Zippos Circus back in 1994. At this time, he met Nell Gifford who was working on another circus, they instantly became friends. He has created his own stage shows most recently Tweedy's Musical Mayhem performed with his friend and circus colleague Mikey Fletcher, which had sell out audiences, standing ovations and received critical acclaim.
One of his first jobs after leaving school was pantomime, he has since appeared in pantomimes throughout the country for more than 25 years, spending the last 10 years at The Everyman Theatre, Cheltenham. Tweedy had his first break as a clown when the circus's actual clown was delayed by traffic and he volunteered to step up from his job handing out leaflets.
When I asked why he does what he does he said: "I feel I was born to do it; I love it and can't imagine not doing it."
As for why he loves Stroud it's "The vibe, the creativity, the beautiful surroundings!
"I love clowning in the circus. Going to gigs at The Albert and The Sub Rooms. To relax I go running, cycling, skateboarding, wild swimming, rock climbing, play music."
'Keef' the iron has featured in many of his acts in recent years: "I rescued him from the bin outside the costume department, I heard him calling to me and couldn't bear the waste!"
Tweedy is performing at Giffords Circus, which opens at Fennells Farm, Stroud, GL6 7NE on Thursday 6th April and is there until Monday 17th April, then moves to Frampton-on-Severn from 20th – 24th April, for more information and for tour dates and times please visit www.giffordscircus.com
Pictures by Simon Pizzey