This amazing whiskey sour cocktail tasted divine! With a bourbon, citrusy flavour topped off with the silky soft egg white topping, writes Mandy Applegate.
Preparation Time: 5 mins
Servings: 1

Ingredients
50ml whiskey, 50ml lemon juice, 25ml simple syrup, 30g egg white, ice, angostura bitters (optional),  maraschino (cherry optional).
Instructions
First, get your cocktail shaker and add in your bourbon whiskey. Next, add freshly squeezed lemon juice and then add your simple syrup. Finally, add your egg white.
Firmly secure the top of your cocktail shaker and dry shake vigorously for approximately 30 seconds. It's very important to dry shake as this is what achieves the wonderful frothy top.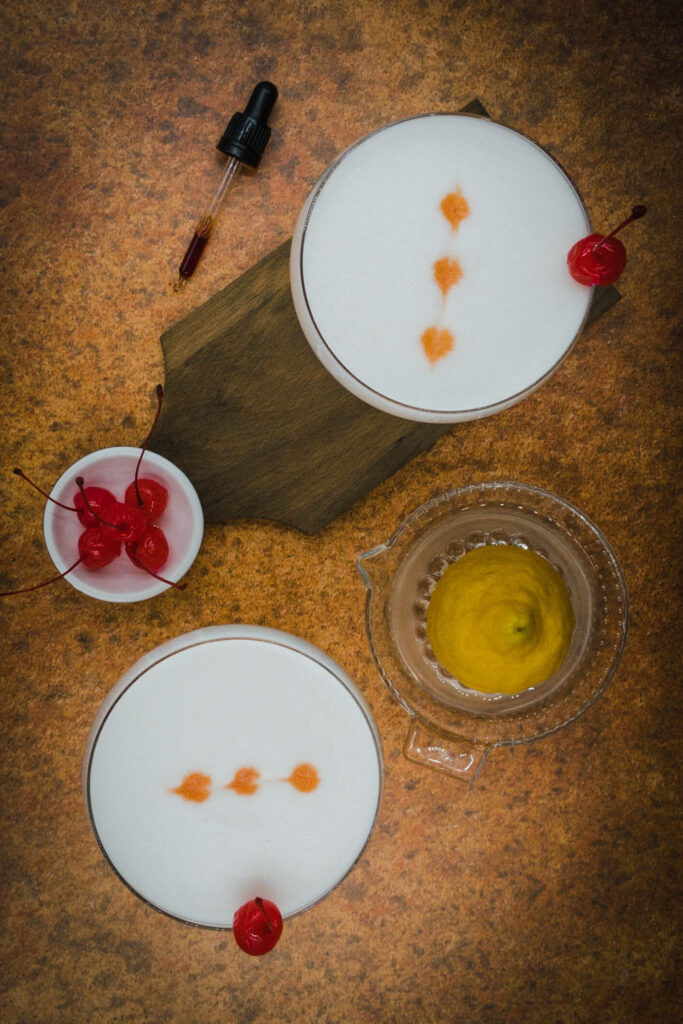 Open up the top and then add in a handful of ice cubes. Then once again firmly secure the top and shake vigorously for approximately 45 seconds.
Open the cocktail shaker place your hawthorn strainer over the top and then carefully double strain the liquid into your glass.
If you like, garnish with Angostura bitters and a maraschino cherry
You now have a dreamy whiskey sour, cheers and enjoy!

Nutrition/ Calories: 219kcal | Carbohydrates: 22g | Protein: 3g | Fat: 1g | Saturated Fat: 1g | Sodium: 65mg | Potassium: 117mg | Fiber: 1g | Sugar: 20g | Vitamin A: 3IU | Vitamin C: 19mg | Calcium: 8mg | Iron: 1mg.
Read more about our Whiskey Sour cocktail https://splashoftaste.com/whiskey-sour/