Looking for an easy vegetarian stroganoff recipe?
Ready in under 20 minutes and so simple to make, this incredibly cheesy and creamy halloumi and mushroom stroganoff is so good. Great for a weeknight dinner or if you need to cook dinner in a hurry.
Preparation time 8 mins
Cook time 12 mins
Servings 4

Ingredients
2 Leeks, 2 cloves of garlic, 1 yellow bell pepper, 500g mixed mushrooms, 100g frozen peas, 400g halloumi cheese, 1 tbsp olive oil, 180ml creme fraiche, 1 tbsp tomato puree, 2 tbsp English mustard, 400g chopped tomatoes, 1 tsp smoked paprika, 1 tbsp chipotle peppers, 150ml vegetable stock, salt and pepper to taste.
Instructions
First, you'll need to prepare your vegetables. Wash and finely slice your leeks. Peel your garlic cloves.
Wash and then remove the stalk and seeds from your yellow bell pepper. Then thinly slice into long strips. Slice your mushrooms. Weigh your frozen peas. Slice your halloumi cheese into small 1cm strips. Now you're ready to get cooking your halloumi stroganoff.
Put a frying pan on medium heat, when it's hot, dry fry your halloumi cheese, it'll only take a few minutes and the cheese is ready when it's golden brown on each side.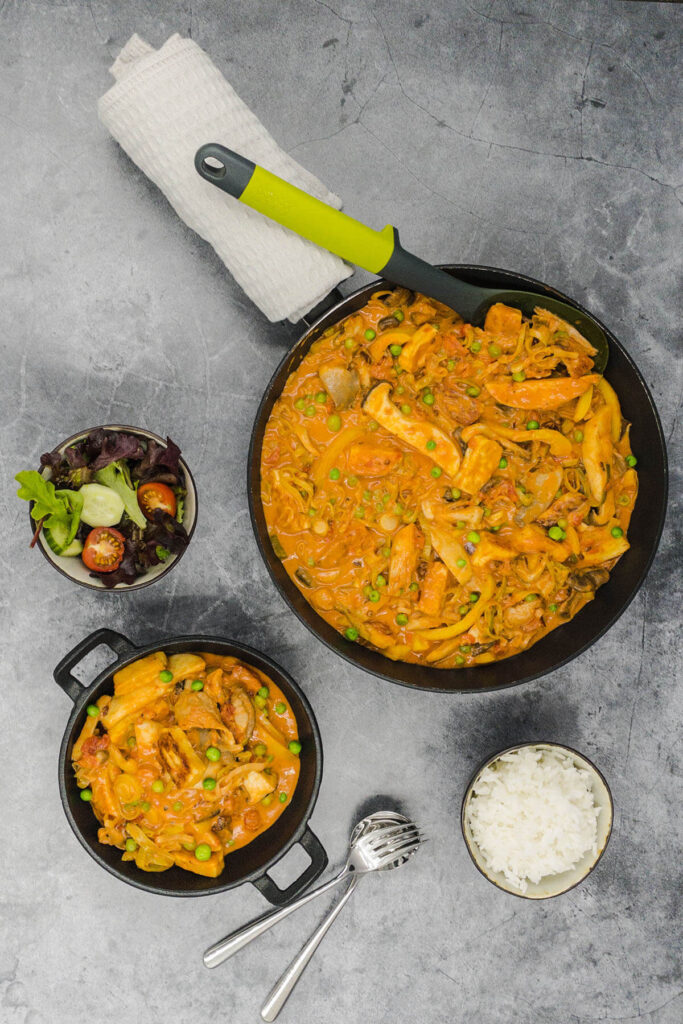 Remove the cheese from the heat and set aside. Now add 1 tbsp of olive oil to a large pan and then add your leeks and yellow pepper. Crush your garlic cloves into the pan and cook for approximately 5 minutes on medium heat until they have softened.
Next to go in are your mushrooms and cook them for a further 5 minutes.
Now add in your peas, creme fraiche, tomato puree, English mustard, chopped tomatoes, smoked paprika, chipotle peppers, vegetable stock and give it a good stir.
Now add your halloumi cheese, turn the heat down and simmer for 3 minutes.
Add salt and pepper to taste.
Serve in a bowl with rice, a nice fresh salad or some crusty bread.
A real cheesy, creamy feast – enjoy!
Nutrition/ Calories: 450kcal | Carbohydrates: 29g | Protein: 28g | Fat: 27g | Saturated Fat: 17g | Sodium: 1656mg | Potassium: 806mg | Fiber: 8g | Sugar: 10g | Vitamin A: 3656IU | Vitamin C: 73mg | Calcium: 1080mg | Iron: 3mg
Find out more about this recipe https://splashoftaste.com/halloumi-stroganoff/