Getting ready to look its best, a historic willow tree is set for a birthday day trim on Sunday.
The imposing willow tree situated on the Green in front of The Globe Inn was planted in 1921 and, to mark the centenary, Stonehouse Town Council is holding a party.
An arborist will start the trim at 10am and the day will also feature family entertainers, information stands, refreshments and every child will receive a cutting from the tree, together will a goodie bag filled with eco-friendly gifts and a slice of birthday cake.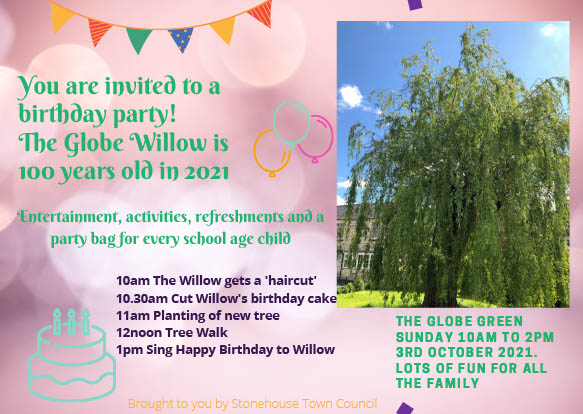 The event will run from 10 am to 2 pm and will also be used as the official launch for the Stonehouse Community Arboretum Management Plan – a document that sets out the council's ambitious plans to increase and diversify the town's tree stock but also how it will look after the trees we already have in the town and at Doverow Wood.
Cllr Carol Kambites, Deputy Mayor of Stonehouse said: "We are really excited about the birthday party as we wanted a fun event to bring local people together and invitations have gone out to every schoolchild up to the age of 11.
"The town will be full of stalls promoting the work of local groups and organisations such as All Pulling Together, Stonehouse in Bloom, Stonehouse History Group and Stonehouse WI.
"There will be walkabout entertainers and a local band and we hope that the cuttings that the children take home will be potted up and lots of new willows created."