When a Nailsworth resident noticed a little creature scuttling out of sight in Morrisons car park, she took a closer look.
There, right at the end of the long narrow gap between cashpoint and store wall, a baby hedgehog was hiding.
"I had no idea what to do, so I googled 'hedgehog' hospital and got through to Annie Parfitt in Brimscombe," Katie Jarvis said. "She was brilliant with advice, and told me to pop it safely into a box straightaway."
But as Katie went to get a box from inside the store, a member of staff spotted a second hoglet cowering under an A-board by the door.
"That baby was easy to retrieve," Katie said. "But squeezing down the gap to the first one was rather more difficult. I made it to the end, then realised I couldn't actually bend to pick it up! I had to use a gentle pole to move it out, in the end.
"I felt very sorry for the various cashpoint users, who were understandably taken aback each time I popped out from behind the machine. I must admit, I was slightly concerned about getting stuck. My consolation was that the weather was hot and Morrisons sell butter!"
The two hoglets – Charlie and Archie – are now thriving under Annie's care in her charity's Help a Hedgehog Hospital.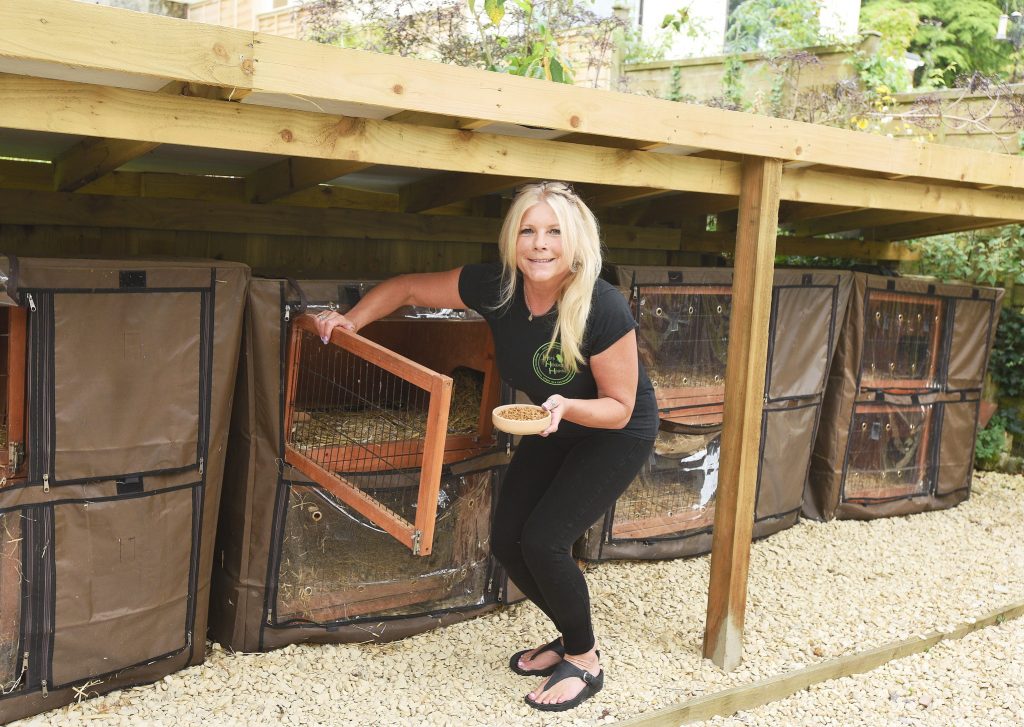 "They're nicely fat and doing so well at nearly 200g now,' Annie said. "When I've got them to 450g – so they're in a really good place – we'll release them into appropriate gardens.
"Because they're both boys, we'll separate them, but we will match them with two little girls who were brought in recently."
The lucky hedgehogs join the 2,000-plus that Annie has rescued over the past 16 years.
It was with the help of pupils from Thomas Keble School – where she works – and support from local businesses that Annie set up her first hospital in a small B&Q-donated shed at the bottom of her garden.
"I gave my number to local vets and got a call one Saturday evening. A tiny hoglet who I named Daisy, weighing just 80g, was brought in. I remember rushing off to Waitrose to get food to pull her through! It was such a thrill that she made it."
Today, the charity's three expert hospitals in Brimscombe, Tetbury and Bussage – all staffed by volunteers – are bursting at the seams with hedgehogs in need.
This time of year is especially busy with calls from the public. "Hedgehog mums can make their nests in very silly places, especially if they're novice parents. We've had one in a barbecue lid; compost bags are another favourite. They also get stuck in cattle grids and sports nets."
So why might Charlie and Archie have ended up at Morrisons? "They were probably orphans, so I imagine that mum was run over. Another possibility is that she took them for a first forage and they didn't keep up when she returned home. They can get very excited when they're out and about, and the boys do tend to be mischievous. They are brought in more than girls, especially the little ones."
With running costs of around £20,000 a year, Help a Hedgehog Hospital is always looking for volunteers and donations. Businesses can also help by taking a page in the popular annual calendar, or by selling raffle tickets.
"The plight of the hedgehog is pretty grim," Annie says, "though in Stroud and Five Valleys they're doing better than most. I've been going for a long time, but there are also now two other rescue centres – Wild Hogs in Frampton-on-Severn, and Brockworth Hedgehog Rescue.
"We're all needed, and all full!"
The dos and the don'ts:
If you see a hedgehog:
* This time of year, there are nursing mums around. If so, she might be out collecting leaf-litter or having a drink. She wouldn't be stationary. So the first thing to do is stand back and observe.
* If the hedgehog is stationary, then don't wait. Hedgehogs are very susceptible to flystrike, where flies lay eggs that hatch within 24 hours and can easily prove fatal.
* Wrap the hedgehog in a towel – don't feed it; don't give it water. If it's a really cold day, put them on a warm hot-water bottle, but not if the weather is hot.
* Call 07867 974525 (emergencies only; otherwise evenings and weekends) or – for general enquiries, email enquiries@helpahedgehog.org
Is your garden suitable for a hedgehog release? If you can offer compost heaps, a little hole in the fence so they can go from garden to garden; no slug pellets; no rat poison (or, if it is used, higher than a hedgehog could reach), then the charity would love to hear from you.