Randwick Football Club has paid tribute to a remarkable 45-year association by former player and committee member Phil `Staffie' Stafford to mark his retirement as club secretary, writes Rachael Lythgoe.
Phil was presented with an engraved glass tankard by chairman Mort Watkins and president Nick Lythgoe, during a recent club family day.
"I had no idea about the award coming my way, and was absolutely chuffed to bits," said Phil.

Phil first joined Randwick FC in 1976 as a 16-year-old and was playing ten years later when the club won the Stroud First Division. Some years after retiring from playing word reached Phil that the beleaguered single-team club was on the verge of folding. In an effort to save it and restore its fortunes, a new committee was formed with Phil taking the role as secretary.

"Our philosophy was always to be respectful and to always do our very best, providing a game of football for anyone who wanted to play," he said.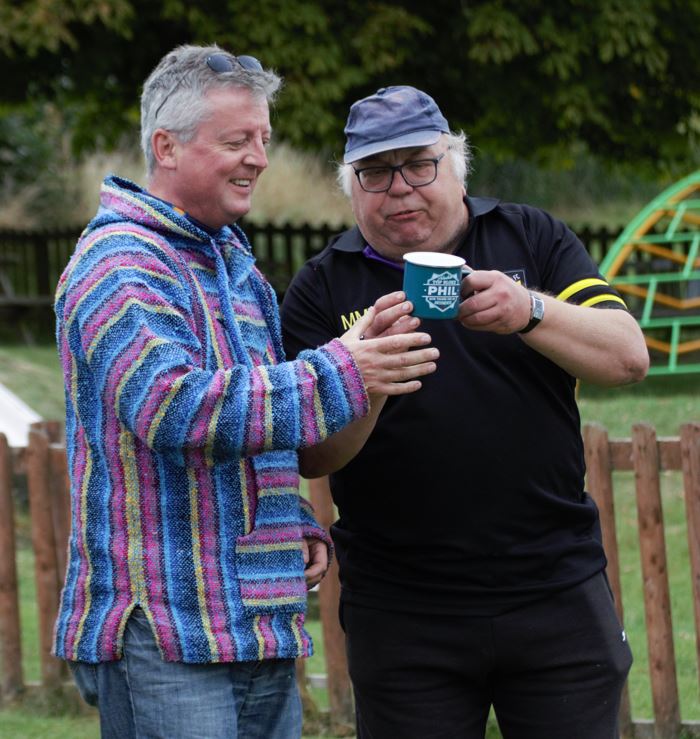 The club grew in strength and numbers, registering a Second, then a Third team. Phil puts the success of the club down to "hard work and becoming an FA Charter Accredited Club."
In 2015 the village hall was awarded £34,000 National Lottery funding from Sport England to improve and extend the changing rooms.
A youth team was formed "with the focus on enjoyment and quality coaching" which was also awarded FA Charter Accreditation. Membership now stands at 150 players in 11 teams.

Phil remains passionate about Randwick Football Club. His philosophy is "it has to be done the right way, with equal opportunity for all, respect for all – including referees and opposition – and the very best coaching that we can provide. You put these things together and it attracts good people.
"It's about helping little people grow into better people by showing them how to play and interact with others respectfully. If we get this message across and provide good coaching we will be successful."
Randwick FC chairman Mort Watkins said: "Phil has always been an integral part of Randwick Football Club, spreading the word that the idea of the club is the enjoyment of the game for all.
"I was lucky to help with Phil's `can do' attitude which has lead the club from running one Open Age side to three, and running eight Foundation and Development sides as well as Under 8's and Under 6's training sessions – a truly remarkable feat for a small club like Randwick and a marvellous tribute to Phil and the rest of the committee and coaches.
"I would like to wish Phil all the best in his retirement and thank him for the work he has put into the club over many, many years, and remind him that there will always be a space for him in Randwick Football Club."
Randwick FC president Nick Lythgoe added: "Phil might have stepped down from taking an active role in the club, but as a life member he'll always be a part of us.
"We're proud to continue Phil's legacy as a friendly, inclusive club that provides football for all. If you'd like to join us as a player, coach or referee please get in touch at https://randwickfc.co.uk/contact"