The huge relief at the world beginning to open up again is shared by everyone, and one of the great joys of this process is seeing the arts in Stroud beginning to flower again, on the walls and streets of Stroud, after a long, strange winter.
The artists and musicians, who make up a sizeable minority of Stroud's social landscape, are coming back out to play. One such artist, whose work is appearing in a mini-exhibition this month at Felt Café in Brimscombe, is Lucy Inder. She's a multi-media artist, whose work combines drawing,
painting, photography and collage, who taught at a local comprehensive for many years after studying in Cardiff and Winchester.
"I loved the inspiration gained looking at different artists as well as seeing the creative output of my students," says Lucy. "I always kept a sketchbook to develop and document my practice. I use drawing & collage as a form of recording, like a visual diary.
"My work is driven by a desire to marry together all things old and new," she adds. "My main love is colour and pattern. I combine and compose layers of imagery. I draw, paint and photograph the things around me, floral forms and birds… and the world around my tiny studio. I love finding vintage treasures with their stories from the past entwined in the
patterns and colour of their make up. Childhood patterns evoking memories of growing up in the 1970s, the people, places and smells associated with domestic decoration and colours."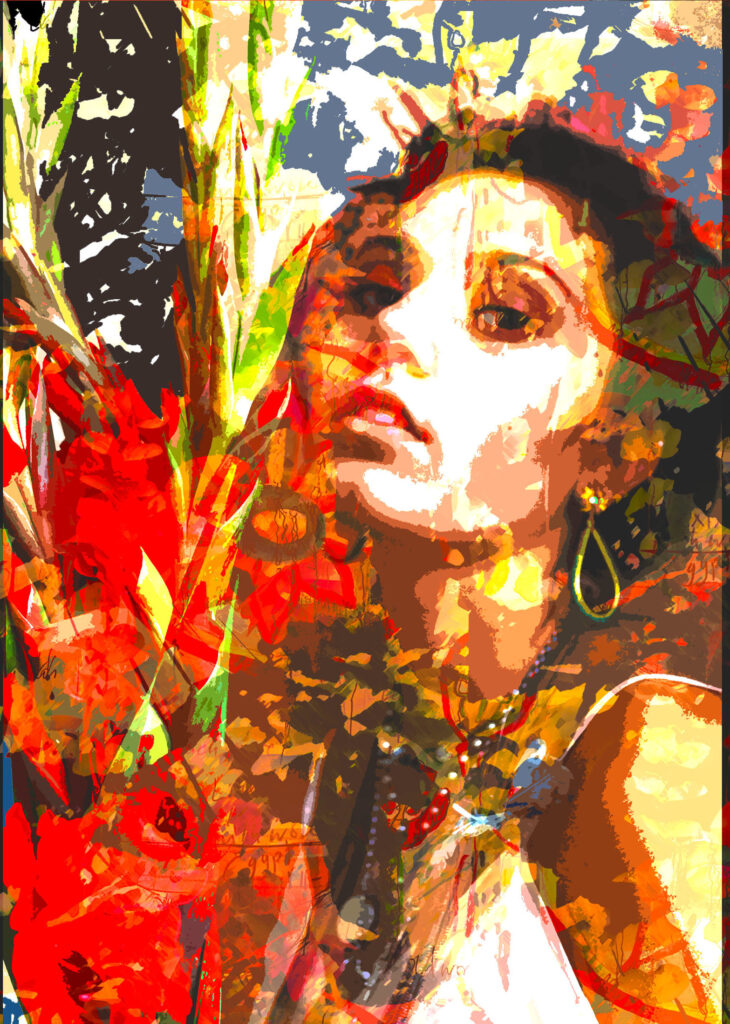 Lucy has been working continually through the pandemic. "It has taken me off in a whole new direction of work," she says. "My daily routine was based around local walks. My need to be in the landscape fuelled me to start painting landscapes. I have found painting in acrylic and oils really grounding. Imagining myself as a tiny dot in the vast landscape and
seeing the ever-changing beauty of the natural world gave me a whole new focus. My days became structured by painting in quite an obsessive way, losing myself in beauty of colour and marks. I am hoping to show this new body of work later in the year."
For the moment, Lucy has a selection of giclee prints of her previous works on display at the Felt Café, which can be found by the canal at Bourne Mill, Brimscombe, until April 30th.
The cafe is open daily, between 9am and 5pm Monday to Saturday, and on Sundays between 10am and 4pm.