If you're looking for authentic Indian food recipes, it doesn't get much better than this delicious vegetable bhuna curry.
This is great if you're vegan, vegetarian or even if you're just looking at cutting down on your meat consumption. It's a brilliant dinner idea for meatless Monday or Veganuary.
Preparation: 20 mins
Cook time: 20 mins.
Servings: 8
Ingredients: 1275g Curry base sauce, see link below, 3 tbsp garlic ginger paste see link below, 6 tbsp spice mix see link below, 1 butternut squash, 11 tbsp vegetable oil, 6 tbsp tomato puree with water to dilute, 2 onions, 6 green chillies, 12 cherry tomatoes, 4 large vine tomatoes, 250g spinach, 2 tbsp coriander, 3 tbsp tamarind sauce, 500g vegetarian chicken.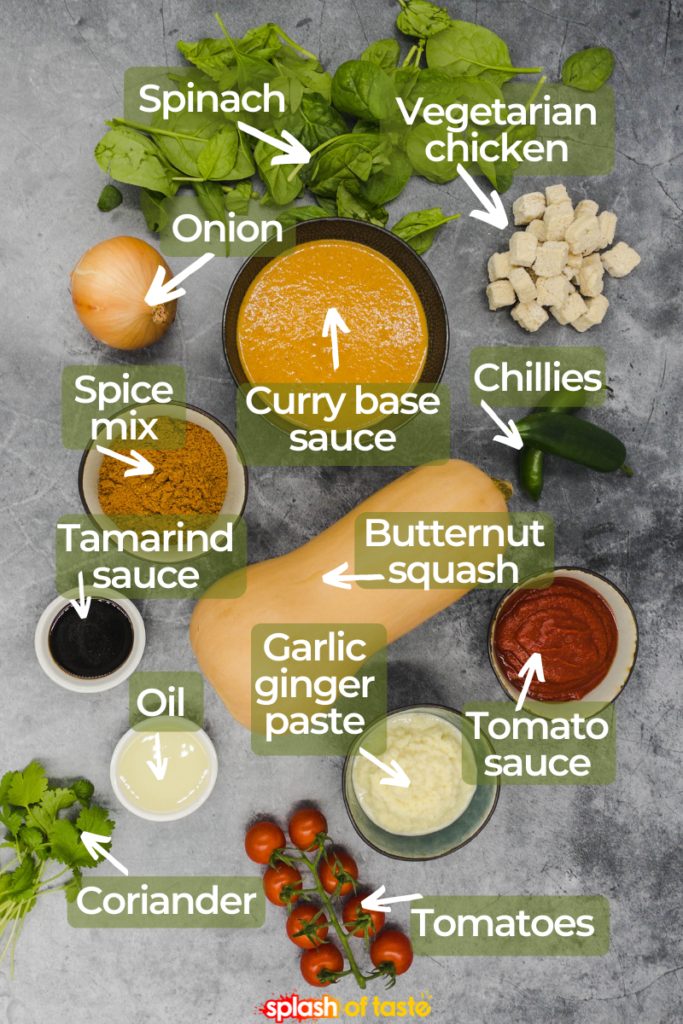 Instructions/ preparation
Make sure you've made your curry base sauce, don't forget that this can be made ahead – see link below.
Prepare your garlic ginger paste, this can be made ahead, the day before, or can even be frozen – see link below.
Prepare your spice mix, this can be made in advance to speed up the cooking of your vegetable bhuna – see link below.
Now, pre-heat your oven to 200C/400F.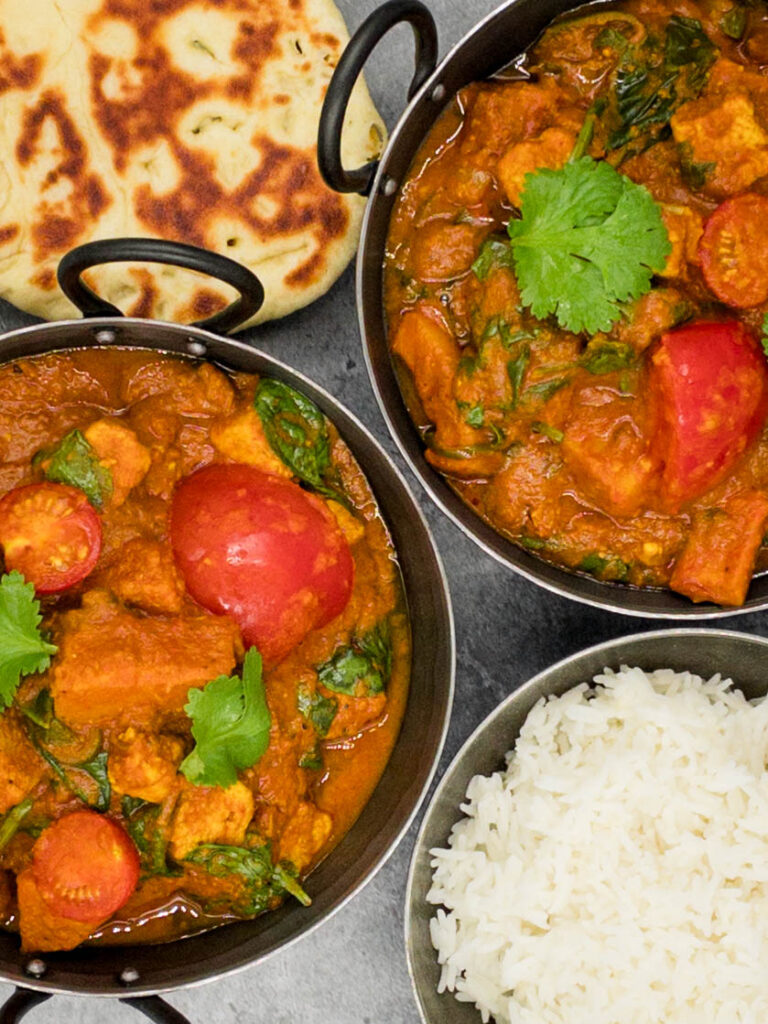 Then you'll need to peel and deseed your butternut squash and chop it into bite-sized pieces. Place the pieces on a baking tray, drizzle with 2 tablespoons of vegetable oil and cook for 30 minutes.
Next, take your tomato puree and dilute it with water, use a little at a time, you need it to be the same consistency as a good passata sauce.
Now it's time to prep your vegetables. Peel and chop your onions.
Thinly slice your green chillies, if you don't like a really spicy curry then deseed the chillies, but if you like to crank the heat up then leave the seeds in.
Cut your cherry tomatoes in half and quarter your large vine tomatoes.
Wash your spinach. Chop your coriander stems – don't discard the leaves, you'll need them later.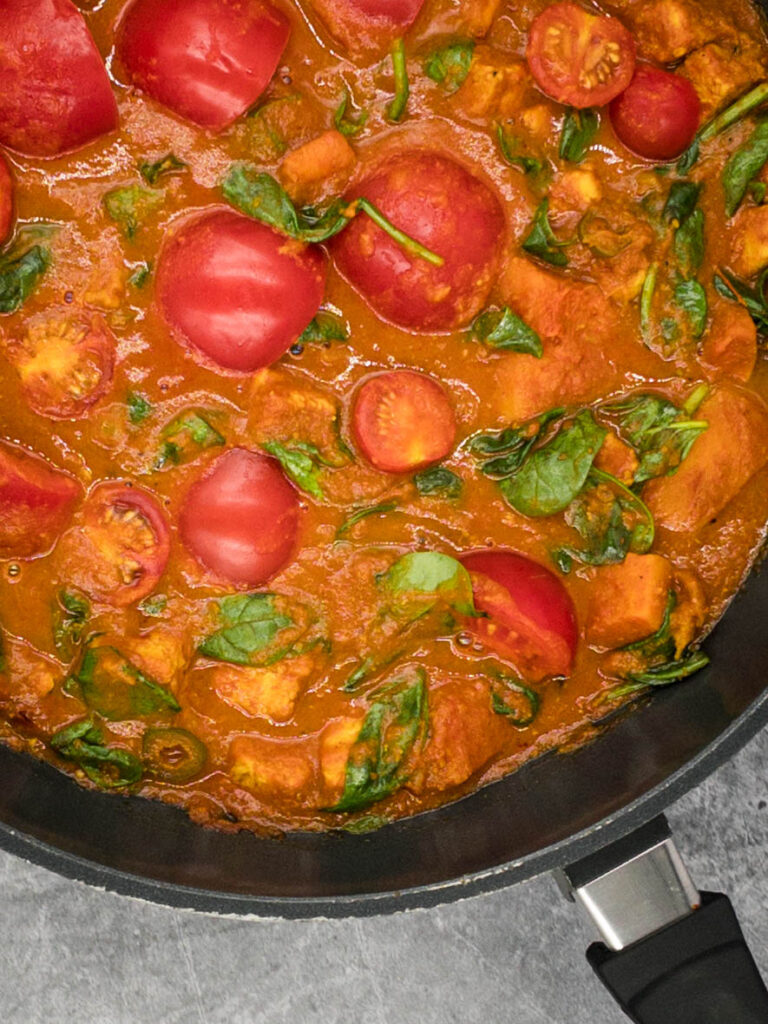 Now take a large frying pan and heat it over medium heat, then add in the remainder of your vegetable oil and heat the oil. We know this sounds excessive but this is how bhuna is made, trust us here.
When the vegetable oil is ready, it's time to add in your peeled and chopped onions. Make sure you keep stirring them for around a minute or so until they start to brown.
Now it's time to add the garlic ginger paste, cook it until it stops spitting, you need to stir it all of the time, you don't want it sticking while it's cooking.
Next to go in the pan are your green chilies and coriander cilantro stems. This will cook very quickly in around 20 seconds.
Then it's time for your spice mix, turn the heat down and add them in, stirring constantly, you don't want the spices to burn, stir for 30 seconds.
Now turn the heat back up and add in your tomato puree that you've made into tomato sauce, stir it in and cook for 1 minute.
Now slowly add in your curry base sauce, just a little at a time, keep stirring and cook for around 2 – 3 minutes.
Next, add in your tamarind sauce, stir it in and lower the heat.
Now it's time to add in your vegetarian chicken and cooked butternut squash. Give it a good stir and let the vegetable bhuna curry simmer away for 5 minutes.
Keep an eye on it and if it looks like it's too thick for you, then simply add more curry base sauce.
Now add in your cherry tomatoes, vine tomatoes and spinach, stir to incorporate the ingredients and leave it to cook for a further 3 minutes.
Once it's cooked, then serve in plates or bowls topped with chopped fresh coriander leaves.
Serve with rice, naan bread or chapatis. Banging bhuna – enjoy your curry!
Please refer to the nutritional information for the curry base sauce, ginger garlic paste and spice mix for individual nutrition information.
Curry base sauce recipe link https://splashoftaste.com/curry-base-sauce/Garlic ginger paste recipe link https://splashoftaste.com/garlic-ginger-paste/Indian curry spice mix recipe link https://splashoftaste.com/indian-curry-spice-mix/
Calories: 428kcal | Carbohydrates: 34g | Protein: 21g | Fat: 25g | Saturated Fat: 17g | Sodium: 609mg | Potassium: 1238mg | Fiber: 9g | Sugar: 12g | Vitamin A: 16545IU | Vitamin C: 60mg | Calcium: 160mg | Iron: 17mg