Looking for an easy pasta dinner recipe? Our pasta alla sorrentina is a delicious, easy pasta meal that all the family will love. Full of sweet, juicy, ripe tomatoes and garlic and cheesy flavor with hints of red pepper flakes and basil, this is a great vegetarian dinner idea.

Preparation time: 15 minutes
Cook time: 35 mins
Servings: 4

Ingredients
4 garlic cloves, 450g cherry tomatoes, 10g basil leaves, 100g mozzarella cheese, 350g paccheri pasta, 3tbsp extra virgin olive oil, ¼tsp red pepper flakes, ¾tsp salt, ½tsp sugar, 2tsp butter and salt and pepper to taste.

For serving
Finely grated pecorino cheese and fresh basil finely sliced or torn
Instructions
Roughly slice your garlic cloves, then wash your cherry tomatoes. Pick your basil leaves and chop your fresh mozzarella into cubes.
Then, you'll need to get a large pan of boiling water started, make sure you salt it well. Cook your pasta according to the instructions on the packet, remembering you want the pasta to be al dente.
Next, take a frying pan or skillet, and add extra virgin olive oil and garlic slices.
On medium-low heat, heat the oil and garlic just slightly. When you can see the garlic starting to bubble slightly, it's time to add your cherry tomatoes and basil leaves and increase the heat slightly to medium heat.
Add your red pepper flakes, salt and sugar, stir until the skins of the tomatoes start to split open.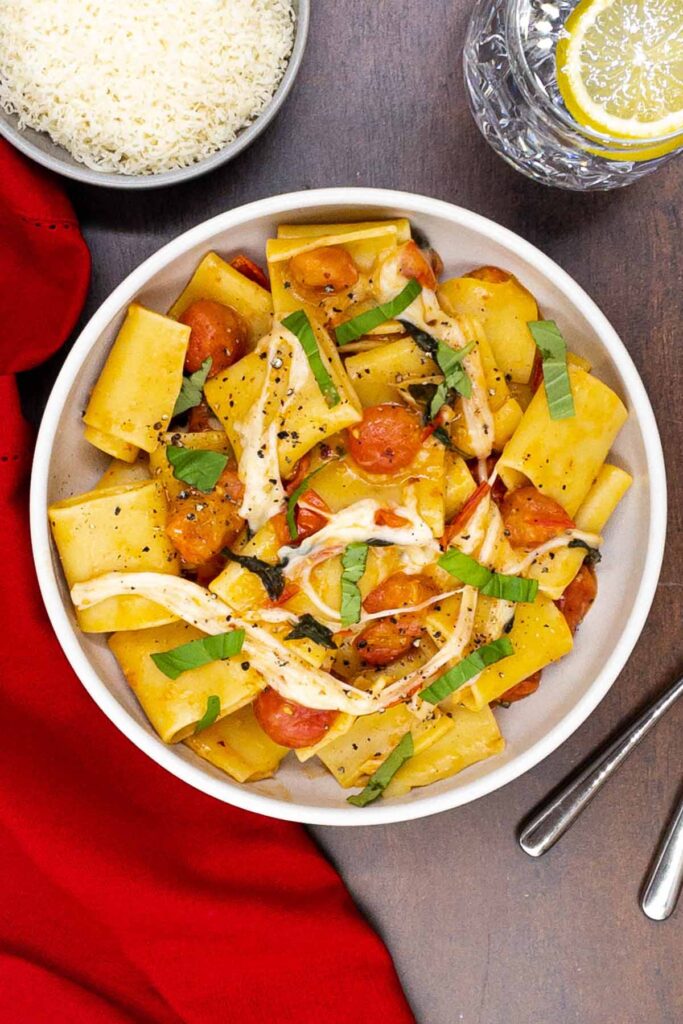 You need to ensure that your garlic does not brown, while you are cooking, as it will become bitter. If it starts to brown then add a tablespoon of water.l
When your tomatoes have split, it's time to smash half of them, using the back of a wooden spoon. Now add butter and stir until it has combined.
As soon as your pasta is ready, spoon it out of the water with a slotted spoon allowing the water to drain back into the pot. Do not throw the pasta water away as you'll need it. Add the drained pasta into your frying pan or skillet and stir to make sure it's fully combined with your fresh tomatoes.
Now add a ladle of your pasta water to the pan and cook the pasta in the sauce for around 2 minutes.
Season with sea salt and pepper. Now remove the pan from the heat and add your mozzarella cubes. Stir it in, the heat from the pan will soften it, but if it doesn't, just return the pan to low heat to help it along.
Serve your pasta alla sorrentina immediately, with freshly grated pecorino cheese and fresh basil finely sliced or torn into pieces.
Bellissima! Enjoy!

Find out more about our delicious pasta dish https://www.splashoftaste.com/pasta-alla-sorrentina/

Nutrition/ calories: 540kcal | Carbohydrates: 72g | Protein: 18g | Fat: 20g | Saturated Fat: 6g | Polyunsaturated Fat: 2g | Monounsaturated Fat: 10g | Trans Fat: 1g | Cholesterol: 25mg | Sodium: 638mg | Potassium: 482mg | Fiber: 4g | Sugar: 6g | Vitamin A: 952IU | Vitamin C: 27mg | Calcium: 168mg | Iron: 2mg