Stroud's popular raft race is back – and it's going to be bigger and wetter than ever, say the Cotswold Canals Trust.
The charity is calling for teams to get in on the act on Sunday 25th September and take part in the event, which hasn't taken place since 2019 due to the pandemic.
"This year's Raft Race is special for several reasons," explains Jim White, chairman of Cotswold Canals Trust.
"It's been a subdued time, but our volunteers have been working hard and we've made a remarkable amount of progress towards our goals of restoring the length of our Stroudwater and Thames & Severn Canals and reconnecting to the national network.
"We've completed the stretch of the waterway under the roundabout at Fromebridge Mill and the bridge at the Ocean in Stonehouse – so the Raft Race is a celebration of those achievements.
"This is also our golden anniversary year: it was in 1972 that Mike and Beryl Ayland and a small band of optimists conceived the idea to transform the overgrown, silted-up waterway that ran through our valleys into the beautiful, green-fringed channel we're beginning to see today.
"We've called this year's race the Golden Duck, to pay tribute to those visionaries who inform and inspire the work we do today.
"Our event also marks a year since we said a fond farewell to the man who breathed new life into the Raft Race back in 2016, Luciano Magalotti, the former landlord of the Clothiers Arms and a true community hero.
"As well as a celebration of Luciano's life and spirit, it's a chance to banish the blues of the last couple of years and come together in a day that's packed with laughter and joy."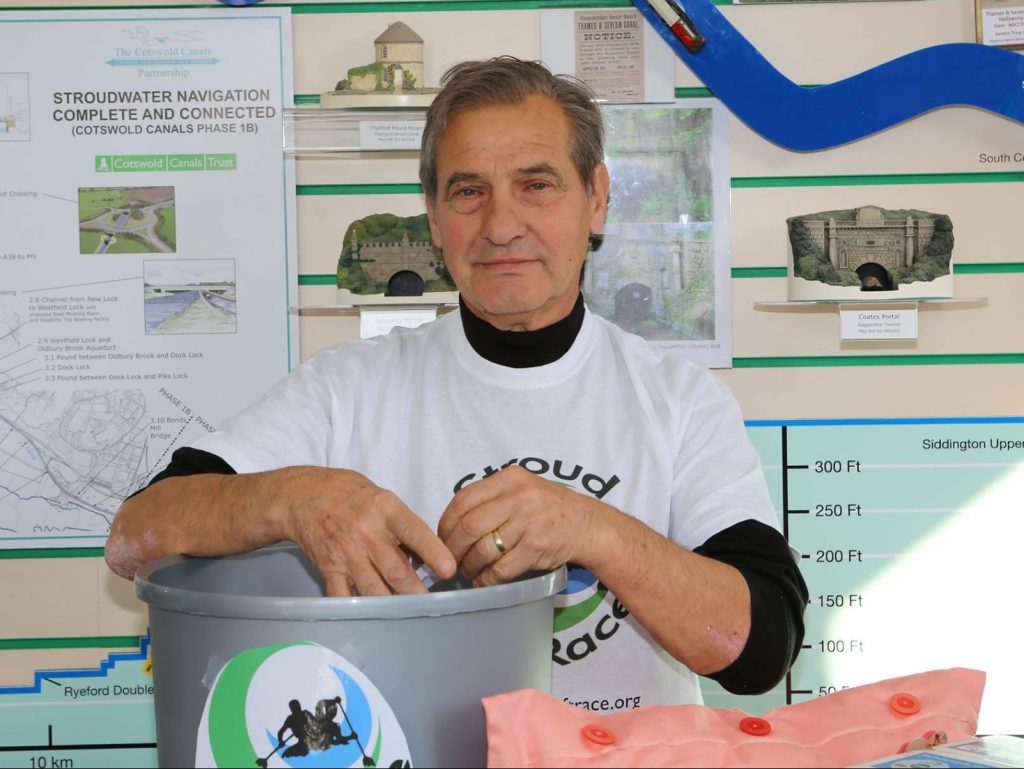 Getting the ball rolling this year is Harry Counsell, the Clothiers' current landlord, who is generously sponsoring the event.
"Luciano was an inspiration to me and hundreds of others in Stroud and beyond," says Harry, who also runs the Bowbridge Arms.
"He was all about the community and the canal. Our pubs provide communities with a place for rest, fun, celebration and shared moments. We're delighted to remember Luciano by supporting the Raft Race this year and know that he's still able to bring the people of Stroud together!"
The Cotswold Canals' Raft Race sees hundreds of people coming along to cheer on the intrepid rafters as they pilot their homemade craft along the canal from Wallbridge to Capel's Mill.
Businesses, charities, youth groups and families and friends are warmly invited to register to take part in the fun and to raise funds for the charity's work.
The charity is also seeking sponsors, as fundraising ambassador Aimee-Louise Malcolm explains:
"Our Golden Duck Raft Race will be a way for everyone to show our pride in our town, our community, and our canals. We're proud to have Harry of the Clothiers and Bowbridge Arms as our main sponsor, and we welcome other local businesses to be part of this memorable and highly visible event."
Only 21 teams can participate on the day and places are booking up fast. All you need to take part is a team willing and able to build a raft, six intrepid paddlers and a great sense of humour.
To register a team, please visit Register your craft – Cotswold Canals Trust.