Crunchy, herby, and mouth-wateringly delicious, our vegan chicken burger is an easy recipe you need to make, writes Mandy Applegate.
Made in under an hour, our vegan chicken patties freeze for up to 3 months, so batch make them and have them on hand whenever you want to eat one.

Preparation time: 20 mins
Cook time: 34 mins
Ingredients
For the vegan chicken patties, 500g Drained chickpeas, 475g vegetable stock, 1tbsp soy sauce, 4tbsp nutritional yeast, 4tbsp vegetable oil, 4tsp vegan poultry seasoning (see link below), 1tsp salt, 1tsp onion powder, 1tsp garlic powder, 320g vital wheat gluten, for the baking tray4tbsp vegetable oil.

To wet the patty120g plant-based milk. For the bread crumb coating120g Panko breadcrumbs, 60g plain flour, 2tbsp cornflour, 2tbsp nutritional yeast, 4tsp vegan poultry seasoning  (See link below) 1tsp salt.
Dressing: vegan caesar dressing (see link below).

Instructions
For the chicken patties first, you'll need to make the vegan chicken. In a food processor or blender, add your drained chickpeas, vegetable stock (broth), and soy sauce.
Then, add nutritional yeast, vegetable oil, and vegan poultry seasoning. Now, add salt, onion powder, and garlic powder.
Blend until you have a smooth consistency and then transfer to a large mixing bowl. Slowly stir in the vital wheat gluten, once you can't stir it, then knead the chickpea mixture with your hands until you have a firm dough, this should take approximately 1-2 minutes. Place your vegan chicken in the fridge to cool for a minimum of 1 hour and a maximum of 24 hours.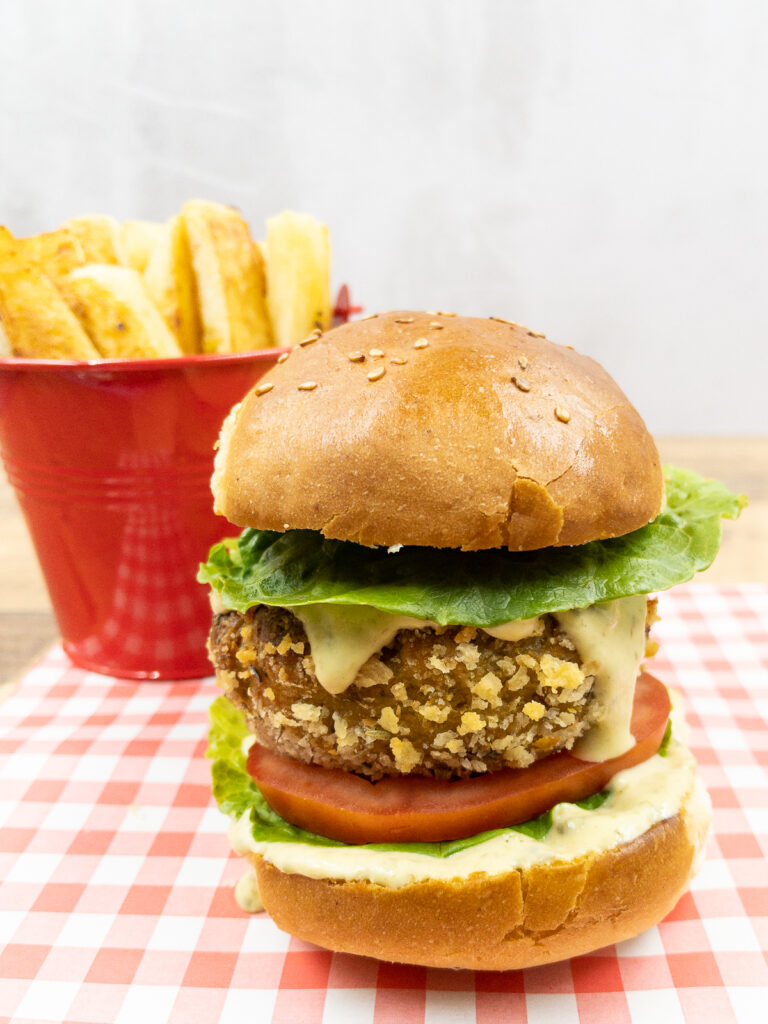 For the bread crumb coating while it's chilling in the fridge, make your bread crumb coating.
Preheat your oven to 190° C/375° F. On a baking tray cover the bottom with vegetable oil. In a small bowl, add your panko breadcrumbs, plain flour, and cornflour.
Then, add your nutritional yeast, vegan poultry seasoning, and salt and mix it together, so it has fully combined.
In another small bowl add your vegan milk. When the patties have chilled for at least an hour, divide them into portions and shape them, we made them circular, but you can shape them however you like. Take one patty and place it in the milk, turning it so that the whole of the patty is moist.
Then, put the vegan chicken patty in the bread crumb coating, pressing, and turning each one so it has an even coating. When the patty is fully coated, place it on the baking tray.
When you have coated all the vegan chicken patties, bake them in the oven for 17 minutes, remove them from the oven, flip them over and bake them for a further 17 minutes. When they are ready, they will be a lovely golden brown color.
Serve them immediately in a bun with lettuce, tomato, and an optional vegan Caesar dressing
Tasty vegan fast food done well – enjoy!
Find out more about our vegan chicken burgers https://www.splashoftaste.com/vegan-chicken-patties/Link for our vegan poultry seasoning https://www.splashoftaste.com/easy-poultry-seasoning/
Link for our vegan Caesar dressing https://www.splashoftaste.com/vegan-caesar-dressing/

Nutrition
calories: 336kcal | Carbohydrates: 31g | Protein: 28g | Fat: 12g | Saturated Fat: 8g | Polyunsaturated Fat: 1g | Monounsaturated Fat: 2g | Sodium: 734mg | Potassium: 266mg | Fiber: 5g | Sugar: 3g | Vitamin A: 131IU | Vitamin C: 1mg | Calcium: 104mg | Iron: 4mg