The summer heatwave is over, but strawberries are still in season, so it's a great time to make our strawberry daiquiri mocktail, writes Mandy Applegate.
It's fun, sweet, and refreshing. You can make it in 5 minutes and it tastes so good! We've also got an alcoholic version too.

Preparation time: 5 mins, Servings: 1
Ingredients
3 tbsp sugar granulated or caster (you won't use it all), 1 lime, 6 ice cubes, 150ml strawberry puree see notes for a link to our recipe below, 25ml sugar syrup, 25ml fresh lime juice, lemonade, or club soda top up and 1 strawberry for garnish.

Instructions
The first thing you need to do is to make your delicious sugar lime rim, it's a lot easier than you'd think.
Take your sugar (don't worry, you won't use all of the sugar) and zest the fresh lime into it. Then, using your hands, make sure that the sugar and lime are perfectly combined.
Next, you'll need to cut a lime wedge and then run it around the entire rim of your cocktail glass. Now turn your glass upside down and on a flat plate or surface, swirl your glass in the sugar until it's coated.
Then you are ready to start building your strawberry daiquiri mocktail.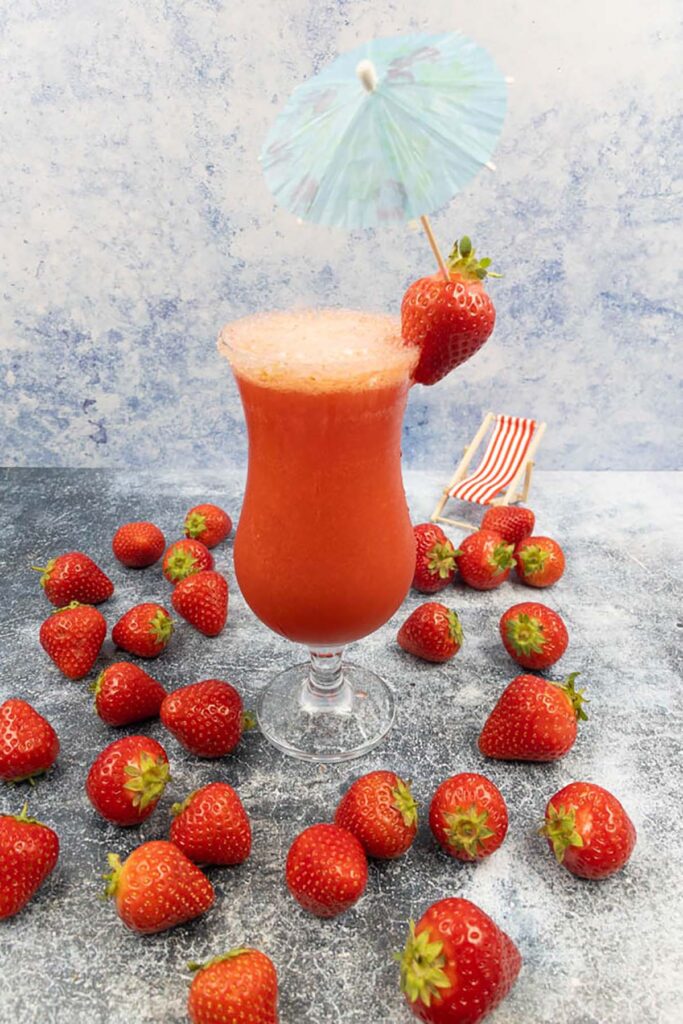 First, add ice cubes to your cocktail shaker, then add strawberry puree.
Next, add sugar syrup followed by fresh lime juice. Now firmly secure the lid of your cocktail shaker and shake the liquid and ice for approximately 20 seconds.
Using a Hawthorne strainer, pour your mocktail into your cocktail glass and then top up with lemonade or club soda water. Garnish with a ripe strawberry or a lime slice or both.
Sunny strawberry heaven – serve to your friends and enjoy!

Here's the link to the strawberry puree
recipe https://www.splashoftaste.com/news/how-to-make-strawberry-puree/

Here's the link to the alcoholic version of our best strawberry daiquiri https://www.splashoftaste.com/easy-strawberry-daiquiri-recipe/