Transport yourself back to Thailand with this deliciously flavoursome vegan Thai red curry which will blow you away, writes Mandy Applegate.
Sensational Asian flavours, lemongrass, chilli, Thai eggplant, mushrooms, mange tout, baby corn, and a whole lot of delicious spices. This easy Thai red curry recipe can be made in 25 minutes, ideal for a meat-free weeknight dinner.
Preparation time: 10 minutes.
Cook time: 15 minutes.
Ingredients: 3 tbsp Thai red curry paste, 200g button mushrooms, 6 green Thai eggplants, 6 purple Thai eggplants, 100g baby corn, 100g mangetout, 2 red chilli peppers, 1 tbsp vegetable oil, 400g coconut milk, 2 tbsp agave syrup, 1 tbsp palm or brown sugar, 4 tbsp light soy sauce.

Instructions
First, you'll need to make your Thai red curry paste – see link in the notes below.
Then prepare your vegetables. Clean and slice in half your button mushrooms.
Then take your green Thail eggplants, wash them and quarter them.
Next are your purple Thai eggplants, wash them and slice them into chunky slices.
Wash and chop the ends from your baby corn and then slice them lengthways in half. Wash your mangetout. Remove the stalk and finely slice your red chilli peppers.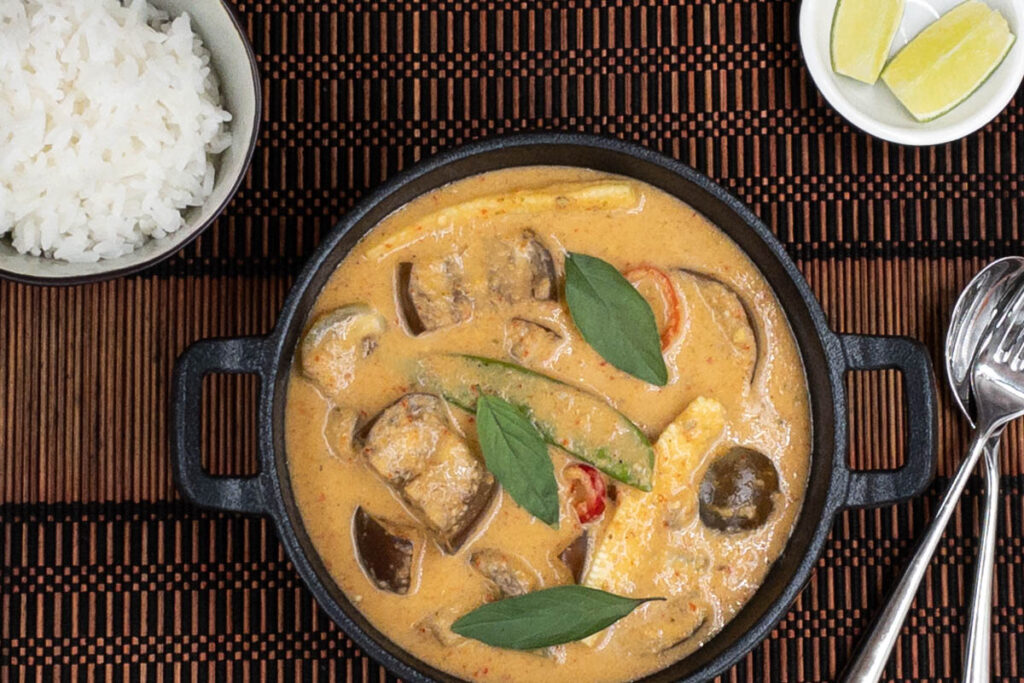 Place a wok or large pan on high heat and then add 1 tablespoon of vegetable oil, when it's hot enough add in your Thai red curry paste.
Stir constantly for 2 minutes and you'll notice how great it smells.
Next, you'll need to add your coconut milk, if you want to keep the calories down use reduced fat coconut milk.
Mix the Thai red curry paste into the coconut milk until it's fully combined.
Now add your agave syrup and palm sugar (brown or regular sugar will do fine if you don't have palm sugar).
Add in your soy sauce along with your thinly sliced red chillis, mushrooms, baby corn, mangetout and your green and purple Thai egglant.
Stir to cover all of the vegetables with sauce and bring to the boil.
Once boiling turn down the heat and simmer for approximately 8 – 10 minutes until all the vegetables are cooked.
Once cooked, taste and if you need a little more agave syrup, salt or sugar then add to taste.
Serve your vegan red Thai curry in bowls along with jasmine rice.
Garnish with fresh Thai basil and a squeeze of kaffir lime juice if you have it, but regular lime will be fine.
A pure Thai delight – enjoy your amazingly delicious red Thai curry.
Nutrition/Calories: 520kcal | Carbohydrates: 67g | Protein: 14g | Fat: 28g | Saturated Fat: 22g | Polyunsaturated Fat: 1g | Monounsaturated Fat: 2g | Sodium: 1053mg | Potassium: 2148mg | Fiber: 23g | Sugar: 40g | Vitamin A: 2505IU | Vitamin C: 67mg | Calcium: 115mg | Iron: 7mg
Find out more about our Thai red curry https://splashoftaste.com/vegan-thai-red-curry/
Recipe for vegan Thai red curry paste https://splashoftaste.com/thai-red-curry-paste/