If you're looking for a vegetarian or vegan Christmas dinner option this year, then we've got you covered!
This nut roast is so good and well worth the effort. It's packed full of flavor, nuts and lentils and veggies and everyone will love it.
Preparation time: 45 minutes
Cook time: one hour, 10 minutes.
Ingredients: 100g Brazil nuts, 100g walnuts, 100g hazelnuts, 100g pecans, 2 parsnips roughly diced, 2 tbsp olive oil, 2 red onions finely chopped, 1 fresh red chili finely chopped, 3 cloves of garlic minced, 200g brown lentils cooked, 200g chestnut mushrooms finely sliced, 150g carrots grated, 1 red pepper finely chopped, 2 tbsp tomato paste, 100g wholemeal breadcrumbs, 2 sprigs of fresh rosemary finely chopped, 1 sprig of fresh sage finely chopped, 9 sprigs of fresh thyme finely chopped, ¼tsp ground allspice, ¼tsp smoked paprika, ¼tsp ground nutmeg, 225ml vegetable stock, 100g cooked chestnuts crumbled, zest of 1 orange, salt, and pepper to taste and vegan butter to the prepared loaf tin.

Instructions
Preheat your oven to 180°C/356°F. Spread your Brazil nuts, walnuts, hazelnuts, and pecans over a baking tray and put them in the oven, and roast them for 8 minutes, when done set them aside to cool.
Meanwhile, while your nuts are roasting, add your chopped parsnips to a pan of boiling salted water and cook until they are soft, approximately 10 – 15 minutes. When they are cooked, drain the water and then return them to the pan, mash them, and set them aside.
Over medium heat, heat your olive oil in a large frying pan, and add the onions and fry for approximately 12 – 15 minutes until they have turned dark brown and are starting to caramelize, stirring often to stop the onions from sticking and burning.
Next, add in your red chili and garlic, stir to combine, and cook for 1 minute. Now add in your brown lentils, mushrooms, carrots, red pepper, and tomato paste and stir to combine and cook them until the carrot has started to soften approximately 15 – 20 minutes.
Next, add in your breadcrumbs, fresh rosemary, fresh sage, fresh thyme, ground allspice, smoked paprika, ground nutmeg, and stir to combine. Now, pour in your vegetable stock, stir to combine all of the ingredients, and simmer over a very gentle heat until all the liquid has been absorbed. Remove your pan from the heat. Take the cool roasted nuts and place half of them in your food processor and blitz them until they are a fine nut meal. Roughly chop the remaining nuts into varying sizes to your own preference. Roughly break up the cooked chestnuts.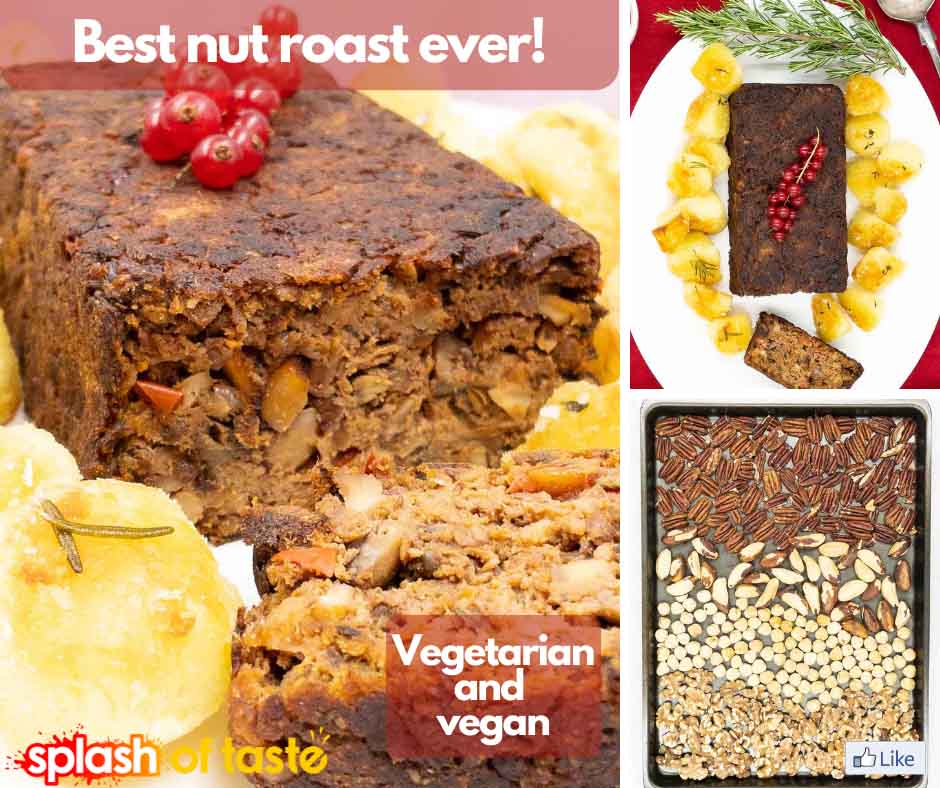 Add the nut meal, the chopped nuts, chestnuts, and stir to combine. Now add your orange zest, add the amount that you personally prefer. Finally, take your mashed parsnips and add them to the nut roast mixture, folding them in to create a well combined thick mixture. Taste and season with salt and freshly ground black pepper. Next, wipe vegan butter all over the insides of your loaf tin, to ensure the nut roast doesn't stick now, add the nut roast mixture into the prepared loaf tin.
Press firmly down on the mixture so it compacts tightly into the loaf tin and then ensures you have a smooth even top in line with the loaf tin.
Place your prepared nut roast on a baking tray. Cover with foil and bake for one hour, then remove the foil and bake for a further 10 minutes.
When your nut roast is ready, it'll be dark brown on top, remove it from the oven and leave it to cool for 10 – 15 minutes. Remove from the loaf tin by placing a plate on top of the loaf tin and then turning it upside down, your cooked nut loaf should easily fall out of the tin. To serve, cut into slices and serve with all the trimmings!
Find out more and get pro tips at https://www.splashoftaste.com/nut-roast/
Nutrition / calories: 452kcal | Carbohydrates: 42g | Protein: 14g | Fat: 28g | Saturated Fat: 3g | Polyunsaturated Fat: 11g | Monounsaturated Fat: 12g | Sodium: 233mg | Potassium: 835mg | Fiber: 13g | Sugar: 7g | Vitamin A: 3114IU | Vitamin C: 38mg | Calcium: 108mg | Iron: 4mg